Horrific Pelosi Tape Shows Right-Wing Conspiracy Machine Is Out Of Control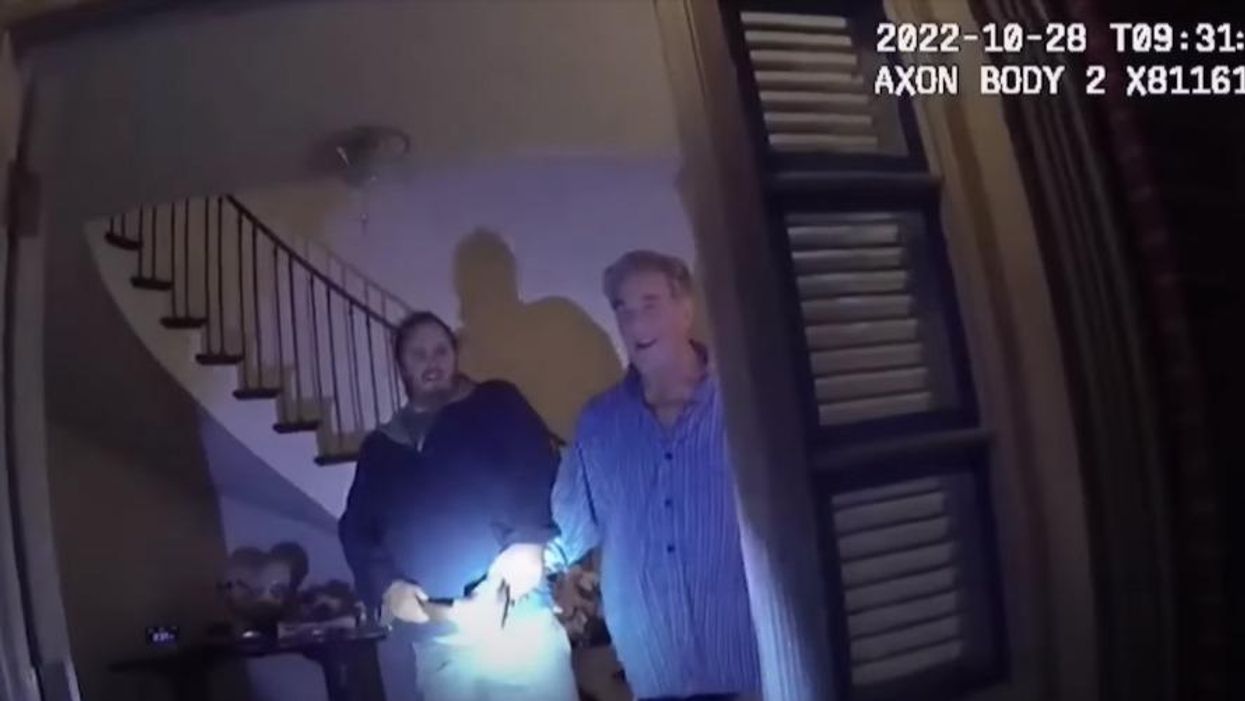 Youtube Screenshot
Video released Friday of the harrowing home invasion and assault that nearly killed then-Speaker Nancy Pelosi's husband in October brought little in the way of self-reflection or regret from far-right Internet trolls and Fox News stars who spent months baselessly insisting that the attack had actually resulted from a gay tryst gone wrong. Instead, the denizens of the right-wing conspiracy theory ecosystem either claimed that the new evidence proved that they were right all along, or used it to float additional conspiracy theories about why it hadn't been released earlier.
The key facts were available within hours of the October 28, 2022, attack. Law enforcement swiftly alleged that David DePape broke into the Democratic leader's home in the middle of the night seeking to harm her and pummeled her 82-year-old husband Paul, sending him to the hospital for emergency surgery. Journalists who reviewed DePape's Internet history subsequently revealed that he had been radicalized online and espoused a wide array of right-wing conspiracy theories, including QAnon.
This narrative of a right-wing extremist who believed the conspiracy theories one sees on Fox beating up an old man while looking for his wife was very unflattering to Republicans. So the right's extensive, well-funded media apparatus seized on the sorts of minor inconsistencies and trivialities that often characterize breaking news stories, and developed their alternative narrative: DePape was Paul Pelosi's leftist gay lover and the assault was a tryst gone bad that Democrats, journalists, and law enforcement were now covering up to protect Nancy Pelosi and help the Democrats in the midterm elections.
Within days, this homophobic absurdity spread through right-wing fever swamps, was amplified by Twitter owner Elon Musk, and went up the food chain to outlets like OAN and Fox. Nothing seemed to give pause to the conspiracy theorists over the following weeks, including the federal complaint which stated that police witnessed DePape "striking Pelosi in the head" with a hammer and that he subsequently told an investigator that he had broken into the home as part of a plan "to hold Nancy hostage," and reports from within the courtroom that police body camera footage showed the attack.
Friday's court-ordered release of new evidence — security footage of DePape breaking into the Pelosi home, Paul Pelosi's 911 call, and police bodycam footage that showed DePape and Pelosi struggling over the hammer and then DePape repeatedly using it to strike him — was perhaps the final potential avenue for the right-wing commentators who had promoted the lie to take the offramp back to sanity. With few exceptions, they did not do so.
Instead, many of the Internet trolls who examined the footage claimed vindication. Several noticed that Paul Pelosi wasn't wearing pants and was carrying a glass when police arrived. This seems to obviously point to Pelosi being woken by a midnight intruder and subsequently trying to deescalate the situation. But for far-right extremist Laura Loomer, it means the attack was "a Grindr booty call gone wrong," while John Cardillo, a Trumpist pundit who has reportedly been courted by Florida Gov. Ron DeSantis' political operation, commented, "This was no home invasion. This looks more like a domestic quarrel."
\u201cMoments after the video release of the brutal hammer attack on Paul Pelosi, MAGA commentators are fueling conspiracy theories about the way he answered the police at the door\u201d

— Madeline Peltz (@Madeline Peltz) 1674840937
Fox's coverage of the releases, while occasionally punctuated by anchors debunking their guests' absurd claims, also featured the new conspiracy theories promoted from the fringes.
Fox star host Tucker Carlson, one of the network's most prolific proponents of Paul Pelosi conspiracy theories, suggested Friday night that the disclosures were part of "a much larger propaganda campaign." He acknowledged that the video of the attack was "absolutely awful" before suggesting that it raised new questions.
"It's also weird [he was] standing there with a drink," Carlson said. "What was that? We can't even speculate as to what that was."
Carlson went on to say that the new evidence backed up his own narrative about the attack. "That bodycam footage, whatever else it proves — and once again, we're not exactly sure what it proves — it definitely puts a crimp in their preferred story, which was that the Pelosi household was invaded by QAnon activists or something or this was some right-wing militia attack on the speaker of the House's husband," he said. "That's not what it shows."
Carlson and his guest, right-wing journalist Christopher Bedford, went on to allege that there was something nefarious about the government not releasing the videos more quickly. The delay, Bedford said, shows "how much contempt they have for us that they're saying we don't deserve that information, or well, we'll just be misled by it."
The host wrapped up by asking his guest, "Do you think there are still good government liberals out there who are bothered by the obvious corruption on display around us every single day? Do they even care?"
Others at Fox similarly suggested that the right had been correct to believe conspiracy theories about the case, or that the government was at fault for not moving more quickly to rebut them — an implicit acknowledgement of how paranoid thinking has consumed that political movement.
Fox host Todd Piro said of the bodycam footage on Friday afternoon, "It's going to dispel a lot of those conspiracies that many of us have because California is a Democratic state and we've seen the pattern play out in the past where, I hate to make this political, but Democrats have a tendency to hide and not be transparent when something could potentially make them look in a bad light."
That night, network contributor Joe Concha complained to host Sean Hannity, "It took nearly three months for that footage to be seen by the public, and by slow-walking this, just as police did following Paul Pelosi's DUI arrest earlier that year — remember he crashed his Porsche into another car in wine country — the questions around this attack only grew louder and the conspiracy theories profoundly stupider."
And Fox host Pete Hegseth, who initially responded to the attack by saying that something "doesn't add up," argued on Sunday night that "the worst thing about this is withholding this information so long. That's what leads to speculation."
"Just release the tape," host Dan Bongino agreed, adding, "It just invites cloak and dagger stuff when you don't do it."
This is ridiculous. The problem isn't the authorities' response to the massive, well-funded right-wing media machine that makes up garbage for political gain. It's that that machine is flourishing. If it can turn a story about the brutal assault of the Democratic leader's spouse by a right-wing conspiracy theorist into a new right-wing conspiracy theory, that apparatus can do it to anyone and with anything.
Reprinted with permission from Media Matters.