How Paul Ryan Plans To Teach Scrooge A Lesson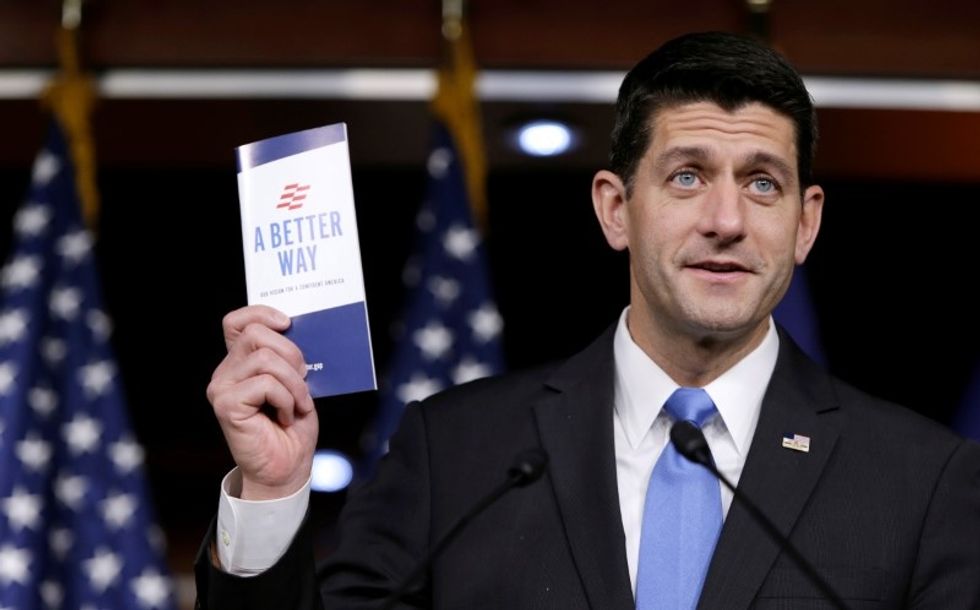 If Paul Ryan had written A Christmas Carol, Scrooge would have gotten a massive tax break, paid for by taking away Tiny Tim's health insurance. The obvious lesson of the tale would be that a small businessman had been rewarded for creating a job for Bob Crachit — who could enjoy working overtime on Christmas without the fear of additional compensation, as well as the freedom of knowing that he won't be able to retire until he's at least 70, if ever.
Ryan's glorious vision of Christmas yet to come may sound like a nightmare to you — but if the Speaker of the House gets his way, that nightmare will become America's reality by the end of 2017.
Let's go through Scrooge's wish list, step-by-step, like we're a concierge Santa service for rich people's most destructive urges — or as if we were Paul Ryan.
Ebenezer Scrooge may be Charles Dickens' personification of everything that is wrong with unfettered greed. But to Paul Ryan, Scrooge — with his estimated net worth of $1.6 billion — is a proud example of those job creators known as small businessmen, which by Ryan's definition includes all Americans who "file their business as individuals, as people."
This class of taxpayer, New York Magazine's Jonathan Chait notes, allegedly includes Donald Trump, a man who seats himself in a gold throne and identifies as a billionaire. Though Trump evidently is not much of a taxpayer.
Ryan doesn't like to point out that 76.1 percent of his proposed tax cuts go to the richest 1 percent in 2017, and that percentage rises to 99.6 percent by 2025, according to the Center on Budget and Policy Priorities.
But who would? That kind of talk would only make rich people sad, which to Paul Ryan is a crisis almost as severe as America's recent epidemic of poor people getting health insurance.
Sure, offering tax breaks that mostly benefit the rich blasts a $3.1 trillion hole in the deficit over the next ten years. But, as tattoo artists often lie to their drunkest customers, the Chinese character for "crisis" also means "opportunity."
So 2017 will be an excellent opportunity to insure poor kids, like — say — Tiny Tim.
Under President Obama, America has hit a remarkable milestone with 95 percent of children covered by health insurance. Ryan has a plan to fix that with a repeal of Obamacare that will increase the number of uninsured kids by 4 million, nearly doubling the uninsured rate from 4 percent to 9 percent, according to a study by the Urban Institute. Ho ho ho!
In exchange for all those uninsured kids, we get a lot of happy Scrooges! We'll be trading the insurance of about 4 million kids and some 16 million adults for $197,000 a year in sweet tax breaks for the richest .01 percent of people a.k.a. "small businesses" in RyanSpeak.
But, you say, Tiny Tim uses a crutch and an iron frame to support his sickly frame. He has a pre-existing condition! Surely Republicans will make sure he's still insured.
Well, Scrooge doesn't have to offer his employees insurance, meaning the Crachits have to get their own coverage. And since the GOP replacement bills all require people to maintain coverage, a few bad months for Bob and his family could leave poor Tim at the mercy of grossly underfunded high risk pools.
Or perhaps Scrooge will offer some of that great new non-Obamacare low-cost insurance that could cover as much as $2,000 a year, which would insure him for a whole day if he ends up in the hospital.
To make up for the hundreds of thousands of dollars that Crachit could end up owing for Tiny Tim's care — given since Republicans will almost certainly aim to repeal Obamacare's ban on insurance companies placing yearly or lifetime limits on care — Bob has got to work, all the time. So he does.
But Mr. Scrooge carefully makes sure his star employee earns just over the threshold where no compensation for overtime work is required. President Obama's Labor Department wanted to raise that threshold from $455 a week to $913, meaning employers like Scrooge would either have to offer a raise or pay overtime. But Paul Ryan's GOP will make sure that people earning more than $455 but less than $913 can be made to work all the overtime Scrooge wants for no extra compensation — even on Christmas. Just like the wise men!
And the best news of all is Bob Crachit and his son can look forward to working overtime every week of their lives until they're in their 70s, when they can finally cut back to just working a 40-hour week so they can afford some Fancy Feast to go with the doctors' bill.
Paul Ryan's desires to privatize Social Security and Medicare — and pass the losses and costs on to you! — are about as well hidden as his passion for Ayn Rand. It's what defines his career in public service — but it's also what makes him repulsive to most Americans. So he tries to hide his passions or cloak them under code words.
Ryan's plan to privatize most of Medicare and demand future retirees pay more is a part of his "Better Way" plan, which should be named "Better Way for Scrooge" plan. Donald Trump campaigned on preserving both of America's retirement guarantees, but he has been quickly moving toward Paul and the two now seem to be fully aligned with the president-elect's choice of Rep. Mick Mulvaney to be his budget director. The GOP congressman from South Carolina is one of the few politicians in America who eagerly declares his desire to cut Social Security.
How else can we afford to make Scrooge's life easier?
Ryan and Dickens may have had different ideas of happy endings. The author of Great Expectations saw a Scrooge overwhelmed by the plenty with which he had been blessed and the need to which he had become blind. Ryan sees a Scrooge who is overburdened by tax and spend politics and exploited by greedy employees who want Christmas off every single year.
No wonder he prefers the works of Ayn Rand.
Both stories end with Scrooge being able to proudly say, "Merry Christmas!" But in Ryan's tale, Scrooge is rushing home to inhale a whole turkey by himself. Just like a "small businessman" should.
IMAGE: Speaker Paul Ryan (R-WI) holds a copy of his party's "A Better Way" reform agenda at a news conference on Capitol Hill in Washington, DC, September 29, 2016. REUTERS/Gary Cameron