Paulette Jordan's Bid To Be First Native American Governor Gets Major LGBTQ Endorsement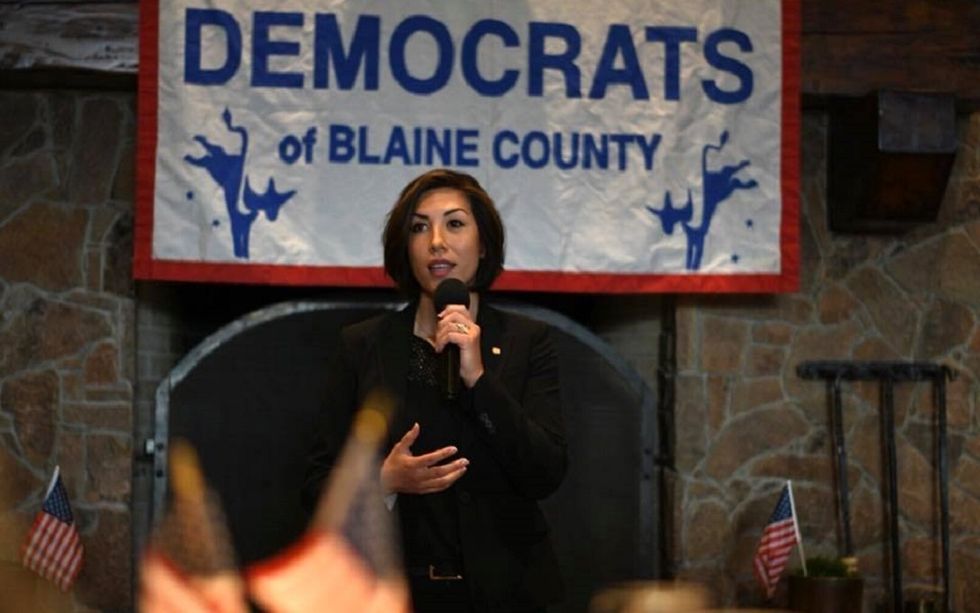 Forget the blue wave. There's a "pink wave" on the horizon.
An unprecedented number of women will be leading the Democratic ticket in November, with strong progressive voices like Idaho gubernatorial nominee Paulette Jordan at the forefront.
A member of the Coeur d'Alene tribe, Jordan hopes to become the first Native American state governor in addition to the first female governor of Idaho. Her primary win over centrist Democrat A.J. Balukoff was a triumph of determination and grassroots enthusiasm.
Jordan had help, however, from activists and minority groups eager for an alternative to Balukoff's elitist politics.
LGTBQ activist Konrad Juengling, an alum of Boise State University, recognized what the 38-year-old tribeswoman offered the queer community during her primary campaign, and officially endorsed her candidacy.
"As governor, I would not challenge the Supreme Court ruling on marriage equality," Jordan was quoted during a debate with Balukoff. "Marriage is a fundamental right for all Americans."
In contrast, Balukoff soft-pedaled the issue in an effort to appeal to social conservatives. "With all of the challenges that Idaho faces, it makes no sense to waste time and taxpayer money challenging an issue that has already been settled," said the Boise businessman when answering the same question.
The distaff candidate won the nomination by a landslide, garnering about 58 percent of the vote to 41 percent for Balukoff and one percent for Peter Dill. Her bold and defiant acceptance speech has been described as a high point of the still-young midterm season. "I come here on the vision and the prayer of our ancestors," she told a jubilant crowd. "They suffered and sacrificed for far too long for us to not see this win tonight."
When asked why Jordan has garnered strong support from social progressives, Juengling cites more than just LGBTQ rights and marriage equality. "Medicaid expansion and clean energy," he begins. "Paulette is a woman of color, she would become the first female governor of Idaho, and the first Native American governor in the United States. We need more representatives of marginalized groups challenging the political status quo."
Juengling has been a notable gay-rights author for several years. His work has been lauded in The Huffington Post, Washington Blade, and PQ Monthly. The writer's 2015 satirical children's book Jeb's ABCs is a critically-lauded take-down of Jeb Bush's poor record on LGBTQ rights. The outspoken activist also trolled Ted Cruz on the Texan's anti-gay record during the 2015-16 GOP primary, though the nomination of Donald Trump wasn't much consolation.
The nomination of a progressive gubernatorial candidate in "red" Idaho offers fresh hope and new possibilities, helping to bring voices like Juengling's back to the fore. "I appreciate her taking a stand" for gay marriage, he says, "Instead of hiding behind a court ruling like Balukoff."
Jordan's views include some conservative and centrist positions which may help her compete against Republican nominee Lt. Governor Brad Little this November. An avid outdoorswoman, she is right-leaning on gun rights. The Democratic nominee also says she is personally anti-abortion, but as Juengling and others are quick to point out, she does not believe in using government force to restrict a woman's right to choose.
Turnout could be an advantage for Jordan. Historic numbers of Democrats turned out to vote in the primary, with so many voters casting ballots in the Boise area that several precincts ran out of ballots. Jordan garnered around 37,000 votes, more than the entire number of Dems who voted in the 2014 primary.
Can such a unique candidate pull off an historic upset in November? Taking down the GOP in a red state means uniting moderate Democrats, leftists, and independents. Not an easy task. But the Democratic nominee draws on the wisdom of her tribe. "They say a true chief will always take the time to talk to everyone in the community," Jordan told Buzzfeed in April. "You don't leave one person untouched, man, woman, or child."
Win or lose, her campaign has already touched the lives of progressive Idahoans.