Pelosi: Republican 'Scaredy-Cats' Are Afraid Of The Truth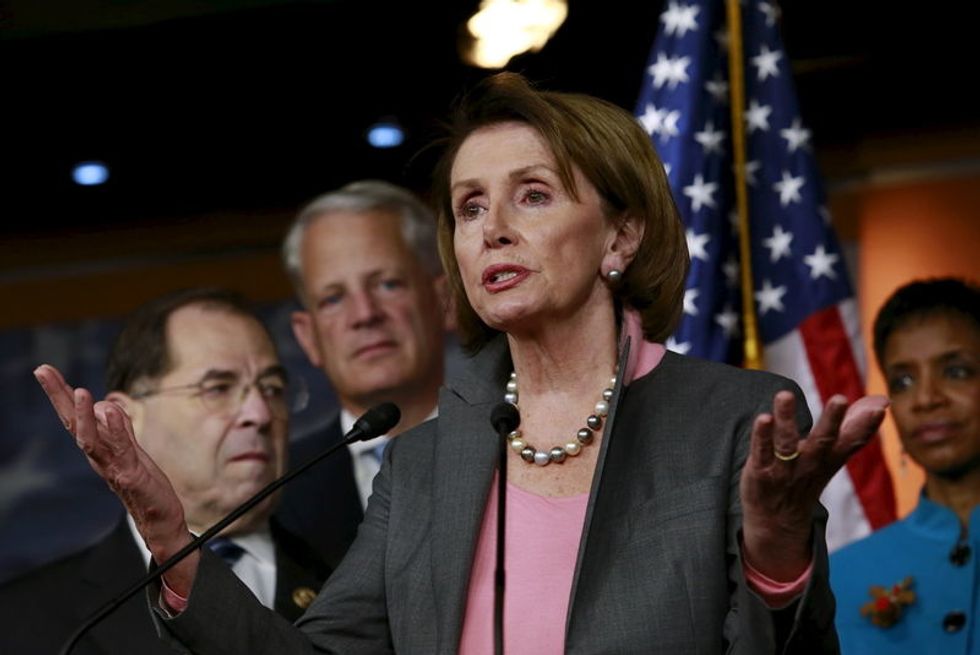 House Speaker Nancy Pelosi lit into Trump and Republicans who are clearly afraid of congressional investigations into Trump's criminal activity, including calls to release the full, uncensored Mueller report.
After defending House Intelligence Committee Chair Adam Schiff (D-CA) from unhinged Republican attacks, Pelosi went on offense by calling out Republicans for their cowardly attempts to discredit Schiff's investigations.
"What is the president afraid of? Is he afraid of the truth?" Pelosi asked at a Thursday press conference.
"They're just scaredy-cats," she added, referring to both Trump and Republicans.
Trump and his GOP enablers in Congress have spent the past week attacking Schiff for stating publicly that he believes there's evidence Trump and his associates colluded with Russia during the 2016 campaign. Schiff is leading the Intelligence Committee's investigation into Russian election interference, which includes inquiries into Trump's financial and campaign ties to Russia.
Every Republican on the Intelligence Committee signed a letter demanding Schiff resign as chair, making the false allegation that Attorney General William Barr's summary of special counsel Robert Mueller's report exonerated Trump.
Before a Thursday committee hearing, Schiff turned the tables on the Republican side of his committee, rattling off a list of suspicious activities we already know Trump and his campaign operatives engaged in — including  that they tried to get damaging information about Hillary Clinton from Russian operatives and then lied about it after the fact.
"You might say that's all okay, you might say that's what you need to do to win. But I don't think it's okay," Schiff said. "I think it's immoral, I think it's unethical, I think it's unpatriotic, and yes, I think it's corrupt and evidence of collusion."
Schiff is leading the charge to force the Department of Justice to release the full Mueller report to Congress.
According to Barr's very limited four-page summary of a 300-page report, Mueller "did not exonerate" Trump of obstructing justice, but also did not establish that Trump or his team knowingly conspired with the Russian government. But not all of the shady Russian operatives who interacted with the Trump campaign were government officials, and we still don't know the details of what Mueller's report said about Trump and Russia.
At the same press conference, Pelosi called Barr's four-page summary "condescending" and "arrogant." She called on the attorney general to release the full report, and said that Congress will "come to our own conclusions."
While many Republicans in Congress are blocking attempts to see the full report, the overwhelming majority of Americans agree with Pelosi and Democrats that the report needs to be released in full.
In an NPR/PBS NewsHour/Marist poll released on Friday, 3 in 4 Americans — including a majority of Democrats, Republicans, and independents — want to see the full, uncensored Mueller report. Only a paltry 18 percent think Barr's summary is enough.
In a further show of support for congressional investigations, almost 2 in 3 Americans want Mueller and Barr to testify before Congress. This echoes a recent CNN poll showing the same high level of interest in congressional hearings.
Americans across the political spectrum want to see the full Mueller report, and want Congress to keep investigating until they get to the truth.
If Republicans don't want the truth to come out, Pelosi is right to ask: "What is the president afraid of?"
Published with permission of The American Independent.