Pence Lauds Convicted Arpaio As 'Champion' Of 'Rule Of Law'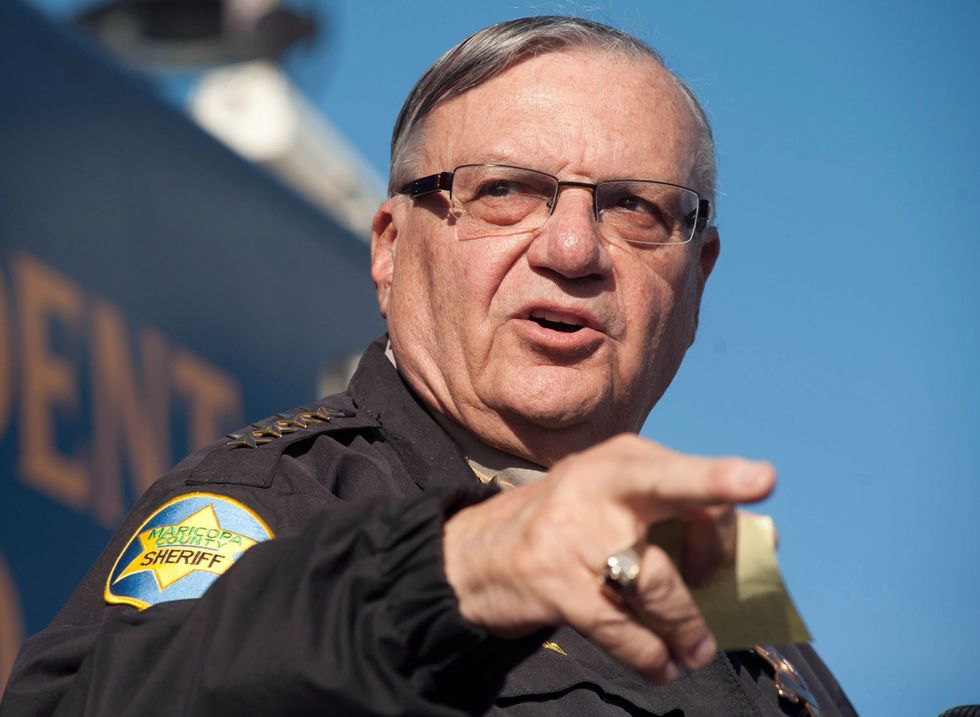 Reprinted with permission from Shareblue.com.
Criminally racist former Maricopa County sheriff Joe Arpaio already knew he had a friend in Trump. But Mike Pence is apparently a big — albeit confused — fan of his, too.
Speaking at a tax policy event in Tempe, Arizona, Pence was gleeful to have Arpaio in the room with him. And he not only called him a "favorite" — he gave the convicted criminal a specific shout-out for being a "champion" of the "rule of law."
The cognitive dissonance of such a statement seemed to go unnoticed by Pence and the enthusiastic crowd.
"And I just found out when I was walking through the door that we were also going to be joined today by another favorite," Pence declared. "A great friend of this president. A tireless champion of strong borders and the rule of law."
Grinning at the applauding audience, Pence told Arpaio, "I'm honored to have you here."
Even for this administration, praising an actual criminal for supporting the "rule of law" is baffling.
Arpaio is infamous for his utterly racist behavior and policies as sheriff before he was voted out in 2016. The most notorious examples include his now-shuttered Tent City — an open-air detention center where pre-trial inmates were subjected to horrific human rights abuses — and his abhorrent anti-immigration tactics such as using a volunteer "posse" to round up undocumented people and demand papers from anyone who looked too brown.
Arpaio refused to abide by a judge's order that he cease such racial profiling, and he was found guilty of criminal contempt.
But perhaps seeing a kindred racist spirit in Arpaio, Trump pardoned him just a month later. And Arpaio himself thinks his repugnant history is a perfect resume for U.S. Senate.
Now, Pence has joined both men in their bizarre version of reality, where an actual convicted criminal is lauded for upholding the law. And where terrorizing innocent people is seen as a badge of patriotic honor.
For most people, Arpaio is Exhibit A in total disregard for proper systems of justice and basic human decency. For Trump and Pence, he's a "favorite" who "exemplifies selfless public service."