Pence's 'Indiana Mafia' Guts Funding For Women's Health Care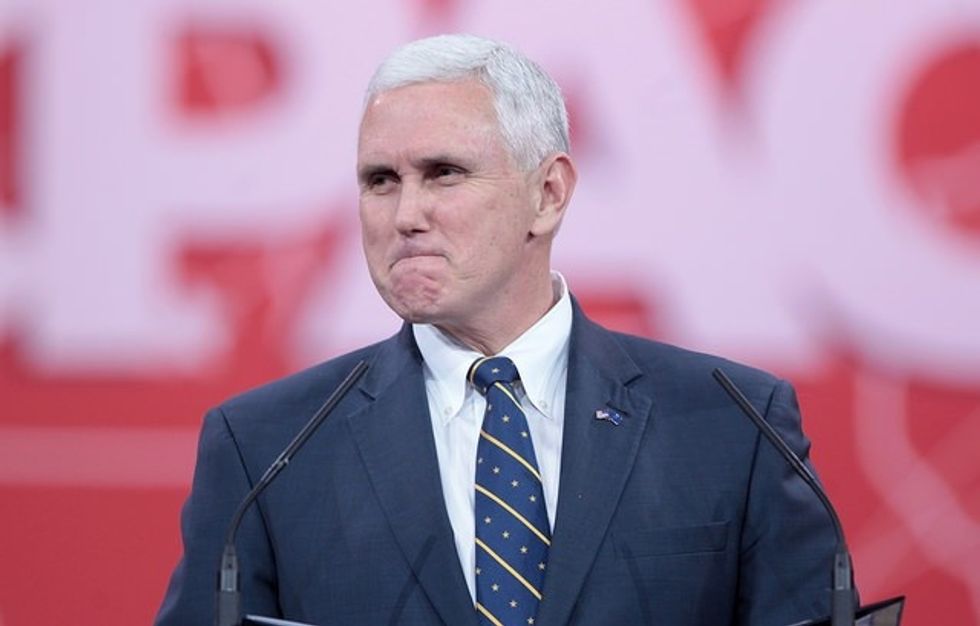 It turns out Vice President Mike Pence has been up to something other than praising Trump's "broad shoulders."
Pence has been quietly working behind the scenes to carry out the Trump administration's goal of gutting funding for women's health care — which he helped accomplish by installing allies from his days as governor of Indiana, which Politico described as a "cadre of officials that one HHS official called 'Indiana mafia.'"
Installing allies whom he had relationships with back in Indiana — such as Health and Human Services Secretary Alex Azar, Surgeon General Jerome Adams, and Centers for Medicare and Medicaid Services administrator Seema Verma — have helped Pence push for one of his key priorities: defunding Planned Parenthood.
Planned Parenthood provides sexual and reproductive health care to more than 4.6 million people per year. Yet Pence has been working to strip funds from the organization — a lifeline to millions of women and men who often cannot afford reproductive health care services elsewhere — since his days in Congress.
Now that he's in the White House, Pence helped install new rules for Title X — a federal program that helps fund family planning services — that would effectively cut Planned Parenthood off from crucial federal dollars that provide those reproductive health and family planning services.
Defunding Planned Parenthood has become a rallying cry for Republicans, who believe that the health care organization should not receive funds because it offers abortion services — even though Planned Parenthood doesn't use any federal funds for abortion services.
Yet the Trump administration's new rules for Title X gag health care providers that receive Title X dollars from informing their patients about their right to an abortion.
Given that Planned Parenthood runs roughly 40% of the Title X clinics in the country, cutting the group off from funds would have a devastating impact on women.
The Trump administration was ultimately sued for the policy, and a federal judge has blocked it from going into effect as the lawsuit makes its way through the courts. The judge wrote in the ruling that the policy prevents doctors from doing their jobs.
Aside from trying to defund Planned Parenthood, Pence's cronies at HHS also implemented a policy in April that allows doctors to cite religious beliefs as a reason not to treat certain patients.
Pence has a long history of trying to impose his own beliefs on women to block them from obtaining the health care they need. For example, in 2011, when he was a member of Congress from Indiana, he co-sponsored a bill that would have redefined rape in order to ban abortion.
He also signed eight anti-abortion bills into law when he served as governor of Indiana — including one that would have banned women in the state from getting an abortion if they found out their fetus had a disability. Even some anti-abortion Republican women in Indiana were opposed to the bill.
So, while Pence is a weak vice president — forced to heap praise on Trump — he has apparently been wildly successful at imposing his anti-women agenda by sneaking in his friends into key administration roles that oversee health care.
Women can thank Pence for having trouble finding health care they need and deserve.
Published with permission of The American Independent.
IMAGE: Gage Skidmore photo of Vice President Mike Pence via Flickr.