Pension Reform, Once A Christie Calling Card, No Longer A Success Story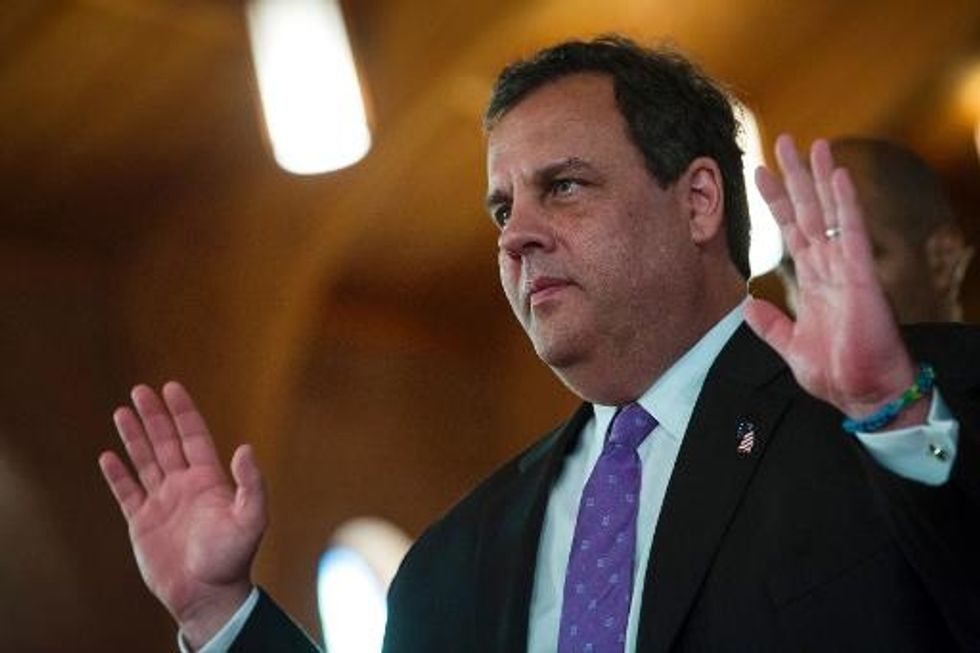 By John Reitmeyer, The Record
TRENTON, N.J — Embedded Tuesday in New Jersey Gov. Chris Christie's somber talk about pensions — a mind-numbing topic — was a sharp pivot reflective of a dramatically changed political moment.
Christie has regaled audiences across the country with stories of how he teamed up with Democrats and pulled New Jersey's debt-plagued pension system back from the brink of insolvency. His victory lap after a 2011 bill-signing on pension reforms took him to California for a speech before Nancy Reagan and to the libertarian Cato Institute in Washington, D.C.
He also boasted during the nationally televised keynote speech at the Republican National Convention in Florida of how the reforms would save taxpayers $132 billion over the next 30 years.
And with his eyes seemingly fixed on a run for president in 2016, Christie again held up pension reform shortly after notching his landslide re-election victory last November.
"Maybe the folks in Washington, D.C., should tune in their TVs right now to see how it's done," Christie said in his victory speech in Asbury Park.
But on Tuesday, in his latest budget address in Trenton, Christie, without directly acknowledging a reversal, said the pension system he once claimed to have fixed is again a major problem, part of what's now grown into a "looming crisis." He then compared New Jersey — held up just a few months ago as a model for Washington to follow — to recently bankrupt Detroit.
New Jersey's public employee pension system is now underfunded by $52 billion, he said, nearly back to the $53.9 billion measured before passage of the 2011 reform bill, which forced public workers to pay more for their benefits and ended most cost-of-living increases.
"The reality is that the aggressive reforms we enacted together have only bought us time," Christie said.
But for Christie, pivoting back to the pension system and the broader burden of public employee benefits also puts him back on a much-needed offensive. After spending the last few weeks fending off questions raised after The Record published documents indicating his own staff was involved in the September lane closures at the George Washington Bridge, Christie was back out on the town-hall circuit on Wednesday, pressing for new, but undefined, pension system changes in Morris County.
"Detroit is giving us a preview of what could happen to us," Christie warned in Long Hill.
To the Democrats who joined Christie on those 2011 reforms in the face of fierce resistance from the state's powerful public employee unions, the governor's need for a new distraction is naked.
Christie has returned to the pension issue because "he's looking to pick a fight with somebody," Democratic Senate President Stephen Sweeney, told The Record on Thursday.
Sweeney, a primary sponsor of the 2011 reform bill, said all the state needs to do is stay the course, since part of the broader reform effort also called for New Jersey to again make a full pension payment, something that's being phased in over the next several years.
"Nothing has changed," Sweeney said. "If we stay the course, we're fine."
That position is nearly identical to comments last year by a spokesman for Christie's Department of Treasury after the total unfunded obligation in New Jersey's pension system hit $47.2 billion.
"Once you hit the full contribution, the unfunded liability should start to flatten," said then-Treasury spokesman Bill Quinn.
But focusing only on the unfunded liability is a mistake, Christie spokesman Kevin Roberts said Thursday, because the state pension payment, scheduled to rise to a record, $2.25 billion in the fiscal year beginning July 1, is the more immediate problem.
New Jersey has less money to invest in education, tax relief, health care and other priorities as long as billions have to be spent each year to cover the cost of public employee pension benefits and other entitlements, he said.
"The point is that even in the context of the 2011 reforms, which started us down the right path of bringing the rising obligations under control, that these costs continue to mount for taxpayers and are squeezing out other priorities," Roberts said.
He also defended Christie's use of $52 billion as the latest figure for the unfunded pension burden faced by New Jersey taxpayers. The state's share is actually $37 billion, not $52 billion, according to the latest actuarial reports. The larger figure includes all unfunded liabilities for local governments as well, something that's not a factor for the increasing pension payment in the state budget.
Roberts said it's not "unfair or blurring of lines" to add in the pension burden on local governments when talking about the state budget because the local share is covered by property taxes levied by towns in the same predicament.
"As these costs grow, do they raise taxes or do they cut services, and how much cost pressure can they really sustain? It varies town to town, but the problem is a systemic one," he said.
But for Sweeney, all the new talk about the pension system is rooted in a still struggling state economy. Sweeney, who put forward two bills Thursday aimed at boosting the economy, said more jobs would bring in the revenue needed to make the pension payment more affordable.
Attacking public-worker benefits is "going back to the old playbook," Sweeney said.
When asked for a response, Roberts instead referred to other comments Christie made Wednesday in Morris County.
"Let's not start running for governor now, OK? The great thing, especially about the state Senate is, everybody wakes up in the morning, looks in the mirror and sees a governor," Christie said.
AFP Photo/Eric Thayer