Pentagon Hasn't Held A Press Briefing Since May 2018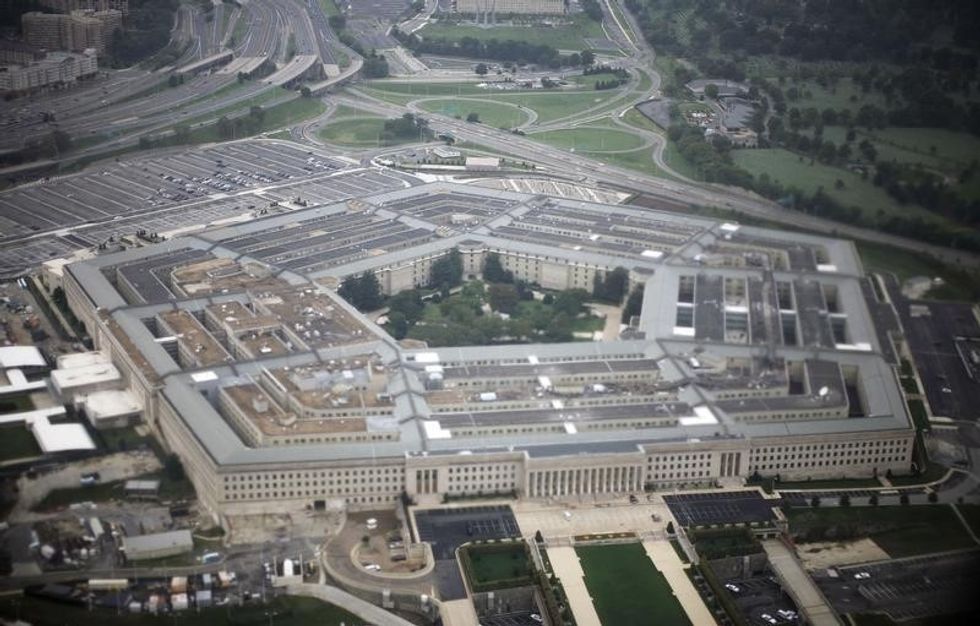 Friday marked exactly one year since the Department of Defense held an official press briefing at the Pentagon. The last briefing was given on May 31, 2018.
"The Pentagon press corps has chafed for months at what reporters see as a sharp decline in access to information, including limited access to officials during trips," Politico reportedWednesday.
In the 365 days since the last briefing, the Pentagon briefing room has been used for media events with KISS band member Gene Simmons and actor Gerard Butler (King Leonidas in "300") — but not for its intended purpose of informing the press and the public about important developments related to national defense.
During the media blackout, and continuing to this day, the Department has been without a permanent leader — a serious issue that reporters would be able to ask about if regular briefings were being held.
Then-Secretary of Defense James Mattis resigned his position in December, which he announced in a letter highlighting his serious concerns about Trump's destructive approach to military and foreign policy.
Since then, the position has been held by Acting Secretary of Defense Patrick Shanahan. His "acting" tenure, currently at 149 days, is the longest period in American history that the country has lacked a permanent defense secretary.
Trump finally officially nominated Shanahan for the position in early May, but that nomination is also fraught with controversy. Shanahan was described as a "a toady and a yes man" by veterans groups upon the announcement, and Rep. Ruben Gallego (D-AZ) immediately opposed the nomination due to concerns about Shanahan's ongoing investigation into the ambush in Niger that killed four American soldiers in 2017.
Reporters have also been denied the opportunity to publicly question officials about significant scandals and controversies involving the defense department.
The spokesperson who conducted the last briefing a year ago, Dana White, resigned her position in January after allegations surfaced that she misused her staff by having them run personal errands for her.
The press hasn't been given a chance to ask her replacement about that scandal.
The Pentagon also did not have to answer questions about the thousands of troops that Trump deployed to the U.S.-Mexico border in a political stunt shortly before the 2018 elections. Trump used fear-mongering about refugee "caravans" to justify the unnecessary military action, even though it was obviously absurd to claim that a few thousand people fleeing oppression could be a serious threat requiring thousands of troops in response.
"You're going to find MS-13, you're going to find Middle Eastern (sic), you're going to find everything," Trump claimed at the time about the "caravan" — a claim even Fox News admitted had "no evidence" to support it.
The number of troops at the border reportedly peaked at about 5,800 in November, but reporters never got the chance to publicly question officials about the policy or its related logistics.
U.S. soldiers have remained deployed in combat during the media blackout as well.
There are over 8,400 troops in Afghanistan and in active combat against the Taliban. As recently as April, three soldiers were killed by a roadside bomb.
American soldiers are also fighting ISIS abroad, and while Trump has been quick to prematurelytout the terrorist network's purported defeat, they remain a threat.
"They are dispersed and disaggregated, but there is leadership, there are fighters there, there are facilitators there," Gen. Joseph Votel said of the terrorist group in February.
These deployments and related policies are not being subjected to questioning from reporters.
Also being avoided are questions on the military's role in global hotspots like North Korea and Venezuela. The Trump administration is making life and death decisions while doing all it can to avoid scrutiny from the press.
Reporters can't even question the Pentagon openly about the Navy hiding the name of the USS John McCain last week in an attempt to soothe Trump's ego.
On issues big and small, the Pentagon under Trump is avoiding scrutiny — a chilling development also seen in the White House, where press secretary Sarah Sanders has not given a formal press briefing since March 11.
America has the most powerful military in the world — and the world is being kept in the dark about what it's doing and why.
Published with permission of The American Independent. 
IMAGE: Aerial view of the United States military headquarters, the Pentagon. REUTERS/Jason Reed