Pentagon Proposes Deep Cuts For U.S. Military Bases, But Would Spare Some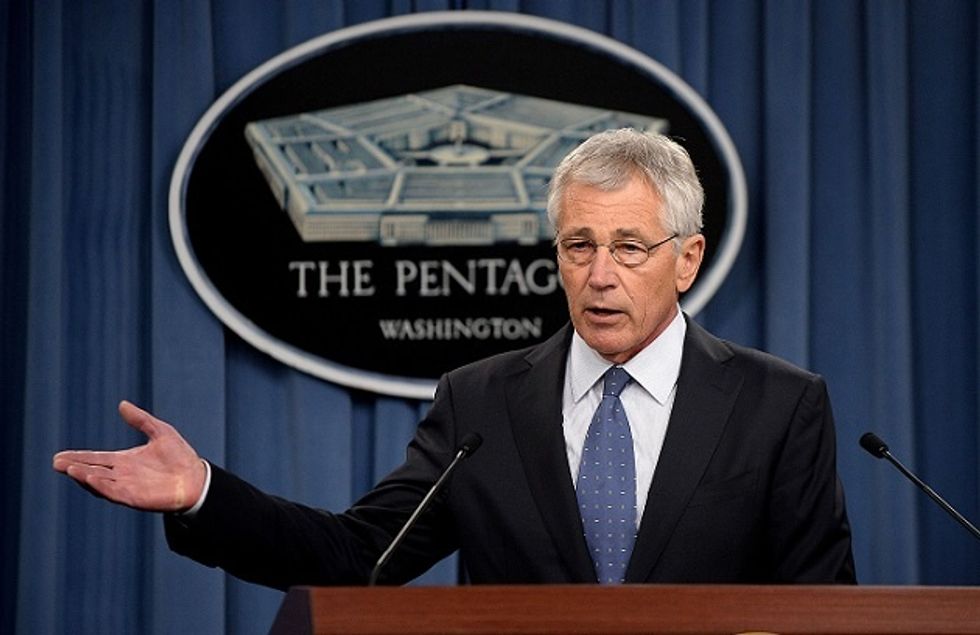 By James Rosen, McClatchy Washington Bureau
WASHINGTON — Sweeping budget and personnel cuts proposed Monday by Defense Secretary Chuck Hagel would hit some military bases hard while protecting others.
With the Army targeted to lose as many as 80,000 active-duty soldiers from its current 520,000-strong force, reaching its smallest size since before World II, major installations like Fort Jackson, S.C., and Fort Hood, Texas, could be scaled back significantly.
The proposal to shrink the world's mightiest military force comes as the United States seeks to redefine its role in the world, with the Iraq war over and U.S. combat in Afghanistan winding down. That two-front strategy, involving lengthy occupations, severely tested military capabilities. The plan also reflects the competing demands of spending restraints, national security and politics.
Eliminating two dozen A-10 attack planes at Whiteman Air Force Base near Kansas City, for example, is part of a broader move to retire all the aging Warthogs, saving the Pentagon several billion dollars. But lawmakers from Missouri and other states will certainly object.
Meanwhile, installations such as Fort Bragg, N.C.; Joint Base Lewis-McChord outside Tacoma, Wash.; and Fort Campbell, Ky. would likely emerge largely unscathed from the cuts because of their specialized missions.
Hagel said he had recommended the realignment plan to President Barack Obama, who is expected to present his annual budget to Congress next week.
"This is the first time in 13 years we will be presenting a budget to the Congress of the United States that's not a war-footing budget," Hagel said.
The Pentagon plan also reflects budget pressures in Washington as partisans struggle over the proper size of government.
Obama's aides indicated the plan would get a warm reception at the White House.
"The recommendations fit and represent a responsible, realistic approach to supporting the president's defense strategy," press secretary Jay Carney said.
Hagel is recommending a 1 percent pay increase for military and civilian employees to match an increase that White House aides said Obama will seek for all federal workers after a three-year wage freeze.
Despite congressional demands to cut overall Pentagon spending, lawmakers almost certainly will oppose hits on installations in their states and resist Hagel's call for a new round of base closings.
"This is another dumb idea," said Sen. Lindsey Graham, a South Carolina Republican and member of the Senate Armed Services Committee.
Even some Democrats who have burnished reputations as fiscal hawks responded coolly to some aspects of the spending plan for the Pentagon.
"I will be taking a hard look at its new budget proposal to make sure it still provides for the strongest national defense," said Sen. Claire McCaskill, a Missouri Democrat and member of the Armed Services Committee.
McCaskill and Sen. Roy Blunt, a Missouri Republican, are part of a newly formed congressional coalition to save the A-10 from extinction.
Hagel, though, warned that more draconian reductions are in store if Congress allows across-the-board forced budget cuts to reappear after next year under a system called sequestration.
"Sequestration requires cuts so deep, so abrupt, so quickly, that we cannot shrink the size of our military fast enough," Hagel said.
The forced cuts were replaced by more targeted reductions in a two-year budget deal that Congress passed and Obama signed into law two months ago.
The plan Hagel announced Monday would restore $26 billion of the $75 billion in cuts contained in that budget deal.
Rep. Adam Smith of Washington state, the senior Democrat on the House Armed Services Committee, defended the new Pentagon plan.
"Under these conditions, our military leaders are doing their best to put forward a budget that provides national security," Smith said.
Two prominent Republican governors criticized the recommendation to reduce the size of the Army National Guard from 355,000 to 335,000 by 2017, and to decrease the number of Army Reservists from 205,000 to 195,000 in the same period.
Texas Gov. Rick Perry, a 2012 Republican presidential candidate, and South Carolina Gov. Nikki Haley spoke to reporters after governors met with Obama at the White House.
"I hope that we're not about to make a tragic mistake in this country by hollowing out our Guard in our states," Perry said.
Haley said her husband has just returned from serving a year in Afghanistan as a National Guard member.
"You don't go after the National Guard to cut," she said. "That's not where you go."
Retired Maj. Gen. Paul Eaton, who was deputy chief of staff for operations and training, said the Obama administration is balancing the need to cut spending after two major wars with the continuing need to keep Americans safe.
"A reduction in the size of the Army can be in line with U.S. national interests and address national security priorities," Eaton said. "However, inherent with such reductions, risk goes up, and we owe it to our troops to mitigate that risk."
Photo: Olivier Douliery/Abaca Press/MCT