After Perdue Win, Senate Control Could Be Decided In Georgia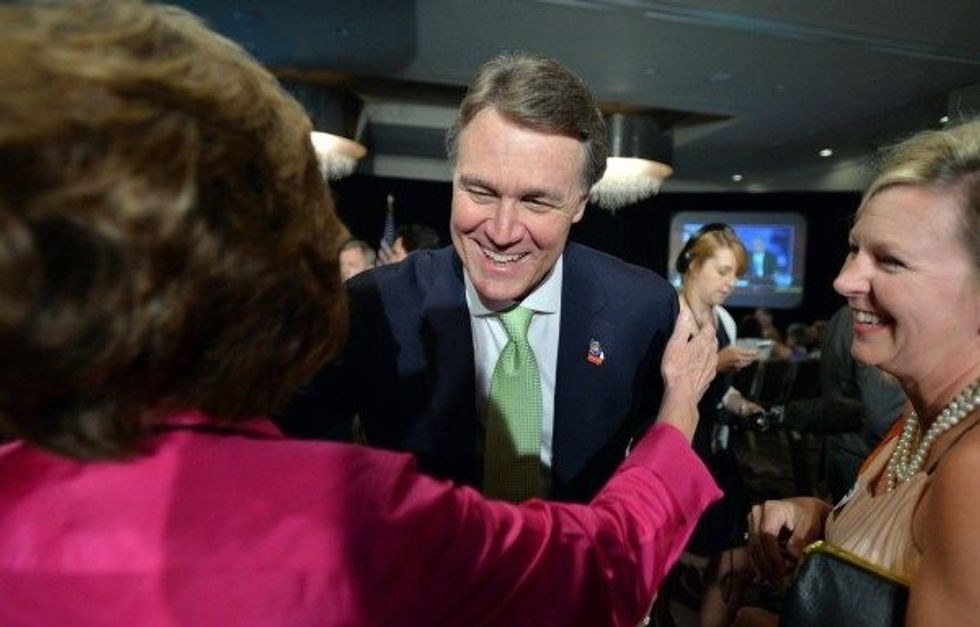 In the wake of Republican businessman David Perdue's upset victory over U.S. Representative Jack Kingston in Tuesday's Senate primary runoff in Georgia, all eyes will turn to his general election campaign against Democrat Michelle Nunn. If Perdue fails to defend the seat currently held by retiring Senator Saxby Chambliss (R-GA), then Republican hopes of winning a Senate majority will almost certainly be dashed.
Perdue, a former executive at Dollar General and Reebok, held off Kingston by about 8,500 votes in Georgia's low-turnout runoff. Although Perdue had also finished first in the original primary in May, the results still came as a surprise to many pundits. Kingston, who owned a long list of influential endorsements — which included the Chamber of Commerce, the NRA, and former Senate candidates Phil Gingrey and Karen Handel — and a lead in the polls coming into Election Day, was widely viewed as the favorite.
Still, Perdue's victory is likely the best result for Republican Party with regards to the general election. As a political newcomer, Perdue is better suited to appeal to an electorate that is deeply frustrated with Washington than Kingston, who has served 11 terms in Congress. Perdue's image as an outsider could also undercut Nunn's message, which is centered around her experience as a non-profit leader. And compared to the rest of the extremely right-wing, gaffe-prone field, Perdue seems less likely to commit a catastrophic political misstep between now and November.
Still, the way in which Perdue captured the nomination was less than ideal for the GOP. The Republican primary campaign dragged on for nearly a full year, and was deeply negative throughout. While Nunn — who won the Democratic nomination unopposed — spent the past several months consolidating support and raising money, Perdue has spent them writing checks and absorbing attacks from his Republican rivals. Nunn has over $3.5 million in cash on hand, more than four times as much as her opponent. Perdue, who spent more than $3 million of his personal fortune in the primary, will surely be able to overcome this financial disadvantage. But the attacks from the primary may leave a mark.
To that end, as The Hillreports, the Democratic Senatorial Campaign Committee has already cut an ad featuring Republicans ripping Perdue as an out-of-touch plutocrat:
That theme is certain to resurface throughout the general election campaign.
The importance of the race between Nunn and Perdue can scarcely be overstated. In a year where the vast majority of close races feature Democrats playing defense, Georgia represents one of just two realistic opportunities for Democrats to seize a Senate seat currently being held by a Republican (the other is Kentucky's contest between Senate Minority Leader Mitch McConnell and Democrat Alison Lundergan Grimes). Republicans must win a net six seats to gain a Senate majority; if Nunn can turn Georgia blue, then that task will become hugely difficult.
Polls suggest that the general election campaign begins as a virtual tossup. Then again, they also suggested that Kingston would be the Republican nominee.
Photo: Hyosub/Shin/Atlanta Journal-Constitution/MCT
Want more political news and analysis? Sign up for our daily email newsletter!