Philippine President Calls President Obama 'Son Of A Whore'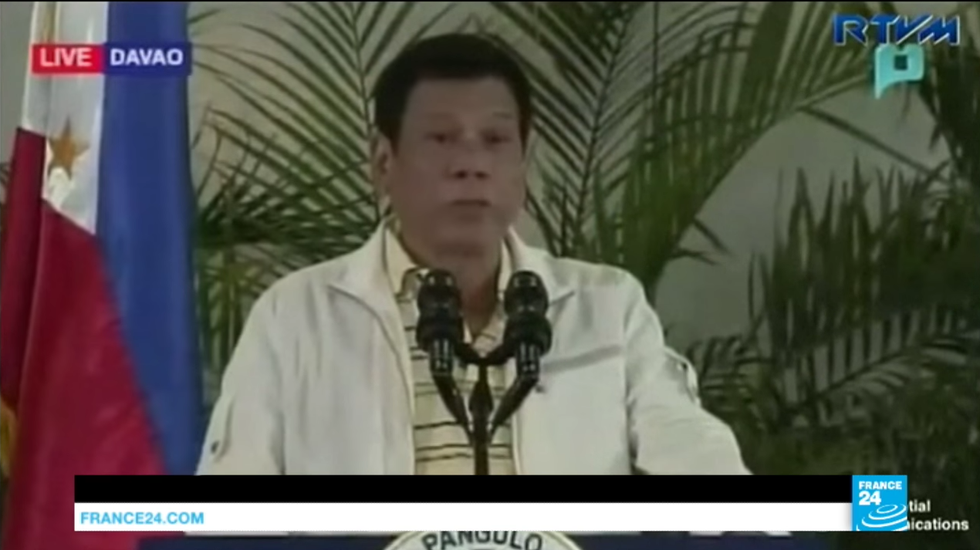 For the most part, when American journalists and commentators described Rodrigo Duterte as the "Filipino Trump" when he won office in May, it was a rare instance in which Trump's bombast and threatening remarks were overstated: As much as Trump threatens the possibility of fascistic rule and a new era of lethal "Law and Order" and "America First" brutality at home and abroad, Duterte explicitly articulated his violent plans from the start of his campaign last year, promising in November that Filipinos "better put up more funeral parlors" if he was elected.
He has kept that promise: 2,400 have been killed in the Philippines since July 1, Al Jazeera reports, the vast majority executed by vigilantes and other non-governmental groups for their suspected (and invented) ties to the drug trade.
We can only hope a president Trump would seek to discourage our own vigilantes: Not long ago, "Minutemen" were watching the Mexican border in shifts, armed with assault weapons and itchy trigger fingers.
But there is one ominous trait Duterte and Trump share: The endless demagogic requirement to shore up support at home among nationalists.
Yesterday, President Duterte called President Obama — the leader of the most powerful nation in history and a crucial military ally to his country in the face of an aggressive Chinese government — "son of a whore." Obama canceled his planned meeting with Duterte shortly after. Whoever is elected president in November will surely take a much harsher stand against such an insult, especially early in their administration. Why would Duterte shoot himself in the foot?
And yet, Donald Trump showed a similar lack of tact last week, when he lied to the world about not discussing payment for a border wall with Mexican President Enrique Peña Nieto, a statement that was immediately rebutted by representatives of the Mexican government. That sent a message worldwide: Don't trust a President Trump, he's too busy appealing to his base.
But that's where the Duterte/Trump comparisons mostly end. Duterte is a murderous madman. Trump is a madman without a military.

Video: France 24 English