Philippines Buries Some Dead As U.S. Military Arrives In Force
@AFP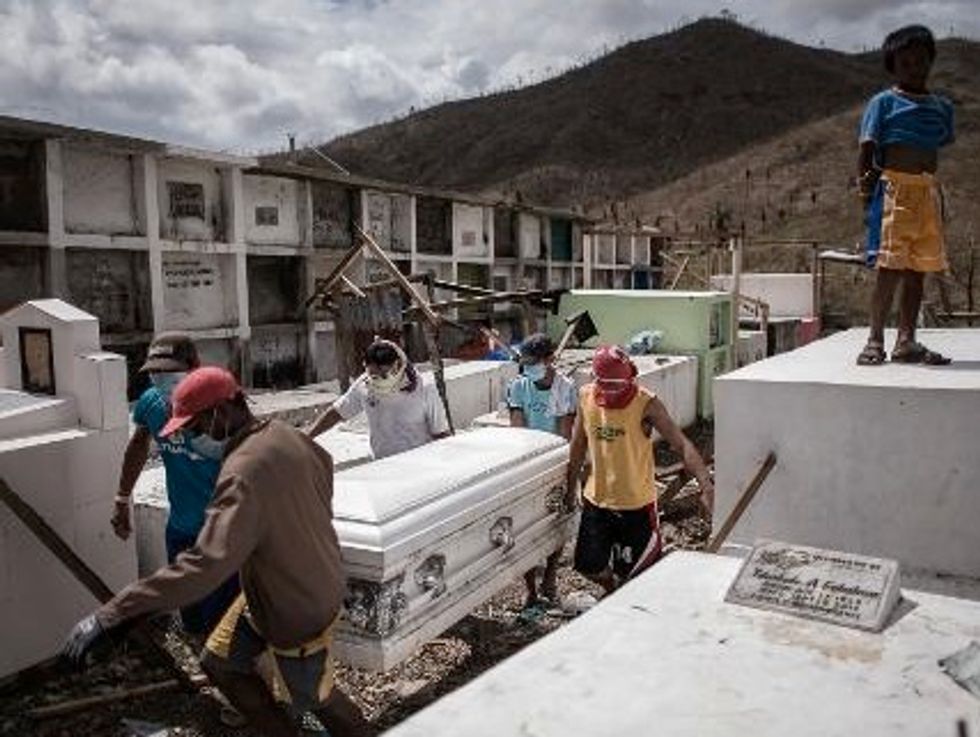 Tacloban (Philippines) (AFP) – Scores of decaying bodies were laid in mass graves Thursday as destitute typhoon survivors were offered hope of help with the arrival in the Philippines of a huge U.S. aircraft carrier.
The USS George Washington, with 5,000 sailors aboard, headed a flotilla of vessels bearing badly needed equipment, supplies and expertise for the thousands left homelesshungry and thirsty.
But almost a week after Typhoon Haiyan swept through the country's central islands, crushing settlements and laying waste to an already poor area, desperation was still apparent and many of the dead remained unburied.
"I do feel that we have let people down," conceded United Nations humanitarian aid chief Valerie Amos, who had visited Tacloban on Wednesday.
"Those who have been able to leave have done so. Many more are trying. People are extremely desperate for help," she told reporters in Manila.
"We need to get assistance to them now. They are already saying it has taken too long to arrive. Ensuring a faster delivery is our… immediate priority."
Around 110 corpses were interred in a mass grave Thursday before heavy digging machinery broke down, Tacloban mayor Alfred Romualdez said.
They were placed at the bottom of a huge pit that was expected to be several layers deep by the time it is covered over with earth.
"There are still so many cadavers in so many areas. It's scary," said Romualdez, adding that retrieval teams were struggling to cope.
"There would be a request from one community to collect five or 10 bodies and when we get there, there are 40," Romualdez told AFP, saying that aid agencies' response to the increasingly desperate crisis had been too slow.
Nearly a week after Super Typhoon Haiyan unleashed its fury, President Barack Obama urged Americans to dig deep for donations to their former Asian colony. U.S. officials said relief channels were slowly opening up.
But on the ground, the aid that was getting through was still woefully inadequate.
Sick or injured people lie helplessly among the ruins of buildings, while those with the energy try to leave a place that resembles hell.
'An atmosphere of fear and depression'
Efren Nagrama, area manager at the civil aviation authority, said conditions were "very dire now" as he surveyed the filthy stream of humanity at Tacloban's battered airport clamouring to get a flight out.
"You see hundreds coming to the compound every day. People who have walked for days without eating, only to arrive here and be made to wait for hours or days under the elements," he said.
"People are pushed to the tipping point — they see relief planes but cannot get to the food nor get a ride out. There is chaos."
Mayor Romualdez said the people of Tacloban needed an "overwhelming response" from aid organisations and the government.
"We need more manpower and more equipment," Romualdez pleaded. "A six day old body is quite heavy. You would need three or four people to carry it.
"I cannot use a truck to collect cadavers in the morning and then use it to distribute relief goods in the afternoon," he added.
"Let's get the bodies out of the streets. They are creating an atmosphere of fear and depression."
City officials estimate that they have collected 2,000 bodies but insist many more need to be retrieved. The U.N. fears that 10,000 people may have died in Tacloban city alone, but President Benigno Aquino has described that figure as "too much".
The Philippines coastguard on Thursday confirmed the death of a 69-year-old Dutch tourist, whose body was found on Monday near the western Philippine island of Palawan.
While the retrieval of the dead gets going, there are growing fears for the health of those who survived.
The World Health Organisation has said there were significant injuries that need to be dealt with — open wounds that can easily become infected in the sweltering tropical heat.
Experts warn that a reliable supply of clean drinking water is vital if survivors are not to fall victim to diarrhoea, which can lead to dehydration and death, especially in small children.
Steaming to the rescue
Pledges of help continued to come in from abroad, with Obama on Wednesday urging Americans that "even small contributions can make a big difference and help save lives".
Along with ships and planes sent by an array of countries including Australia, Britain and Japan, the United States has dispatched an advance force of Marines equipped with cargo planes and versatile Osprey aircraft.
The USS George Washington was at the lead of an eight-strong flotilla that arrived at the Philippines' coast and began its operations Thursday.
By evening the George Washington Strike Group, which has 21 helicopters, had airlifted pallets of water and food to the airport at Tacloban, the U.S. navy said.
One U.S. official said relief workers were now able to get more aid out of Tacloban airport, and that the opening of a land route had given a significant boost by connecting to a sea port.
However, hundreds of Philippine soldiers and police continue to patrol Tacloban's streets and man checkpoints to try to prevent pillaging after outbreaks of lawlessness.
AFP Photo/Philippe Lopez