Please! Ruth Bader Ginsburg Speaks The Truth About A Trump Presidency And DC's Purists Are Upset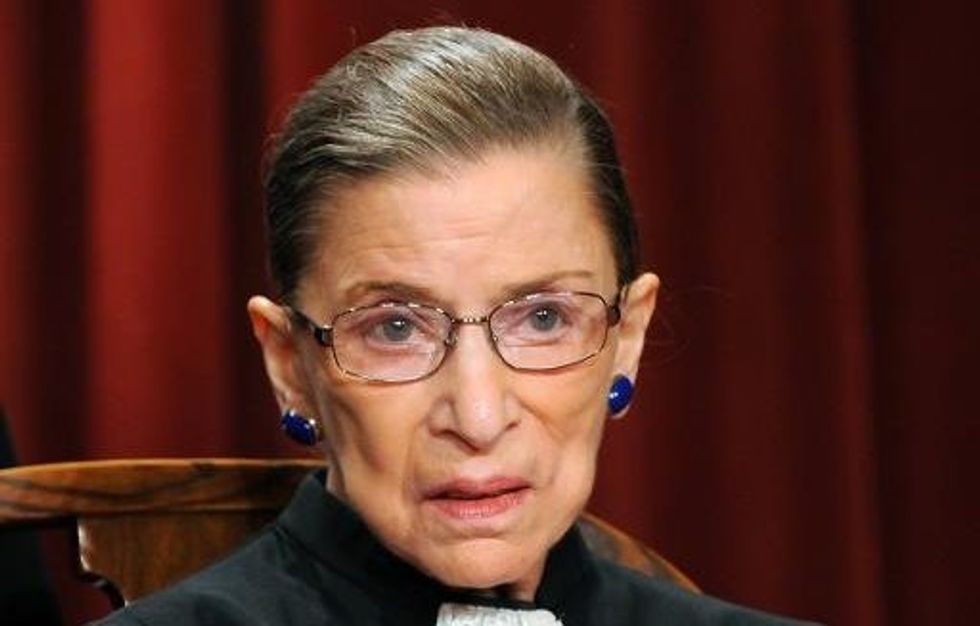 Published with permission from Alternet.
Election lawyers in academia are wringing their hands over comments Supreme Court Justice Ruth Bader Ginsburg made to the New York Times about how she doesn't want to consider what America—and the Court—would be like under a President Trump.
"I can't imagine what this place would be—I can't imagine what the country would be—with Donald Trump as our president," Ginsburg told the Times. "For the country, it could be four years. For the court, it could be—I don't even want to contemplate that."
The Washington Post, which is perpetually infected with a self-assigned puritanical streak, was quick to question whether Ginsburg had "crossed a very important line," because it's possible the 2016 presidential election could end up before the Court in a vote court dispute.
"Generally, though, you don't hear a Supreme Court justice talking like this," wrote WaPo's Aaron Blake. "In fact, you generally don't hear a Supreme Court justice talking at all—much less about the big political issues of the day."
"I find it baffling actually that she says these things," Arthur Hellman, a University of Pittsburgh law professor told the Post. "She must know that she shouldn't be. However tempted she might be, she shouldn't be doing it."
How quickly these purists forget Ginsburg's deceased fellow justice and good friend, the arch-conservative Antonin Scalia, who famously told law school audiences and national television programs such as CBS's "60 Minutes" to "get over it," when asked about the Court's 2000 vote to stop the Florida presidential campaign's recount and install George W. Bush as president.
That was hardly Scalia's only outspoken outburst. Other justices, such as Sonia Sotomayor, have given speeches in which they have made their values known.
Let's be a little more sober than shocked, if that's possible in today's hyper-partisan media and political arena. Do any of Ginsburg's critics in the press recall her background and long history on the Court as a champion of many liberal issues, especially the rights of women? Have they read any of her opinions or dissents in which she stridently objects to rulings that harm women or limit their options in society?
Thus, is it any surprise that she would not want to imagine as president a man who has used virtually every smear, cliche, sexist and racist swipe to gain political advantage?
It may be that in a more perfect world, the public would never hear what judges think, apart from what's written in their rulings and dissents. But that's an arguable point too, because if one looks at what Supreme Court justices write—such as Chief Justice John Roberts saying America has entered a post-racial era, in the ruling gutting the 1965 Voting Rights Act —it's pretty clear what they believe, and it would be useful to hear more on why they believe it.
Nonetheless, Ginsburg's interview with the Times didn't just focus on Trump. She also said that the Senate's refusal to confirm Merrick B. Garland as the ninth justice is an abdication of their  constitutional duty. "That's their job," she said. "There's nothing in the Constitution that says the president stops being president in his last year."
Funny, that comment didn't draw anywhere near the ire or criticism compared to stating the obvious about a Trump presidency: that it would impose turmoil on the country for at least the next four years, and depending on who the next president appoints to the Court, the damage could last for decades.
Photo: AFP Photo/Tim Sloan