Pockets Of Support Emerge For Bernie Sanders, Even In Clinton's South Florida Turf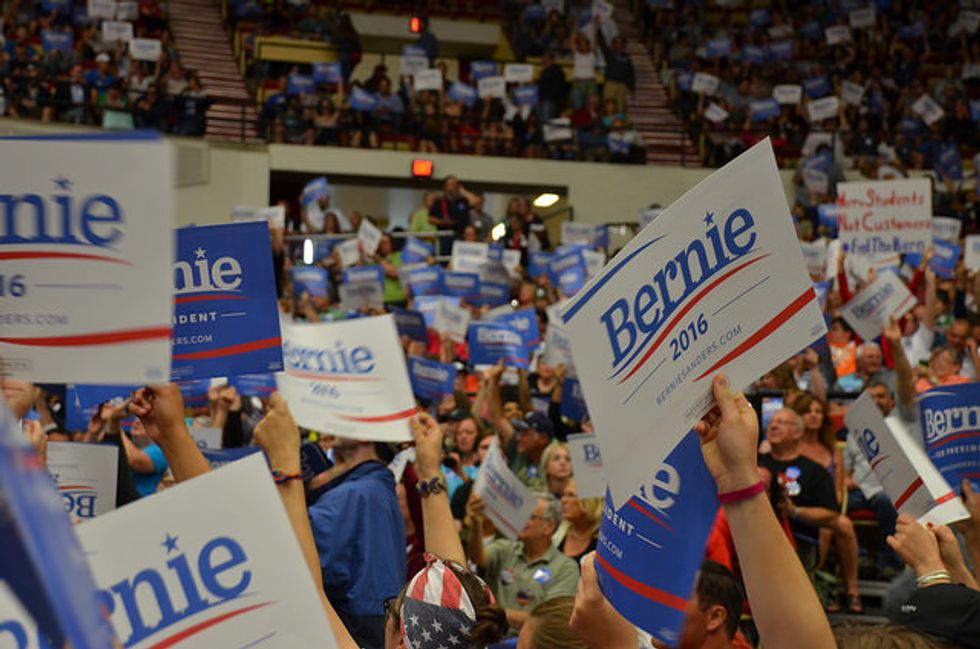 By Anthony Mann, Sun Sentinel (TNS)
Across South Florida, long a bastion of support for Hillary Clinton, pockets of support are emerging for Bernie Sanders, her chief competitor for the Democratic presidential nomination.
Fans of the U.S. senator from Vermont come largely from the liberal wing of the Democratic Party and independent/no party affiliation voters who say they're tired of the kind of presidential candidates usually served up by the two big political parties.
They're undeterred by the polling (Sanders is 41 points behind in Florida), the politicians (the marquee Democratic Party elected officials from South Florida are all for Clinton), and the pundits (who see the region as Clinton country).
"I fully admit that it's a long shot. I think there's a pretty strong machine behind the Clinton campaign at this point. But the Sanders campaign is attracting more people," said David Kerstetter of Cooper City. "At a certain point, the narrative that he's not going to get elected is going to flip."
Martie Wrock, of Boynton Beach, said she's convinced Sanders can prevail. "I truly think there are enough Americans who are sick of the way things are going," she said.
She's excited about Sanders' candidacy _ but not at the prospect of a 2016 presidential election that could pit Clinton, the former secretary of state, former U.S. senator from New York and wife of a former president, against Jeb Bush, the Republican former Florida governor and brother and son of former presidents.
"We need something different. I'm tired of the Bushes. I'm tired of the Clintons," Wrock said. "(Sanders) is truly a man who's committed to Middle America _ to us."
Wrock, who is active in Democratic Party and liberal causes, and Kerstetter, a former Democrat who is now a registered independent/no party affiliation voter, are actively trying to get Sanders elected.
On Wednesday night, they hosted two of the 3,700 Sanders campaign events throughout the country. Kerstetter opened his home to up to eight people and Wrock hosted an event for 135 at a sports bar in Boynton Beach.
Attendees watched an online video feed from Sanders and, pumped up by his online clarion call, discussed what they'd do to support the candidacy. The campaign collected a commodity that's just as important as money: names, phone numbers and email addresses from people willing to volunteer.
Many supporters have already started.
Ed Wujciak, of Hollywood, said he's touted Sanders during visits to Democratic Party clubs, an appearance on an Internet television program, and for several hours at the annual gay pride parade last month in Wilton Manors. "I've just been kind of busy spreading the word as best I can," he said.
His pitch: "Bernie Sanders is trying to take control away from the rich and powerful and give it back to the people. That was my one-sentence intro, and people responded."
Hillary Keyes, of Boca Raton, said she wears a large "We Want Bernie" button everywhere she goes. When someone wonders who he is, she hands out a flier. If someone likes the button, she'll give one away _ if the person signs up to volunteer for the pro-Sanders effort run by the liberal group Progressive Democrats of America.
At a recent after-work gathering at a Boca Starbucks, Keys arrived with a stock of Sanders literature, stickers and signs. She and Tom Conboy, of West Palm Beach, who also is part of Progressive Democrats of America, urged the 15 people who showed up to volunteer in any way they can: behind the scenes, inputting information from potential supporters, or publicly spreading the word at events ranging from Democratic Party clubs to green markets.
Sanders has an enormous challenge in South Florida, where Clinton is "enormously strong, overwhelmingly strong," said Mark Alan Siegel, former chairman of the Palm Beach County Democratic Party. Siegel and Mitch Ceasar, chairman of the Broward Democratic Party, said Sanders has generated excitement among some party activists.
But, Ceasar said, "there's been a lot of support in South Florida for the Clintons for decades." In 2008, the year Clinton lost the Democratic presidential nomination to Obama, she won 50 percent of the vote in the Florida presidential primary to Obama's 33 percent. In Broward, she won 57 percent; in Palm Beach County, she rolled up 61 percent.
A July 24 poll from Mason-Dixon Polling and Research showed Clinton had the support of 58 percent of Florida Democrats for the 2016 nomination. Sanders had 17 percent. The other three candidates barely registered in the poll, which found that 23 percent of the state's Democrats were undecided.
Charles Zelden, a professor of history and legal studies who specializes in politics and voting at Nova Southeastern University, is skeptical. He said he has no doubt Sanders would draw "good crowds" if he made public appearances in South Florida. "Whether they'd vote for him or not is another matter."
Jim Kane, a South Florida pollster and lobbyist who also teaches political science at the University of Florida, said the area's Democrats for the most part "really love" Clinton.
Sanders supporter Ilana Miller of Parkland is undeterred. "It can happen if we all step up and do our part. Miracles happen and people do change their mind," she said.
Like Clinton's, Sanders' efforts have been concentrated in early caucus and primary states such as Iowa and New Hampshire, and until recently there haven't been organized activities in Florida by the Sanders campaign.
Instead, much of the effort has been in the virtual world, with fans saying they learned about him on Facebook and the networking and news site Reddit.
Teacher Gayle Mullins-Shurling said she'd never heard of Sanders before she began reading posts about him this past spring on Facebook.
She was so impressed by what she'd read that she was prepared to drive the 140 miles from Cape Coral to Fort Lauderdale to see Sanders on Friday before learning that his speech to National Urban League annual convention wasn't open to the public. And she's thinking of changing her registration from no party affiliation/independent to Democratic so she can vote in next year's presidential primary.
(c)2015 Sun Sentinel (Fort Lauderdale, Fla.). Distributed by Tribune Content Agency, LLC.
Photo: Jen Wegmann-Gabb via Flickr