Police Arrest Dozens To End Ferguson Protests In Downtown L.A.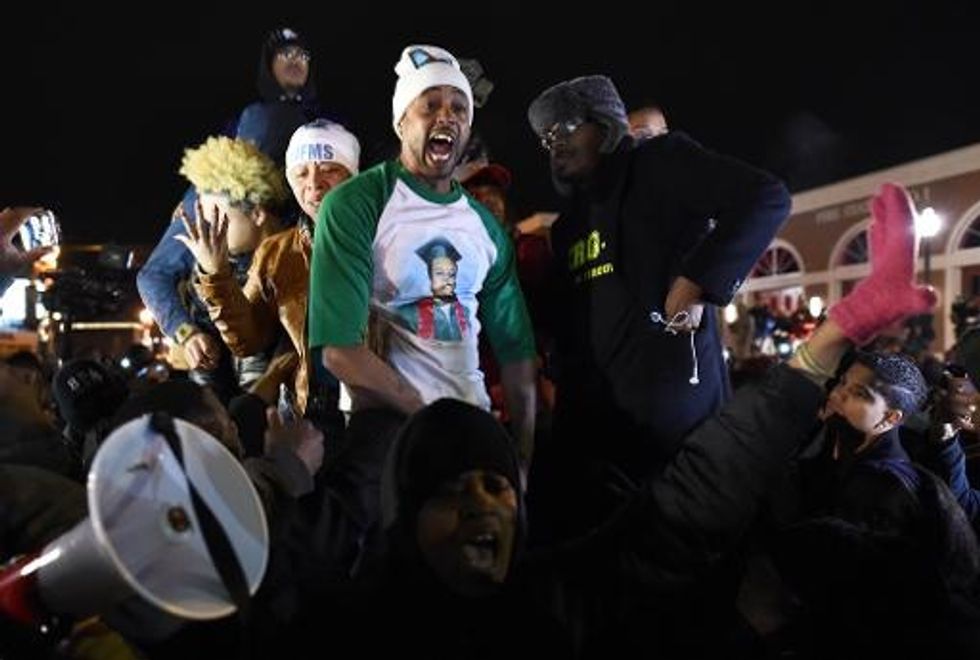 By Richard Winton, Kate Mather, Angel Jennings, Tre'vell Anderson, Samantha Masunaga, Marisa Gerber, Brittny Mejia, Ruben Vives, Taylor Goldenstein and Frank Shyong, Los Angeles Times (TNS)
A large demonstration against a Missouri grand jury's decision not to indict a white police officer in the shooting death of a black teenager ended early Wednesday morning in downtown Los Angeles when police officers in riot gear surrounded a group of several dozen protesters.
At about 12:45 a.m., Los Angeles police told the group they were under arrest and ordered the crowd to sit down. Two police buses arrived near the intersection of Temple Street and Broadway. A police spokesman said the arrests were made on charges of disorderly conduct.
The LAPD also arrested 33 protesters at the intersection of Flower Street and 9th Street, according to Capt. Martin Baeza.
It was not immediately clear how many total arrests were made. Up until the late-night incident, the LAPD had arrested just four people in connection with the demonstrations. The California Highway Patrol had also arrested four people in connection with multiple attempts to block local freeways.
The crowd marked the remnants of a large rally outside LAPD headquarters that splintered into roving groups that had disrupted traffic in the area throughout the night. Tuesday's protests began in South L.A. at about 3 p.m. and steadily moved east to the 110 Freeway. The majority of protesters were peaceful, but some became unruly as the night wore on.
After protesters caused repeated freeway, road and rail closures, they spread out throughout downtown and caused mayhem for motorists on local roads.
More than 100 protesters meandered through the streets and sidewalks near L.A. Live, briefly closing down traffic at Georgia Street and Olympic Boulevard. Nearby movie theatre Regal Cinemas locked its doors, allowing only customers with tickets inside. Police officers in riot gear formed human walls to block protesters from disrupting traffic on the freeway.
Another group outside LAPD headquarters began to march south on Main Street, then headed west on First Street toward Broadway. They left a handful of protesters behind, who drew chalk messages on the sidewalks and wrote anti-LAPD graffiti. A few gathered in a tight circle and sang freedom songs, their voices bouncing off of tall buildings.
Protesters briefly shut down the 101 Freeway in both directions after they placed barricades and metal debris on the road. Motorists trying to escape the jam flooded onto side streets in downtown Los Angeles. As cars packed Cesar Chavez Boulevard, a small group of protesters lay down where the street intersects with Grand Avenue, causing another traffic jam.
Some protesters jumped on a police cruiser near the Hall of Administration on Temple Street and posed for pictures. One of them was detained. A group of about 20 protesters sat down on Temple Street, forcing a truck to reverse and drive along Grand Avenue.
One officer was injured when a protester hurled a bottle of frozen water that struck the officer's head, an LAPD spokeswoman said.
A small group of demonstrators seemed to be seeking confrontations with police and frequently tried to move the protests onto freeways to disrupt traffic. At least one patrol car appeared to have been defaced with graffiti.
Members of the crowd tried to stop fellow protesters from getting violent, shouting at them to stop.
Throughout the night, demonstrators clashed with each other about what form their protests should take. Some suggested heading to Beverly Hills, while another group split off and walked in a totally different direction.
Elan Lee, 27, watched a man throw a plastic bottle and asked him to stop. A group of men began to argue with her, telling her that both peaceful and violent protests are necessary.
"It was just seeing how mad he was," Lee said, tears welling. "It made me sad to see someone so angry. … I don't want throwing a bottle to cause the media to say protests are violent because they're not."
Lee, a downtown resident, said she understands the anger but she thinks there's been enough violence.
"I just want a peaceful movement," Lee said. "Enough is enough."
Others felt that some protesters were simply taunting police to collect accolades on social media, where multiple demonstrators were posting pictures.
"Half of this protest I feel like is baiting cops … sort of about proving who you are against the police," said Wilder Bunke, 21, of Hollywood, who was critical of actions by some in the crowd. "The modern-day "… the police" isn't shooting a cop, it's posting a picture of yourself posing with a cop car on Facebook or Twitter."
Bunke said he felt some were demonstrating for the wrong reasons.
"I support the protest, I support this stand against police brutality and the institution of racism, but the antics of protesters are what delegitimize the protest as a whole." he said.
Demonstrators said they were combating a sense of defeat and helplessness after the grand jury's decision.
"Even though this might not do anything, being silent is much worse," said Dylan Farr, 22, of Glendale.
His sister, a doctoral student at USC, was with him.
"I am angry and I feel powerless to change the way things are," said Brittany Farr, 26. "It feels good to register my frustrations in a public way."
Protests took a different form at Holman United Methodist Church, five miles from L.A. Live, where clergy and community groups called for peace and for collaboration.
More than 60 people from various faiths and ethnicities gathered in the church's social hall about 7:30 p.m. to talk and pray about systematic change.
"I am disappointed, disturbed, but yet still determined … that we can display righteous anger, but do that in a constructive way," said Kelvin Sauls, the senior pastor at the church.
"This moment and these moments we've had must become a movement," he said.
In San Diego, several hundred protesters shut down a portion of Interstate 15 in the City Heights neighborhood for about 30 minutes Tuesday night. The crowd was moved off the freeway by San Diego police and CHP officers.
At least one person was arrested. There were no immediate reports of injuries or property damage.
A second protest march took place in downtown San Diego without incident.
AFP Photo/Jewel Samad