Police: Brown Was Suspect In Robbery Before He Was Killed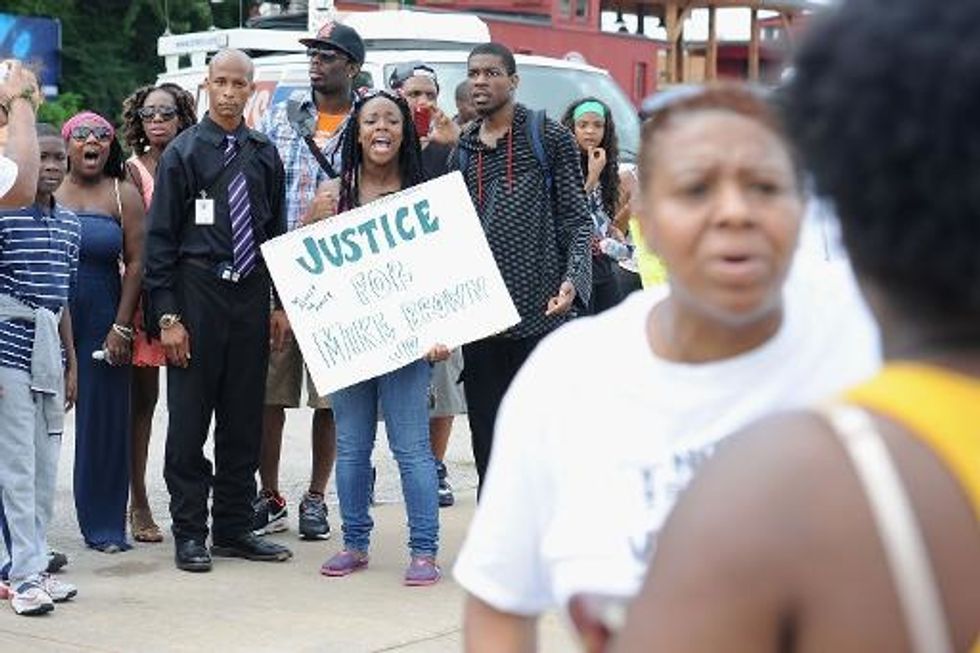 St. Louis Post-Dispatch
FERGUSON, Mo. — A report released Friday by Ferguson, Mo., police identifies Michael Brown as a suspect in a robbery at a convenience store a short time before he was fatally shot by a police officer.
Ferguson authorities have identified Darren Wilson as the police officer who shot and killed the unarmed teenager last Saturday. Ferguson Chief Tom Jackson released the officer's name Friday morning. Wilson has been an officer for six years and has had no disciplinary action taken against him in the past, Jackson said.
Brown, 18, was shot multiple times Saturday afternoon.
Documents that Jackson released Friday in response to Sunshine Law requests name Brown as a suspect in the robbery of a store in which cigars were taken. The store name and address is redacted from the documents, but it was not a QuikTrip that has become ground zero of protests.
Also named as a suspect in the robbery is Dorian Johnson, 22, a man who has said he was with Brown when he was shot.
The document release includes surveillance images of the robbery, showing an employee being attacked.
An unidentified employee had just come out of the restroom and come to the counter when she observed Brown telling a clerk he wanted several boxes of cigars, the reports say. The names of two employees have been redacted from the report:
"As (redacted) was placing the boxes on the counter, Brown grabbed a box of Swisher Sweets cigars and handed them to Johnson who was standing behind Brown. (Redacted) witnessed (redacted) tell Brown that he had to pay for those cigars first. That is when Brown reached across the counter and grabbed numerous packs of Swisher Sweets and turned to leave the store. (Redacted) then calls '911.' Meanwhile (redacted) comes out from behind the counter and attempts to stop Brown from leaving. According to (redacted), (redacted) was trying to lock the door until Brown returned the merchandise to him. That is when Brown grabbed (redacted) by the shirt and forcefully pushed him back in to a display rack. (Redacted) backed away and Brown and Johnson exited the store with the cigars."
In his press conference, Jackson did not say Brown was a suspect in the robbery and did not say how that information connects to the Brown shooting investigation. The documents he released do name Brown and Johnson as suspects.
He said he had been in touch with a contact for Brown's family before releasing the information.
Some citizens attended the press conference and were upset Jackson spoke about a robbery. Chants of "No justice, no peace," broke out from some.
"I am incensed," said Laura Keys, 50, of St. Louis. "I can't believe this is the tactic they are using, bringing up a robbery to make the victim look like he was the person who created this whole mess. Where's the footage?"
Brown, a 2014 graduate of Normandy High School, was reportedly due to start classes at Vatterott College on Monday. His mother, Lesley McSpadden, said her son was walking to his grandmother's when he was gunned down.
Brown's death prompted almost immediate protests in Ferguson, including Sunday night demonstrations that led to rioting and looting. Protesters looted and then set fire to a QuikTrip store and vandalized others in the area near where Brown was killed.
Demonstrations and protests escalated, reaching a climax on Wednesday night when St. Louis County officers in full riot gear responded with tear gas, rubber bullets and armored vehicles. About a dozen people were arrested, including two national reporters and a St. Louis alderman.
That led to Thursday's change in direction — when Gov. Jay Nixon put the Missouri Highway Patrol in charge of the security in Ferguson and removed St. Louis County police.
The change was dramatic and immediate, as Thursday night's police presence lacked gas masks, smoke bombs, and military gear. Capt. Ronald S. Johnson, the patrol officer put in charge, walked and talked with protesters, exchanging hugs and answering questions.
___
POLICE TIMELINE OF FATAL SHOOTING
Ferguson Police Chief Tom Jackson described events before the fatal shooting of Michael Brown on Saturday, saying Officer Darren Wilson was at a sick call from 11:48 a.m. to about noon. An ambulance was also at that scene.
At 11:51 a.m. a 911 caller reported a strong-arm robbery at a convenience store, Jackson said. He did not name the store. A brief description went out a minute later.
A different officer went to the convenience store and a more detailed description went out a short time later. The robbery suspect was said to be heading toward the QuikTrip in Ferguson.
Wilson left the sick call and encountered Michael Brown at 12:01 p.m. Sometime between then and 12:04 p.m., when a second officer arrived at the scene, Brown was fatally shot by Wilson.
A supervisor arrived at 12:05 p.m., and the ambulance that had been at the nearby sick call came to the scene "immediately following the shooting," to "assess Michael Brown," Jackson said.
Jackson said further information about the actual shooting would have to come from St. Louis County Prosecutor Bob McCulloch, who has declined to release information now. Jackson left his press conference without taking questions.
AFP Photo/Michael B. Thomas
Interested in national news? Sign up for our daily email newsletter!