Police Endorsement of Donald Trump Bodes Ill For Justice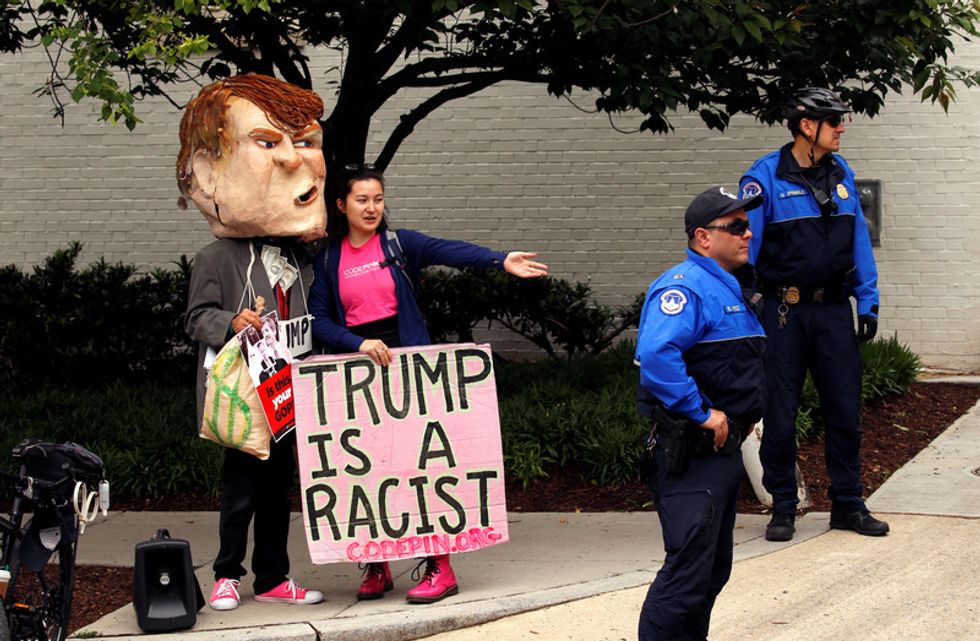 The video footage of the shooting death of Terence Crutcher at the hands of a Tulsa police officer is extremely disturbing and evokes visceral reactions: fear, outrage, panic. In view of the camera, Crutcher is seen walking slowly to his car, his empty hands raised over his head. Without any apparent provocation, he's gunned down.
I have to exercise mental discipline — making a conscious effort to replace emotion with reason — to remember a simple truth: Not every police officer treats all black men as violent thugs, and not every law enforcement official harbors hidden racial biases that provoke disturbing overreactions.
I know that it's wrong to assume that all police officers behave like jackbooted storm troopers, just as it's wrong to believe all black men are criminals-in-waiting. (It's also wrong to believe that all Black Lives Matter protestors behave like the Charlotte mob, who, angry about the shooting death of another black man at the hands of police, have turned peaceful demonstrations into days and nights of carnage.) Tulsa police officer Betty Shelby, who killed Crutcher, has not been convicted of any crime and is innocent until proven guilty.
That's all within the bounds of rational thinking. None of us should give in to the dictates of our lizard brains, which continue to pass on judgments from our primal pasts.
That's why I'm so troubled by the news that the Fraternal Order of Police has given its endorsement to Donald Trump. If police officers want the broad support of the nation — the trust of a diverse citizenry — why in the world would the FOP support Trump?
That's not one or two or 10 police officers. That's the nation's largest police union giving its backing to a man who has lowered the bar for presidential campaigns by insulting Muslims, denigrating Mexicans and questioning the ethics of a federal judge because of his heritage.
Trump doesn't merely pander to racial prejudices, engaging in the dog-whistles that have been standard for Republican candidates since the 1960s. He has issued full-throated cries of bigotry, starting with his enthusiastic indulgence in "birtherism," a lie that insists President Barack Obama was not born in the United States. (While Trump renounced birtherism grudgingly in mid-September, he seemed to indicate barely a week later that he only did that so reporters would stop asking him about it.) The claim that Obama is foreign-born has been one of the more patently racist smears by his detractors, an attempt to delegitimize the presidency of the first black man to win the Oval Office.
Certainly, the union has every right to endorse whomever it chooses, and its members have every right to vote accordingly. Police officers tend to be conservative, and the FOP usually endorses the Republican presidential nominee. But that nominee isn't usually a person who cozies up to Nazi sympathizers. The decision of the overwhelmingly white FOP to endorse him strongly suggests that it agrees with his views. (Some black FOP members have criticized the endorsement.)
(Similarly, the National Border Patrol Council, the union representing 16,500 border patrol agents, cast doubt on its members' ability to be prudent and fair with its endorsement of Trump in April. It's hard to imagine union members could protect the rights of immigrants, legal and illegal, when their endorsement suggests a deep well of xenophobia.)
The timing of the FOP's endorsement could hardly be less fortunate. In communities across the country, relationships between police departments and black citizens are frayed by the deaths of unarmed black men at the hands of law enforcement officers. Police conduct is the subject of not only protests such as those led by the activists of Black Lives Matter, but also dramatic gestures by athletes such as NFL quarterback Colin Kaepernick.
That charged atmosphere cries out for police leaders who project not only authority but also empathy, who appreciate diversity and communicate genuine respect for all citizens. The FOP has done the opposite. Its endorsement plays into the view — widespread in some precincts — that white police officers are waging war on neighborhoods of color.
Cynthia Tucker won the Pulitzer Prize for commentary in 2007. She can be reached at cynthia@cynthiatucker.com.