Police Prove To Be Another Weak Link In Ukraine's Efforts To Keep The Peace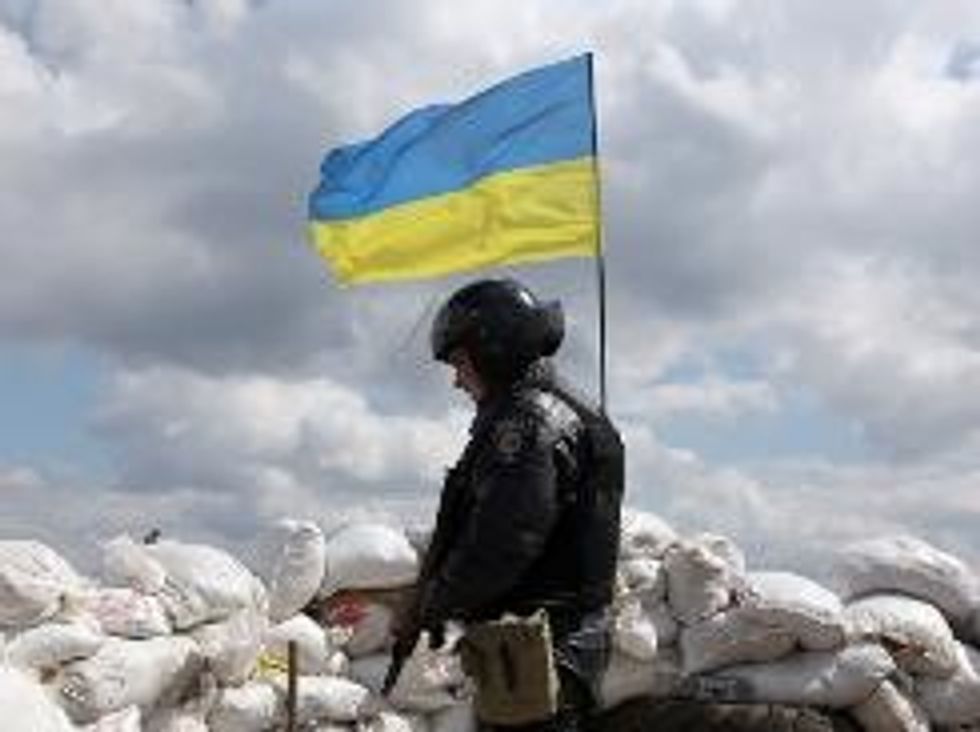 By Matthew Schofield, McClatchy Foreign Staff
KIEV, Ukraine — The scene has been repeated again and again across Ukraine in recent weeks: Protesters storm a building or an opposing group, and police, often decked out in full riot gear, stand and watch.
For many seeing the scenes on video, they verge on the unfathomable. Time and again, police watch as one group attacks another, or takes off with government property (including, sometimes, weapons). Often, as they leave the scene, rioters will note that "the police are with us," and the police will do nothing to dispel that notion.
In eastern Ukraine Monday, Ukrainian forces continued a battle against pro-Russian separatists in Slovyansk, a town of about 125,000 residents that is now home to an insurgent force estimated at 800. Pro-Russian forces are said to have downed a third Ukrainian helicopter, and Ukraine's interior minister, Arsen Avakov, said pro-Russia forces were using large-caliber weapons and mortars.
But the talk in the capital Monday was about what had gone wrong in Odessa, where police in body armor, helmets and shields refused even to attempt to quell a riot Friday that resulted in more than 40 deaths, mostly pro-Russian protesters who died in a fire in a building they'd broken into to escape Ukrainian nationalists described as soccer hooligans.
The police passivity in Odessa underscores a major problem for the interim Ukrainian government: With Russian propaganda warning that anarchy threatens the security of Russian speakers in Ukraine, those in charge in Kiev have few institutions they can depend on to secure restive cities or separate battling crowds.
The head of Ukraine's parliamentary anti-corruption and organized crime committee, Viktor Chumak, said that while Ukrainian police clearly performed poorly in Odessa, that was about all that anyone should have expected.
"For the past 20 years, this is how we have trained our police to respond," he said. "They have been trained to be a repressive mechanism of those in and hoping to retain power."
Instead of being trained to quash a riot to protect two sides from each other, or one side from another, they are trained "to hassle the little old women who are selling items on the street for a bit of their money, and to kill off the competition of local political and business leaders."
He noted that polls indicate that among all Ukrainians, only 13 percent trust the police.
"Today we have a dysfunctional police force," he said. "It's a security service incapable of performing what should be its real function."
Or, he added, of even knowing what that function should be.
"Imagine this police force being told to stand before bullets to protect everyday citizens," he said. "That's not what they were hired for. That's not what they were trained for. We need a dedicated, professional, patriotic police force."
That sort of project takes years, not weeks, certainly much more time than the three weeks remaining before Ukrainians are scheduled May 25 to vote to pick a new president, and administrative centers in cities such as Donestsk and Luhansk in the east remain under the control of pro-Russia separatists.
Dmytro Tymchuk, director of Ukraine's Center for Military and Political Research, also reminds that there are concerns about the loyalty to Ukraine of the current police force.
"We believe many of the top officers have been paid quite a bit of money to back pro-Russia efforts," he said. "As for the rank and file, Ukrainian police typically earn no more than about $300 a month. Russian police earn $1,200 and more. Many police don't think that their region joining Russia would be a bad thing."
Ukrainian officials believe Russian agents, money and influence are behind much of the tension in the country. They expect those tensions to spike this Friday, the anniversary of the Nazi surrender that ended World War II in Europe.
Viktor Shlinchak, chair of the Institute of World Policy think tank in Kiev, is among those who expect more problems on the anniversary. "Russia adores symbolic dates," he said. "There's a very strong feeling that on this one, they are well-prepared to escalate the crisis in Ukraine."
The events that unfolded last week in Odessa provided proof of the interim government's institutional weakness.
On Friday, a long line of police stood, in body armor, under helmets and behind shields, and watched, first as pro-Russia mobs attacked a group described as Ukrainian nationalists and soccer fans, and then as the pro-Russia demonstrators broke into a trade union building to organize themselves. Soon, there were flames shooting out of a first-floor window, and dozens died in the smoke and flames.
On Sunday, Odessa police stood idle as pro-Russian protesters stormed the police station. The police agreed to free those arrested after the Friday protest, and the protesters left.
Last week in Donetsk, well-armored and numerous police watched pro-Russian protesters attack and beat pro-Ukrainians during what began as a peaceful political rally.
Ukrainian Gen. Mykola Malomuzh, the former head of the intelligence service, said the failure to instill a culture of professionalism in the security service has made it impossible to depend on the police to keep the peace. Looking toward the expected provocations on and around Friday's anniversary, he said, the security challenges would likely be far more intense and widespread.
"Now we will learn if we can organize and overcome," he said. "Or separatists will leave all of Ukraine on the edge of chaos."
AFP Photo/Anatoliy Stepanov