Shady 'Police' Nonprofit Sponsors Far-Right Young Women's Conference
@jacinahb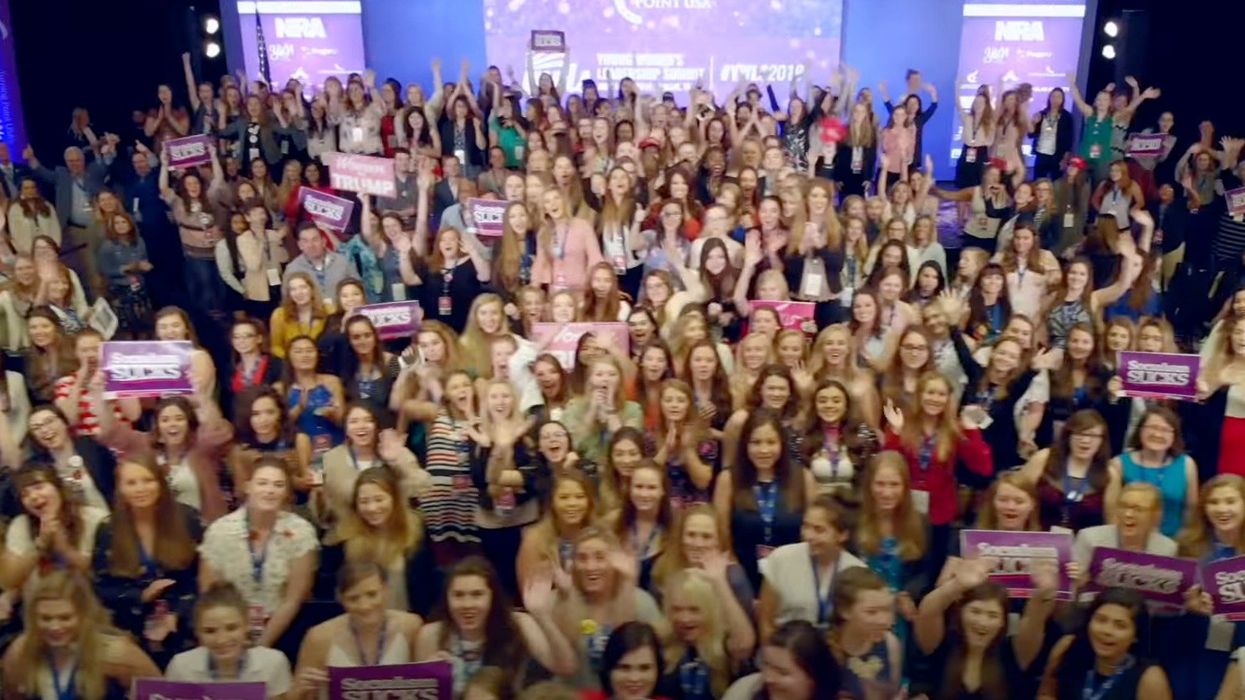 The weekend of June 9 brings the Turning Point USA Young Women's Leadership Summit back to Texas. The three-day event, which promises to be a hotbed of transphobic, staunchly anti-feminist propaganda and fearmongering about contraceptives and trans women, is sponsored in part by a sketchy nonprofit that fundraises off deceptive, pro-police appeals to right-wing media audiences.
Last year's YWLS event was billed as a "celebration of freedom and femininity" for "cuteservatives," and speakers told attendees that their mission was to find a conservative husband to settle down and have children with.
This year, the event will be sponsored in part by the National Police Association, a shady nonprofit that seeks to bring "attention to the anti-police efforts challenging effective law enforcement." But a 2019 investigative report from the IndyStar newspaper revealed that the organization does not have the support of local police departments, and local police chiefs call it a "scam."
The IndyStar reported that the NPA fundraises based on the assumption that donations go directly toward supporting police officers, with letters sent to "vulnerable people" asking for donations to "give our law enforcement officers the crime prevention tools they need." According to the IndyStar, these donations do not go to police agencies, and the outlet found that "only 25 percent of the group's spending went to programming." The letters the NPA sends paint "a dystopian picture of communities and police departments under attack," even if the picture is plainly false:
The National Police Association's fundraising letters raise different issues depending on the city.
Fundraising letters in Germantown, Wisconsin, last year falsely warned that Germantown is a sanctuary city, a term that refers to states and municipalities that do not cooperate with federal immigration enforcement.
"Countless Americans have already been robbed, mugged, raped and even murdered as a direct result of Sanctuary policies of allowing known criminals to remain on the streets," one copy of a National Police Association letter says, adding, "your gift of $15 is needed to reach citizens like you ... so they realize the kind of risks they're facing because their elected officials have allowed their communities to become sanctuaries for violent criminals."

Germantown Police Chief Peter Hoell told IndyStar the group "must not have researched the demographics."
"It's so far-fetched, especially if you know Germantown," Hoell said of the sanctuary city claim. "It's a highly conservative community."
Hoell told residents to disregard the letter. He also reported the National Police Association to the U.S. Postal Inspection Service over what he considered to be fraudulent mail.
"It's a scam," Hoel said. "It's no different than any other scam — just a different angle."
The IndyStar reported that the NPA's three employees were volunteers who were not paid by the organization. According to the report, founder Eddie Hutchison — a full-time fraud investigator for the Indiana attorney general's office — worked just a few hours per week and received no income from the NPA in 2019. This appears to no longer be true, as the group's 2021 tax filings show that Hutchison was paid $96,000 for an average of 100 hours of work per week. The other two executives listed on the form, Derek Peterson and Brad Shaw, reportedly work an average of 0.24 and 0.12 hours per week and receive $58,113 and $28,000, respectively.
Even the NPA's website shows that not much of its donation income goes toward helping police departments directly — grants for training or gear, it says, are limited to $1,000 per year.
The NPA's stances are standard pro-police talking points found across right-wing media. In 2021, the group also came out against the COVID-19 vaccine, even though the illness was the leading cause of police deaths. The same year, the NPA ran a campaign called "Stop Filming & Start Helping" in an effort to refocus attention from police violence to police being "assaulted on the job." The NPA website also features a "Wall of Shame" with articles about people and policies the group sees as "coddling criminals."
NPA spokesperson Betsy Brantner Smith, who is scheduled to speak at Young Women's Leadership Summit, uses her Twitter account primarily to spread awareness about anti-police violence but also to applaud anti-LGBTQ hate from Megyn Kelly and retweet attacks against Kohl's and Target for selling Pride merch. Smith is a frequent guest on Newsmax, where she agrees with hosts that crime is out of control and that police need to be protected, offering little else.
The organization also thrives off of filing lawsuits seemingly intended primarily to generate right-wing media attention for the NPA itself.
In April, the group filed a lawsuit pressing Nashville police to release the manifesto of the Covenant School shooter, which the school and parents filed separate motions to counter, citing safety concerns and asking time to allow surviving students to "finish the school year in peace." NPA responded by saying the parents' lawsuit is an "obvious expression of anguish seeking sympathy," and "they will experience even greater suffering if they obtain a denial of public access that results in more school children being murdered."
In December 2022, the NPA sued an Ohio homeowners association for telling a resident to take down his "thin blue line" flag, a pro-police symbol that has been increasingly embraced by and associated with white supremacists.
Shortly after the original IndyStar report, the NPA also sued two officers who told the outlet that the organization was a scam.
Ahead of this year's YWLS, Turning Point USA recently took a hit over another one of its event sponsors, Rightside Up, whose founder is a registered sex offender convicted in 2014 of "attempted 'coercion and enticement' after trying to persuade 'a minor female' to 'engage in sexual activity.'"
Reprinted with permission from Media Matters.