Poll: Americans Broadly Back Obama's Immigration Executive Action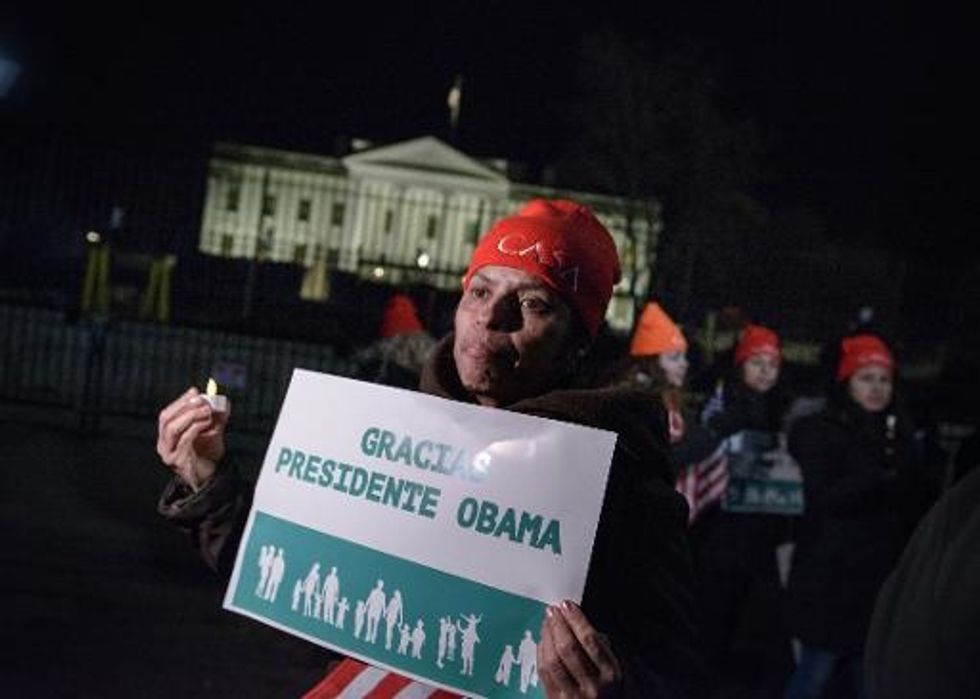 Americans are very open to President Barack Obama's newly announced executive action to shield millions of undocumented immigrants from deportation, according to a Hart Research Associates survey released Friday.
The poll, which was conducted on behalf of the liberal 501(c)(4) "dark money" group Americans United for Change, described the president's policy as follows:
The action would direct immigration enforcement officials to focus on threats to national security and public safety, and not on deporting otherwise law-abiding immigrants. Immigrants who are parents of children who are legal US residents could qualify to stay and work temporarily in the United States, without being deported, if they have lived in the United States for at least five years, pay taxes, and pass a criminal background check.
After hearing that description, voters overwhelmingly backed President Obama's move: 67 percent viewed it favorably, while just 28 percent viewed it unfavorably. The support was fairly bipartisan, with 91 percent of Democrats, 67 percent of Independents, and 41 percent of Republicans viewing the executive action favorably. Among Tea Party Republicans, however, 64 percent opposed the policy while just 30 percent viewed it favorably.
The results underscore the importance of President Obama's sales job with regard to his executive action. Previous polls have found that voters abstractly disapprove of the president circumventing Congress to deal with immigration. A USA Today poll released Monday, asking "Should President Obama take executive action this year to deal with illegal immigration or should he wait until January for the new Republican Congress to pass legislation on this issue," found that 42 percent wanted the president to act now, while 46 percent preferred that he wait. Similarly, an NBC News/Wall Street Journal poll released Wednesday found that 48 percent disapproved of President Obama taking executive action while 38 percent approved, without being told any of the details of the president's plan.
But, as Hart Research found, voters strongly support the specifics of President Obama's executive action. They favor allowing the parents of children living legally in the United States to stay in the country by a 40 percent margin, expanding the Deferred Action for Childhood Arrivals (DACA) program by 36 percent, providing temporary work permits to qualifying immigrants by 55 percent, and shifting more security resources to the U.S.-Mexico border by 63 percent.
Democrats already seem to be winning one important aspect of the messaging fight; the poll found that — despite outspoken Republican outrage — voters agree, 51 to 41 percent, that President Obama has the legal authority to change the nation's immigration enforcement policies.
The Hart Research Associates poll surveyed 800 likely 2016 voters from November 19 to 20, 2014, and has a +/- 3.5 percent margin of error.
AFP Photo/Brendan Smialowski