Poll: Americans Strongly Reject Impeaching, Suing Obama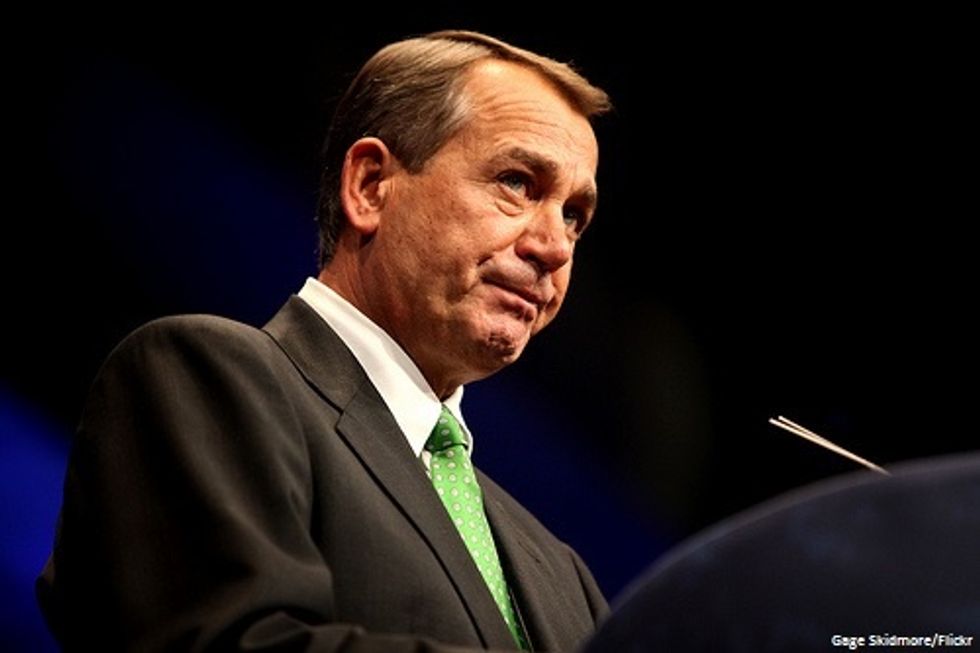 Over the past several weeks, Republicans have increasingly insisted that something has to be done about President Barack Obama's tyrannical abuse of power. According to a new poll, the rest of the country completely disagrees.
According to a CNN/ORC poll released Friday, the vast majority of Americans oppose plans to sue or impeach the president.
The poll finds that 65 percent of Americans reject the idea of impeaching President Obama. Just 33 percent think he should be removed from office.
Republicans are much more open to the idea, however. They support impeachment by an overwhelming 57 to 42 percent margin. Self-described conservatives also back impeachment, 56 to 44 percent.
House Speaker John Boehner's push to sue the president — which is widely viewed as a substitute for the politically unpalatable impeachment option — is similarly unpopular. Just 41 percent of Americans back the lawsuit idea, while 57 percent oppose it.
Unsurprisingly, Republicans don't agree with the majority of the country; by a 75 to 22 percent margin, they say that the House should sue. Conservatives agree, 64 to 33 percent.
Americans don't just oppose Republicans' proposed solutions to the supposed problem of Obama's imperial presidency. They don't see a problem at all — 45 percent say that President Obama has gone too far in expanding the power of the presidency and executive branch. But 30 percent say that his use of executive authority has been about right, and 22 percent say he has not gone far enough.
The results suggest that Democrats' plan to aggressively use the GOP's lawsuit and impeachment talk against them in the midterm elections could pay dividends.
It should also raise red flags for congressional Republicans who are prepared to leave Washington for the August recess without passing any immigration legislation. If President Obama follows through on his threat to use executive action to patch the immigration system, these numbers suggest that he could have the political cover to do so.
Photo: Gage Skidmore via Flickr