Poll: Bill de Blasio Takes Lead In New York City Mayoral Race, Could Avoid Runoff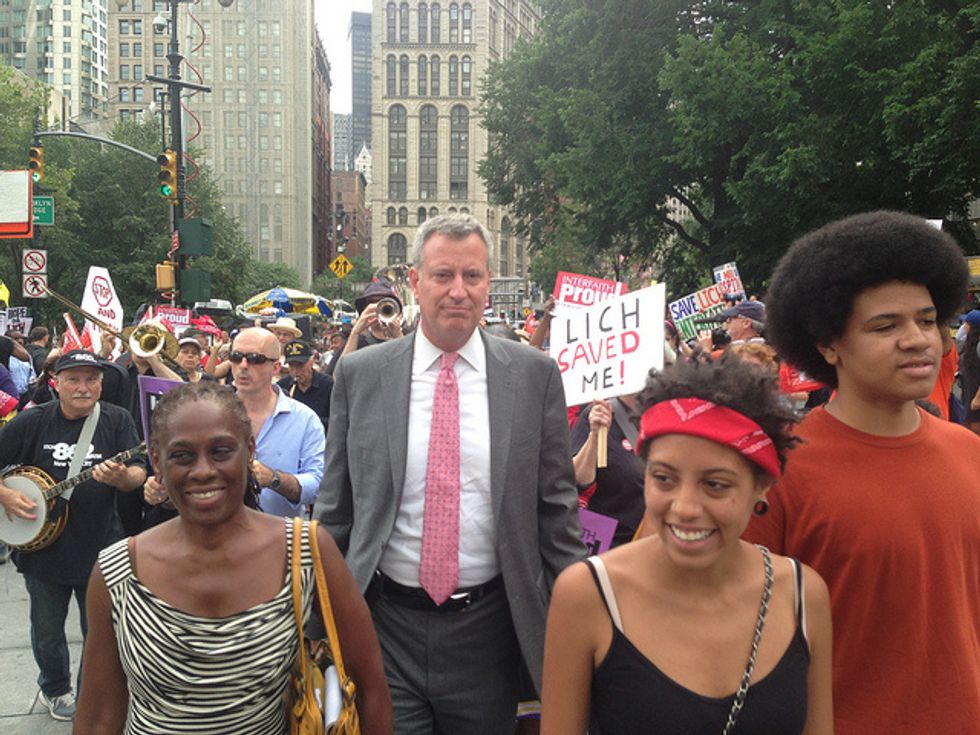 A Quinnipiac poll released Wednesday afternoon shows Public Advocate Bill de Blasio pulling away from his Democratic opponents with less than two weeks to go until the New York City mayoral primary election.
De Blasio is now far ahead of his top rivals for the Democratic nomination, City Council Speaker Christine Quinn and former City Comptroller Bill Thompson — 36 percent of likely voters favor de Blasio, while 21 percent support Quinn and 20 percent support Thompson. De Blasio is now within striking distance of the 40 percent he'd need in the September 10th primary to avoid a runoff with the second-place finisher.
Just four weeks ago, the public advocate was tied with Thompson at 21 percent, and both trailed behind Quinn, who was at 27 percent of likely voters.
In hypothetical runoff scenarios between the top three candidates, De Blasio would top Quinn 59 to 30 percent and Thompson 52 to 36 percent, while Thompson would lead Quinn 57 to 33 percent.
Lagging far behind the top three candidates are former congressman Anthony Weiner, at 8 percent, and current New York City comptroller John Liu, at 6 percent.
De Blasio's strong lead comes as a shock to many, especially after the New York Times, New York Daily News and New York Post announced their endorsements of Christine Quinn last week.
The New York Times editorial board weighed Quinn against De Blasio, and ultimately concluded that de Blasio's "most ambitious plans …look like legislative shots."
It added: "Once a Mayor de Blasio saw his boldest ideas smashed on the rocks of Albany, then what?"
Indeed, the candidate's agenda — one that allowed him to win the endorsement of billionaire George Soros, among other prominent liberals — has helped him stand out as the most progressive candidate in the race. De Blasio has centered his campaign on his interracial family – his wife, Chirlane McCray, is African-American and they have two children together – and the notion that New York City represents the old "tale of two cities." While focusing on issues of racial, class and income inequality, the Democrat has also called attention to "green technology, equality for women in the workplace, and job growth in the tech and entertainment industries." He has been one of the most outspoken critics of current mayor Michael Bloomberg's stop-and-frisk policy.
Based on the latest numbers, the former underdog's strategy has been successful.
Among the public advocate's likely voters, 36 percent say they are "very enthusiastic" about voting for him, and 52 percent say they "definitely will vote for him." The numbers mirror the 36 percent of Thompson's likely voters who voiced enthusiasm, and the 52 percent who have vowed to vote for the 2009 Democratic nominee.
Only 25 percent of Quinn's likely backers expressed enthusiasm about voting for her, and 37 percent say they will definitely vote for her. Quinn does hold a lead among voters who look for a candidate with the "right experience."
De Blasio's owes his lead to a diverse coalition of Democratic voters. He has the support of 43 percent of men, 30 percent of women, 34 percent of blacks, and 38 percent of whites, giving him leads over Quinn and Thompson in each group.
Quinnipiac polling director Maurice Carroll said, "The political cliché, that the most liberal candidate wins the Democratic primary in New York, seems to be alive and well."
Photo: Public Advocate Bill de Blasio via Flickr.com