Poll: Boehner's Lawsuit Could Backfire On GOP In November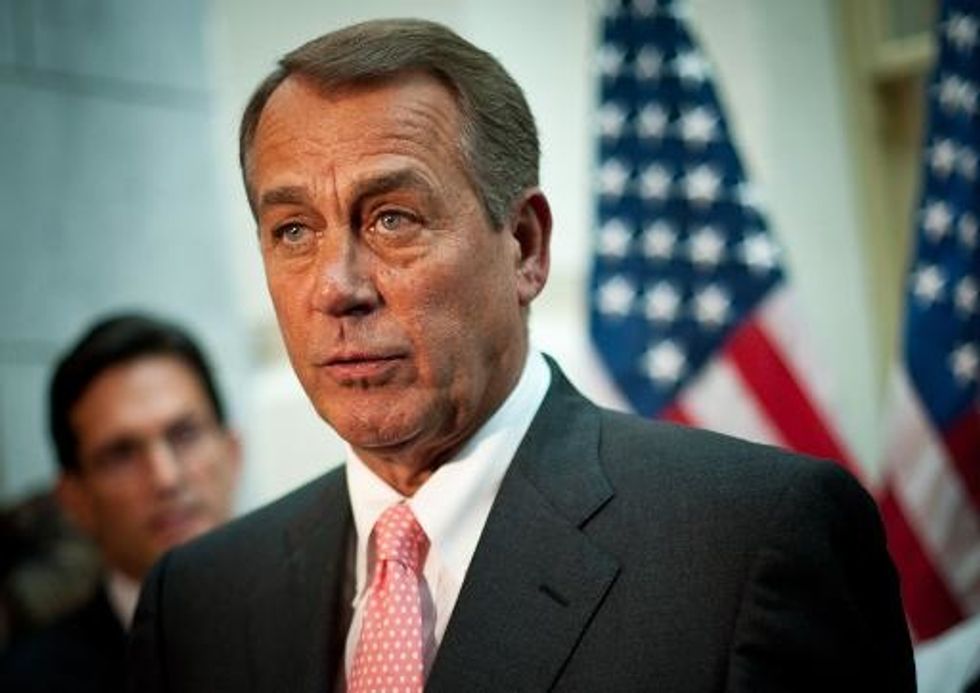 Ever since House Speaker John Boehner (R-OH) announced his intention to sue President Barack Obama for delaying the Affordable Care Act's employer mandate, polls have shown that the American public strongly disagrees with the plan. According to one new survey, it could cause a big problem for Republicans in November.
The latest McClatchy-Marist poll finds that the lawsuit is still unpopular; 58 percent say that Congress should not sue the president, while just 34 percent say it should. In a major warning sign for the GOP, it appears that this disappoval could translate into votes. The lawsuit is actually motivating Democrats more than Republicans; an 88 percent majority of Democrats said the lawsuit makes them more likely to vote for a Democrat in the midterms, while just 78 percent of Republicans said the same about their party's candidates.
Democrats' increased motivation over the lawsuit is already apparent in the money race. Democratic fundraising has exploded since Boehner annouced his plan.
Republicans are counting on a large enthusiasm gap to help them make major gains in November. If the lawsuit motivates Democrats — particularly minorities and young voters, who tend to vote at much lower rates in midterm elections — to head to the polls, then it could scuttle GOP plans to take over the Senate.
More broadly, suing the president could cause a serious rift between the GOP and moderate voters. Self-described moderates oppose the lawsuit by an overwhelming 67 to 22 percent. And if Republicans do actually sue Obama, it would make 50 percent of moderates more likely to vote Democratic, and just 25 percent more likely to vote Republican.
The poll isn't all bad news for Republicans, though. It found that the GOP has claimed a 43 to 38 percent advantage in the generic congressional ballot — its first lead of the year.
AFP Photo/Mandel Ngan
Want more political news and analysis? Sign up for our daily email newsletter!