Poll: Democrat Sink Leads In Florida Special Election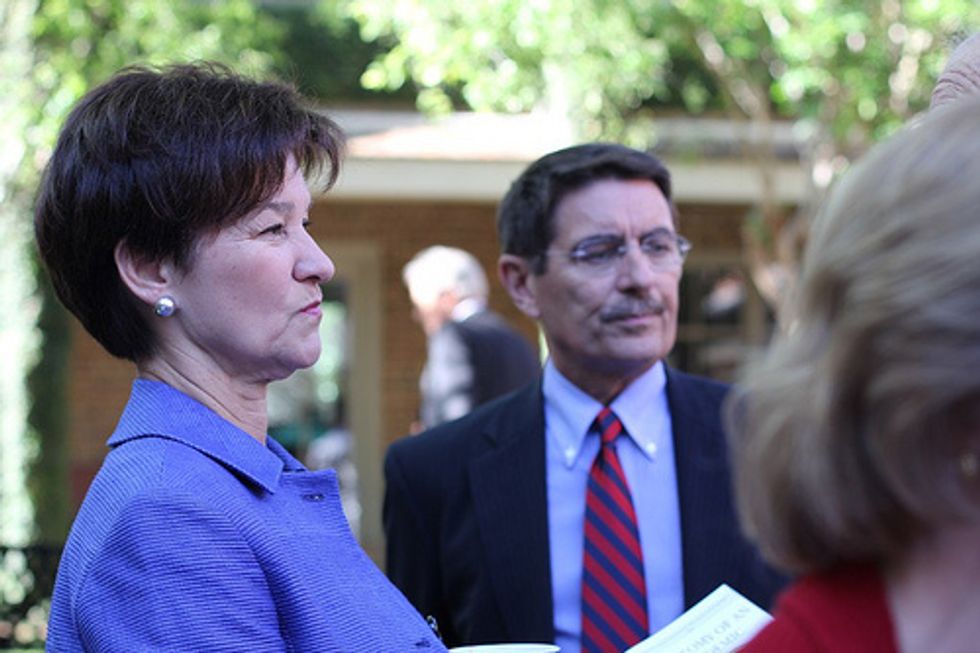 Democrat Alex Sink holds a slight lead over Republican David Jolly in Florida's hotly contested special election for U.S. House, according to a new Tampa Bay Times/Bay News 9/WUSF Public Media poll of likely voters in the state's 13th congressional district.
The poll finds Sink with a 42 to 35 percent advantage over Jolly; 4 percent support Libertarian candidate Lucas Overby, and 14 percent are undecided.
Those undecided voters are likely to swing the election; 81 percent of them say they are not leaning towards any candidate.
Unsurprisingly, the Affordable Care Act is serving as a dividing line between the candidates. Voters who support the law favor Sink by an 81 to 14 percent margin, while Jolly wins voters who oppose it, by 84 to 9 percent. Overall, 43 percent of those surveyed support the Affordable Care Act, while 47 percent oppose it, and 10 percent have no opinion.
Although health care reform has dominated headlines throughout the campaign — both Jolly and outside groups have trained their fire on Sink's support for the law — it may not prove decisive in the election; 39 percent of respondents said the law's impact on their voting preference is "very important," while 33 percent said it is "somewhat important," and 26 percent said it is "not at all important."
This should alarm Republican strategists across the nation, who have seemingly decided to put all of their eggs in the "Obamacare is a train wreck" basket. Florida's 13th district has a reputation as a national bellwether; if a quarter of voters across the nation don't consider Obamacare to be any sort of factor in their 2014 voting decisions, then Republican candidates could be in big trouble.
As the March 11 election draws nearer, the deeply negative campaign has increasingly become a proxy battle between liberals and conservatives across the country. Outside groups have spent a staggering $1.1 million on the race in the past nine days alone, with much more expected to follow in the coming weeks. Overall, outside groups have spent $3.5 million on the campaign — $2.6 million of it in support of Jolly — making it among the most expensive races of the cycle.
The Tampa Bay Times/Bay News 9/WUSF Public Media poll surveyed 603 voters by telephone between February 4 and February 9, and has a +/- 4.0 percent margin of error.
Photo: Village Square via Flickr