Poll: Dems Have Chance To Keep Senate By Focusing On Economy, Women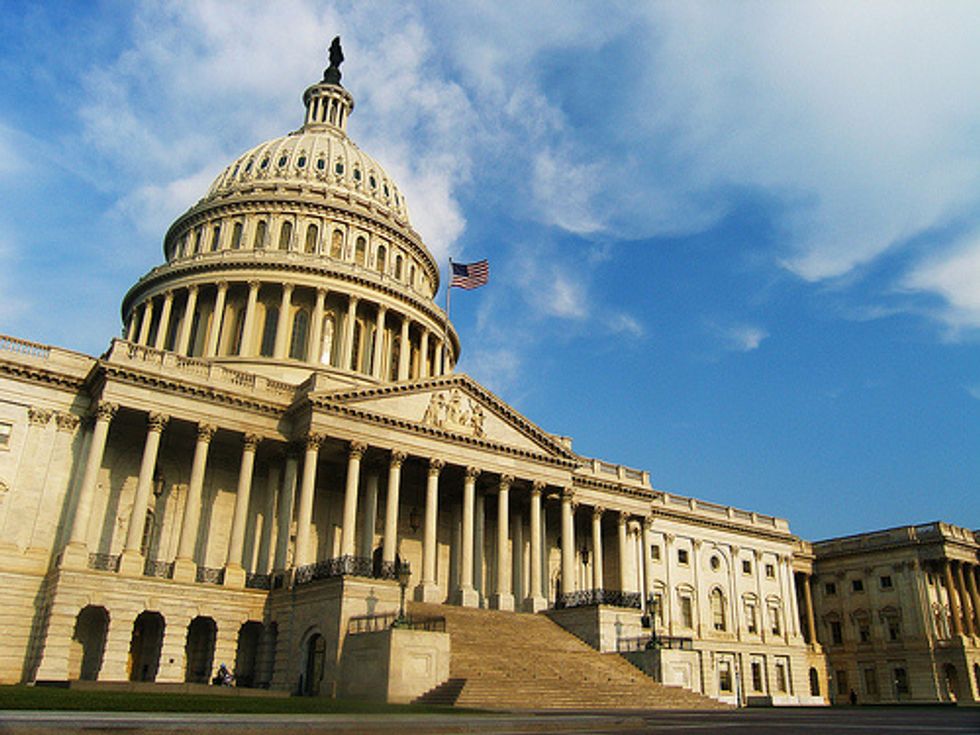 A new survey of likely voters in the 12 states where control of the Senate is being contested shows that the race between Democrats and Republicans is very close, but Democrats could pull ahead by conveying a populist economic message and attacking Republicans on women's issues.
The poll, which was conducted by Democracy Corps and the Women's Voices Women Vote Action Fund, shows Republican candidates with a 46 to 44 percent lead over Democratic candidates in these states, which Mitt Romney collectively won by 9 percent in 2012.
The poll finds that unmarried women are the "most important target" for Democrats. When these voters are shown the economic messages from both parties, their support for Democrats shifts from +11 to +20. The Democratic message advocates for raising the minimum wage, ensuring that women are paid equally, and providing support for working mothers, while the Republican message attacks Obamacare and big government, and accuses President Obama of failing on the economy. Attacks on Republicans are far more successful with this demographic than attacks on Democrats.
Democrats have the disadvantage of the president's lowly 37 percent favorability rating, but Republicans are also extremely unpopular. The poll finds that House Speaker John Boehner (R-OH)'s agenda not only hurts House Republicans, but Senate Republicans as well.
Meanwhile, the Democratic incumbents in these states have higher favorability ratings than President Obama, and they are better liked than their Republican opponents.
The poll also found that voters are split on whether or not it matters that Republican candidates support the Hobby Lobby decision. But it's still a very powerful issue for women.
Voters are also split on the Affordable Care Act, though those who want it repealed feel more strongly than those who support the law.
And a debate over campaign spending and big money increases Democratic support.
In a press call, Democracy Corps' Stan Greenberg said that support for Democrats among women is way lower than it was in 2012 because of the struggling economy and the lack of action in Congress.
"[It's] their perception of total gridlock in Washington," he explained.
Greenberg also thinks that Democrats haven't successfully pushed a populist economic message, as they have mostly tried to appeal to women through issues such as access to abortion. But if they focus on both equal pay and women's health before November, he believes they'll have a better chance of keeping the Senate.
"Democrats have not been speaking to them," he said. "[The] president's economic message has been benign."
Page Gardner, the president of Women's Voices Women Vote Action Fund, agreed. She thinks there will be a "shift" in voter participation "once there are messages that are aimed at [women's] lives."
Once unmarried women become more invested in the midterms, she thinks they'll have a huge impact on the results.
"In the 12 battleground states where we conducted today's poll with Democracy Corps, it's increasingly clear that Senate candidates can't win without the votes of unmarried women," Gardner wrote in a statement. "Unmarried women favor Democrats in the battlegrounds by 50 to 39, a sizable difference. Unmarried women are poised to make the difference this election year."
Photo: Crazy George via Flickr
Interested in U.S. politics? Sign up for our daily email newsletter!