Poll: Even Republicans Want McConnell To Pass Gun Safety In Senate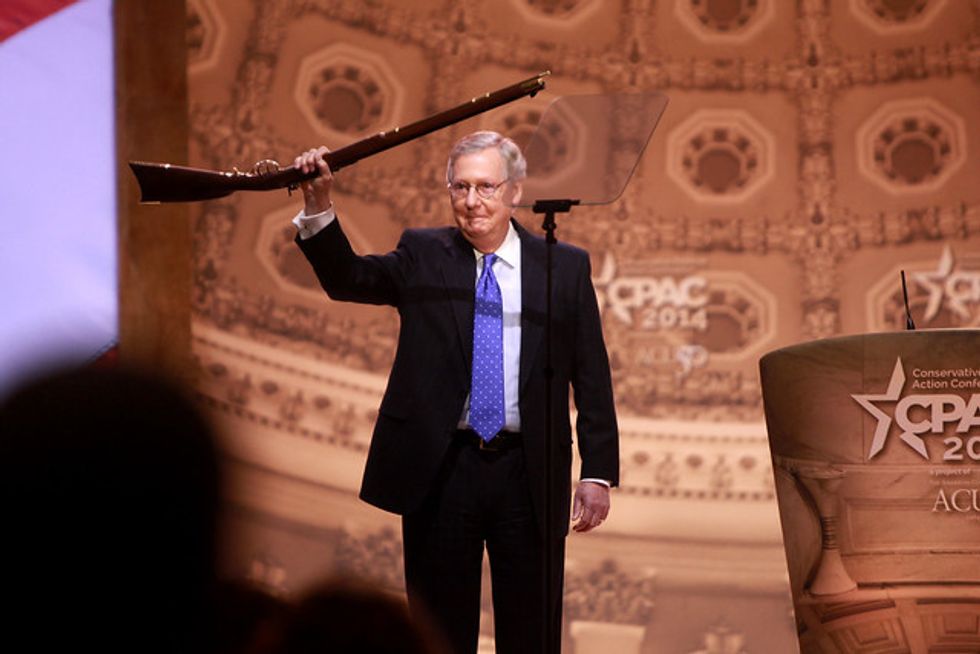 A clear majority of Americans want Senate Majority Leader Mitch McConnell to cancel the Senate's August vacation and pass gun safety legislation, according to a USA Today/Ipsos poll released Wednesday. Even Republicans are more likely than not to support these ideas. But thus far McConnell has refused to do either.
The new poll was put in the field after this weekend's mass shootings in El Paso, Texas, and Dayton, Ohio, and shows gun safety legislation has the support of Democrats, Republicans, and independents.
A solid 67 percent of Americans want the Senate to pass the universal background check bill passed by the House of Representatives. That figure includes a majority of Republicans (59 percent), Democrats (79 percent), and independents (53 percent).
While Americans support the bill, it has sat on McConnell's desk for more than 160 days, and Trump threatened to veto the bill if it ever made it to his desk.
When asked what is responsible for mass shootings, a majority of Republicans, Democrats, and independents agreed that both loose gun laws and racism/white nationalism were responsible. A majority of Americans also laid blame on the mental health system and the NRA.
Half the country said Trump, who regularly employs white nationalist rhetoric, bears some level of responsibility.
When it comes to McConnell canceling the Senate's August vacation time to address gun violence, 52 percent of Americans support the idea. More Republicans support the idea (43 percent) than oppose it (37 percent), and an overwhelming majority of Democrats (62 percent) support the notion.
The same poll showed Americans overwhelmingly want stricter gun laws, by a 72 percent to 11 percent margin. The House of Representatives has already passed major pieces of gun safety legislation.
In the past, conservatives like Sen. Joni Ernst (R-IA) and Sen. Thom Tillis (R-NC) made public declarations demanding McConnell cancel the August recess so the Senate could work. But when it comes to addressing gun violence this year, both Ernst and Tillis are silent.
One Republican, Sen. Cory Gardner of Colorado, used an appearance the day after the Dayton shooting to say he does not support any gun safety legislation at all.
The only person standing in the way of giving Americans what they want in McConnell.
Published with permission of The American Independent.