Poll: Florida Governor Scott Hits All-Time High Approval, Still Trails By Double Digits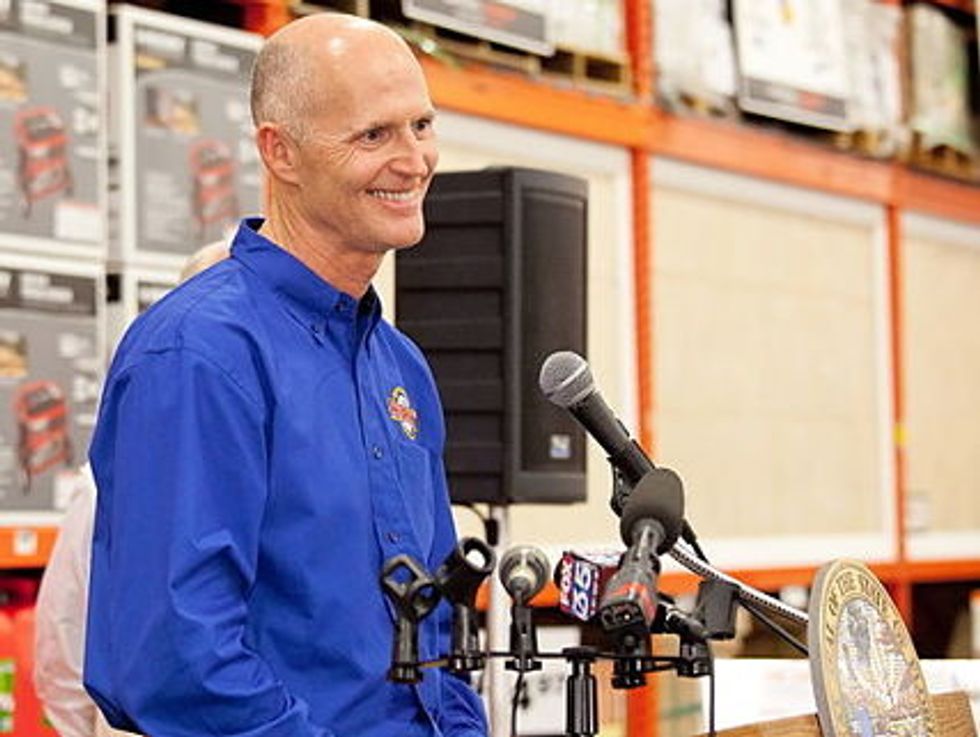 According to a new Quinnipiac poll, Florida governor Rick Scott's approval rating has hit its highest level ever — but he still trails likely challenger Charlie Crist by double digits in his 2014 re-election campaign.
The poll finds that 43 percent of Florida voters approve of Scott's performance as governor, while 44 percent disapprove. Although these numbers are hardly a ringing endorsement, they represent the Tea Party-backed governor's best ratings since entering office in 2010. They are also a major improvement from Quinnipiac's previous poll in March, when voters disapproved of Scott by a 49 to 36 percent margin.
Similarly, 40 percent of voters now view Scott favorably, compared to 42 percent who view him unfavorably; this is significantly up from his dismal 32 to 46 favorability rating in March, and also represents a personal best.
Scott's slowly rising popularity has slightly narrowed the gap in his anticipated re-election matchup with former governor Charlie Crist. Crist now leads Scott by a 47 to 37 percent margin– still a discouraging deficit for Scott, but better than the 16 points by which he trailed Crist in March.
"It is an indication of how far down Florida Gov. Rick Scott's numbers have been that he can take some solace from a poll that finds him losing by 10 points to his predecessor in the governor's office," said Peter A. Brown, assistant director of the Quinnipiac University Polling Institute.
He added, "Now that doesn't mean that happy days are here again for the governor, but if he is going to make a comeback these are the kind of steps that would be required. Whether it is the start of something larger, we'll see in the coming months."
Crist, who served one gubernatorial term as a Republican before unsuccessfully running for Senate as an independent (after losing the Republican primary to current senator Marco Rubio) and eventually registering as a Democrat, holds a solid 48 to 31 percent favorability rating.
The poll, which surveyed 1,176 registered voters from June 11-16, has a margin of error of +/- 2.9 percentage points. The full results can be seen here.
Photo: "MrX" via Wikimedia Commons