Poll: Georgia Senate Race Starts As A Tossup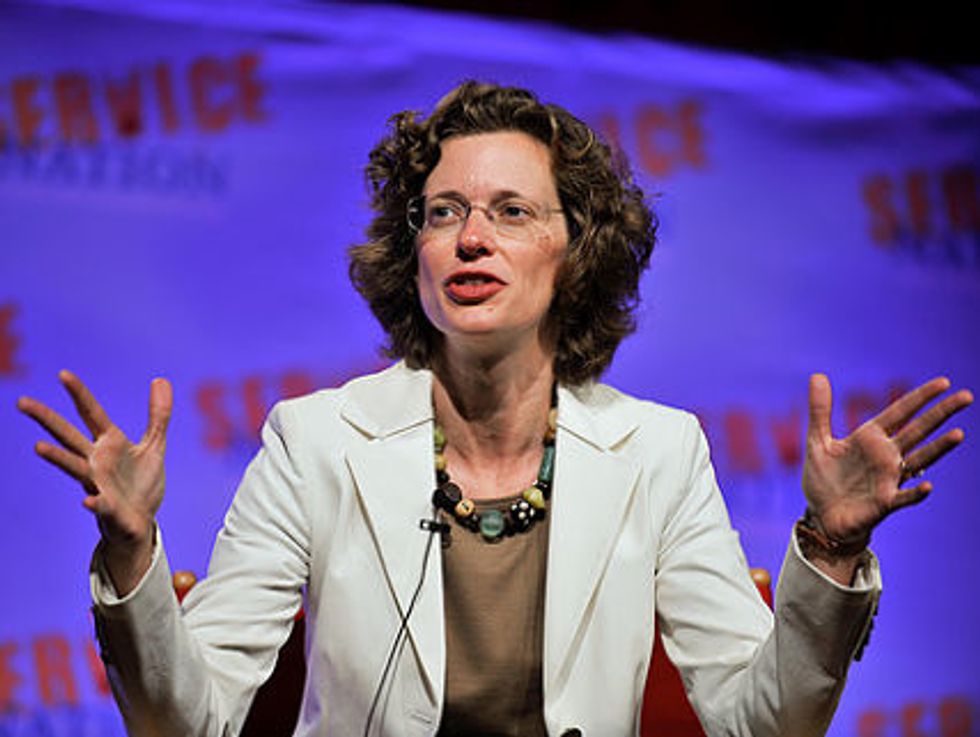 According to a new Public Policy Polling survey, Democrat Michelle Nunn starts Georgia's 2014 election for U.S. Senate in a strong position to pull an upset that could save the Democratic Senate majority.
The poll finds Nunn, the former CEO of the Points of Light charity, tied with or leading each of the declared Republican candidates. Nunn is deadlocked at 41 percent with U.S. Representative Phil Gingrey and tied at 40 percent with Dollar General CEO David Perdue, and leads each of the other candidates. Nunn is ahead of both U.S. Representative Jack Kingston and former Georgia Secretary of State Karen Handel by 40 to 38 percent, she leads U.S. Representative Paul Broun 41 to 36 percent, minister Derrick Grayson 42 to 36 percent, and businessman Eugene Yu 42 to 35 percent.
Gingrey is the early frontrunner for the GOP nomination to succeed outgoing Republican Saxby Chambliss. He has the support of 25 percent of Georgia Republicans, followed by Broun at 19 percent, Kingston at 15 percent, Handel at 13 percent, Perdue at 5 percent, Grayson at 3 percent, and Yu at less than 1 percent.
Nunn is benefiting from the unpopularity of the Republican field. None of the seven Republican candidates has a positive favorability rating, and two of the top four candidates, Broun and Handel, are badly underwater at -14 percent and -10 percent, respectively.
Nunn remains widely unknown in Georgia; 20 percent view her favorably, 19 percent view her unfavorably, and 60 percent are not sure. Nunn benefits, however, from the lasting popularity of her father, former U.S. Senator Sam Nunn — 56 percent view the elder Nunn favorably, while just 12 percent view him unfavorably and 32 percent are unsure.
Georgia's Republican primary has major potential to backfire on the GOP. Each of the major candidates has taken some extremely right-wing positions throughout their careers, which are certain to resurface in a general election campaign. Among the examples:
—Gingrey has claimed that failed Missouri Senate candidate Todd Akin was "partly right" about "legitimate rape," and urged grade schools to teach girls that their proper role is in the home.
—Broun has described the big bang theory as "lies straight from the pit of Hell" and slammed Rep. Paul Ryan's (R-WI) budget as too liberal.
—Kingston has flatly rejected the theory of evolution, insisting that "I believe I came from God, not from a monkey."
—Handel found herself in a public relations nightmare after her attempt to use Susan G. Komen for the Cure as a weapon to attack Planned Parenthood.
It's not hard to imagine a primary that pushes the eventual nominee too far out of the mainstream to win over moderate Republicans and independents, allowing Nunn to score an upset victory.
The GOP does have two major advantages in the 2014 elections. Georgia has a definite rightward-lean — Mitt Romney won the state by almost 8 percent in the 2012 election — and President Barack Obama is very unpopular among Peach State voters. According to the PPP poll, just 43 percent approve of Obama's job performance, while 54 percent disapprove. Republicans will be certain to present a vote for Nunn as a vote to advance the president's agenda.
Still, Democrats have to feel good about starting the race in a virtual tie — especially because, unlike the Republicans, Nunn is  not likely to face a serious primary challenge. Georgia is clearly an opportunity for Democrats to pick up a Senate seat, in a year where the electoral map clearly favors the GOP. Republicans would need to gain a net six seats to win a Senate majority, which would be a difficult task even if they hold Chambliss' seat in Georgia. If Nunn is elected, however, then the Republicans would have to accomplish the extremely difficult feat of sweeping four Democratic incumbents to take control of Congress' upper chamber.
The full results of the PPP poll can be read here.
Photo: Be The Change, Inc via Flickr.com