Poll: GOP Movement To Repeal Obamacare Is Dead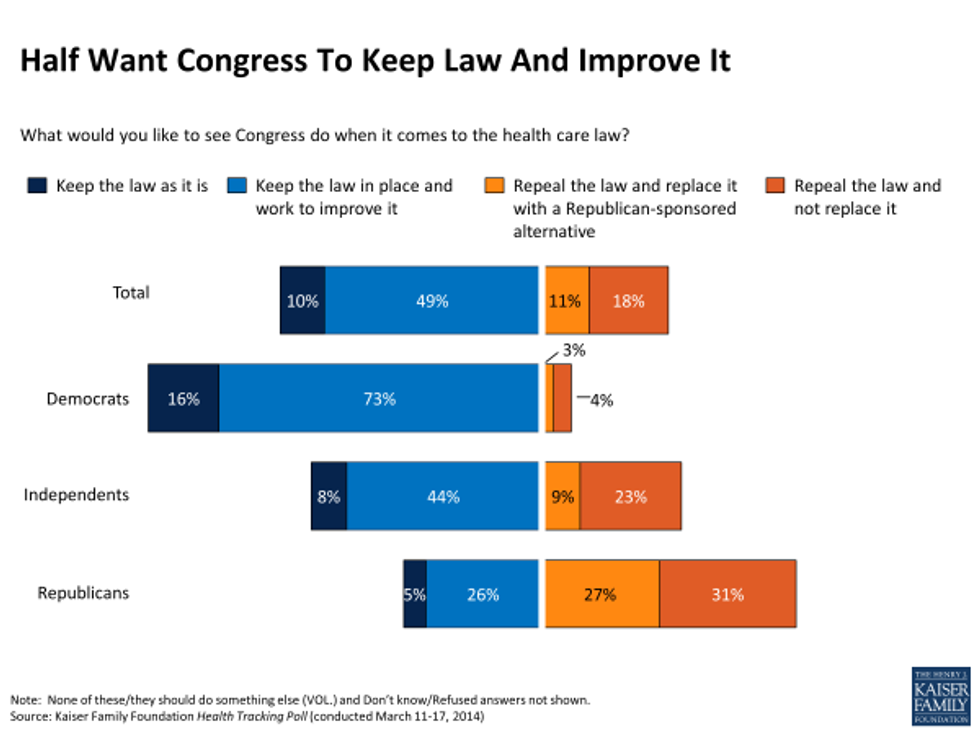 In mid-March, House Republicans took their 52nd vote in 38 months to repeal the Affordable Care Act. While a majority of the House voted in favor of the bill, however, public support for these continued efforts to repeal the health care law is progressively shrinking.
According to a Kaiser Foundation poll released on Wednesday, only 18 percent of Americans still wish to see the law repealed and not replaced — 11 percent want to repeal the law and replace it with a Republican alternative, 10 percent want it to remain as is, and a 49 percent majority want to keep it and improve it.
It seems repeated GOP efforts to defund the law have hit a standstill, representing a possible warning to Republicans who exclusively focus on the ACA in the upcoming midterm elections. According to the poll, a growing number of Americans have accepted the ACA as the law of the land. Some 53 percent of those polled now say they are tired of debating the already implemented law, and would prefer to move on to other important issues.
In fact, 47 percent of those who identify as Republicans — as well as those who already hold an unfavorable opinion of the health care law — agree that Congress should focus on other issues and stop debating Obamacare.
Though a majority of the population remains opposed to the president's health care law, this is a narrowing bloc. Public opinion of the ACA has taken a positive turn for the first time since the glitchy website rollout. According to the Kaiser Foundation, 46 percent hold an unfavorable view of the ACA while 38 percent remain in favor. The current 8-point margin has tapered considerably since January, when it stood at 16 percent.
Specific provisions are very popular — 80 percent of Americans are in favor of allowing young adults to remain on their parents' health insurance until the age of 26. Furthermore, a bipartisan 79 percent favor closing the Medicare "donut hole" for prescription drug coverage; 77 percent support subsidy assistance to low-income Americans to purchase coverage, as well as the provision that eliminates out-of-pocket costs for preventative services; and 74 percent back Medicaid expansion.
Republicans have had some successes in their attempts to discredit the law — 46 percent of Americans falsely believe that the ACA would allow undocumented immigrants to receive government assistance to purchase health insurance coverage. The mythical "death panel" is also a common misconception; though this has been largely corrected, 34 percent still believe that the government would create a panel of individuals responsible for deciding end-of-life care for Medicare recipients.
House Republicans are surely strategizing vote number 53 to overturn the law, but the numbers remain stacked against them. Americans are becoming more accepting of Obamacare, ready to move on from the repeal debate, and over four million people have enrolled in health insurance coverage under the Affordable Care Act.
The Kaiser Foundation poll surveyed 1,504 adults nationally from March 11-17, and has a +/- 3 percent margin of error. Full poll results can be accessed here.