Poll: Grimes Opens Up Lead Over McConnell In Kentucky Senate Race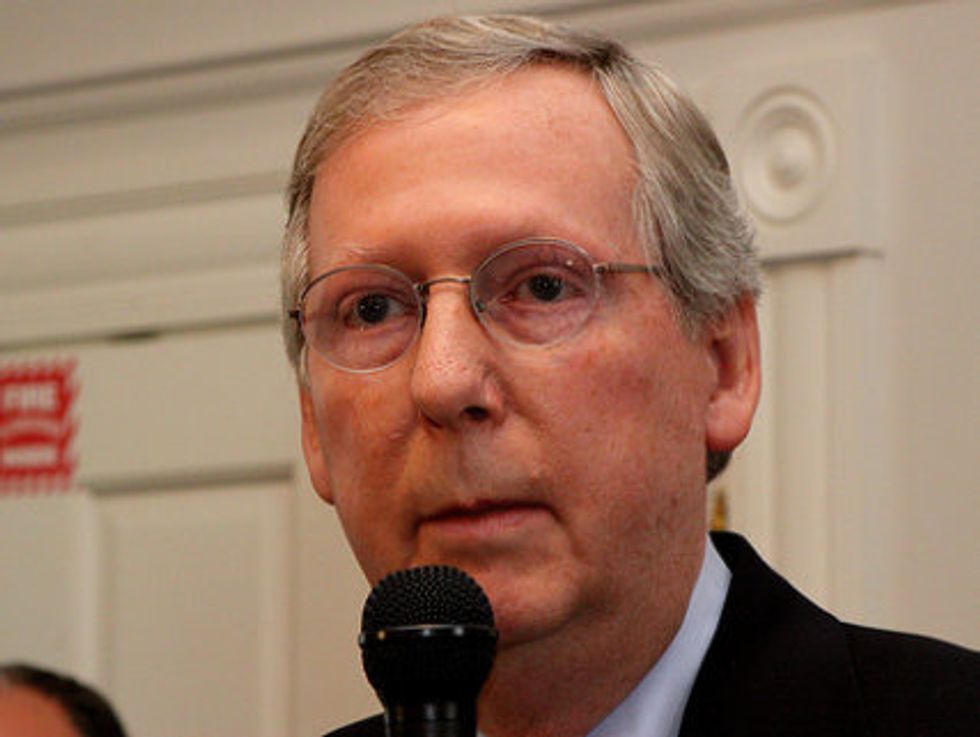 Kentucky Democrat Alison Lundergan Grimes has opened up a 4 percent lead over Senate Minority Leader Mitch McConnell (R-KY), according to a new Lexington Herald-Leader/WKYT Bluegrass Poll.
The poll finds Grimes, Kentucky's secretary of state, leading McConnell by a 46 to 42 percent margin among likely voters, with 12 percent undecided.
The results make it clear that McConnell is his own worst enemy in his quest for a sixth term in the Senate. Just 27 percent of respondents view the minority leader favorably, while a whopping 50 percent have an unfavorable opinion of him. Furthermore, McConnell's approval rating sits at just 32 percent — two points lower than President Barack Obama's. If there is such a thing as a red alert in reliably Republican Kentucky, it's rating below the president (who lost the state by 23 percent in the 2012 election).
Grimes, by contrast, is still largely undefined — 26 percent view her favorably, while 27 percent view her unfavorably. A 29 percent plurality have a neutral opinion of her, and 18 percent say they have no opinion.
If McConnell is going to survive in November, he will need to turn the neutral public against Grimes by running the type of bruising, negative campaign for which he is famous. Grimes, by contrast, will strive to keep the race as a pure referendum on the unpopular incumbent.
The Bluegrass Poll tracks closely to other surveys of the race, which have found a tight contest. Grimes' 4 percent lead has given her a 1-point edge in Real Clear Politics' polling average.
The poll does contain some good news for McConnell: He still holds a 26 percent lead over his primary challenger, Louisville businessman Matt Bevin. Just 15 percent of GOP voters are undecided, suggesting that Bevin's odds of mounting a comeback are rather slim — especially considering that McConnell has almost $11 million in cash on hand, while Bevin has just over $600,000.
Were Bevin to score a shocking upset in the primary, Grimes would lead him 43 to 38 percent in a hypothetical general election matchup.
The Bluegrass Poll surveyed 1,082 Kentucky voters from January 30 to February 3, and has a margin of error of +/- 3.1 percent.
Photo: Gage Skidmore via Flickr