Poll: Latino Voters Overwhelmingly Back Obama On Immigration Action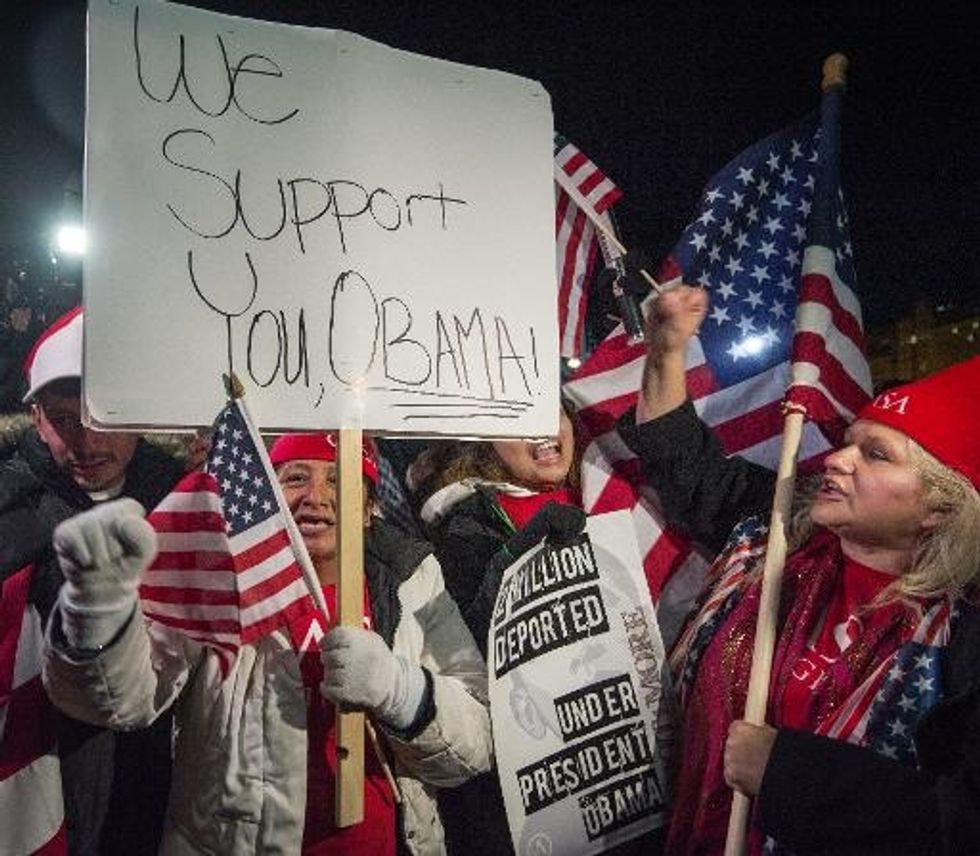 Latino voters overwhelmingly back President Barack Obama's executive action on immigration reform — and overwhelmingly oppose potential GOP efforts to roll it back — according to a Latino Decisions poll released Monday.
The survey, which was conducted on behalf of the pro-immigration groups Presente.org, NALACC, and Mi Familia Vota, and sampled Latino registered voters nationwide, described President Obama's immigration move as follows:
President Obama has said that Congress had many chances to pass an immigration bill and they failed. Now Obama has enacted executive action to provide relief from deportation for any undocumented immigrant who has not committed a crime, has lived here 5 or more years and is a parent of a U.S. citizen or legal resident child here in the U.S., and providing them with temporary work permits to they have legal status Do you support or oppose President Obama taking this executive action? Is that strongly or somewhat…
The results were staggering. A whopping 89 percent support the president's executive action — 68 percent of them strongly. Just 10 percent oppose it.
Latino voters feel almost as passionately about Republican promises to undo the president's decision. Just 23 percent support the idea of suing President Obama to stop him from taking executive action on immigration, while 74 percent oppose it. Similarly, Latino voters oppose the idea of stopping President Obama by refusing to fund the government, 80 to 18 percent.
"The president's decision is supported by almost 9 out of 10 Latino voters. This is the most united Latino voters have been on an issue during the Obama years," Mi Familia Vota executive director Ben Monterroso said in a statement. "We will work hard to defend the gains that our movement has made with the president's decision. We will make sure that our community learns how to apply for the new program. We will make sure they know who is trying to block it. And we will take those names to the voters in 2016."
The poll is the second survey to suggest that the politics of President Obama's executive action may strongly favor Democrats. On Friday, a Hart Research Associates survey found that 67 percent of likely 2016 voters support the president's decision.
The numbers underscore the political danger that the immigration debate poses for Republicans. The GOP is well aware that it must improve its performance with Latino voters in order to compete in national elections in the future. That was a central thesis of Republican National Committee's long-discarded post-election "autopsy report." But as the nation's Latino population grows, so too has the right's hostility towards the Latino community.
In 2012, Mitt Romney won just 27 percent of Latino voters. If Latino Decisions' new numbers are any guide, the GOP's presidential nominee in 2014 may fare even worse.
AFP Photo/Paul J. Richards
Want more political news and analysis? Sign up for our daily email newsletter!