Poll: Mark Pryor Trails Tom Cotton In Arkansas Senate Race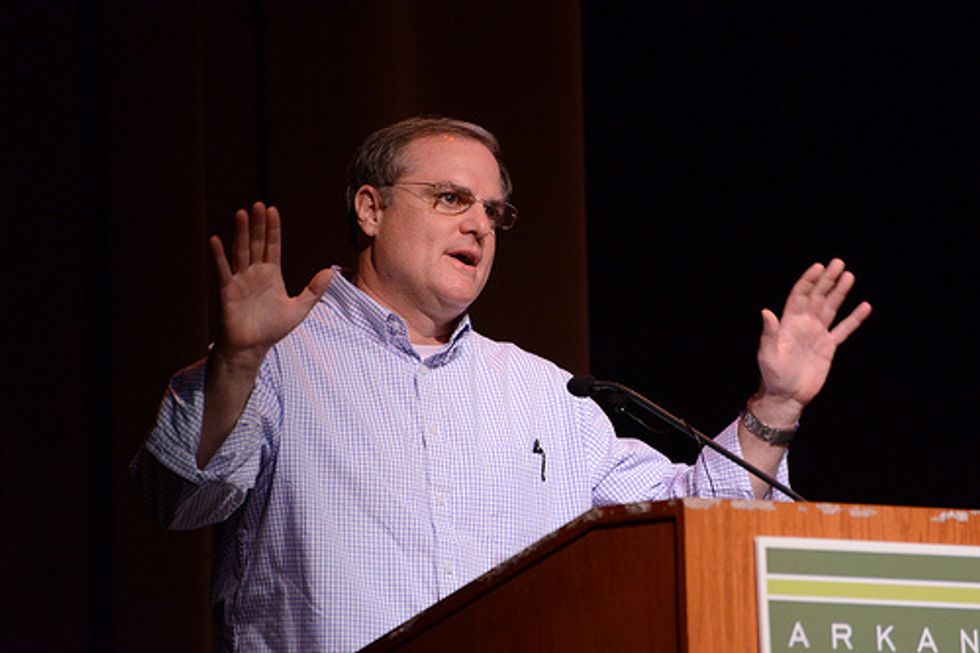 According to a poll released Monday by conservative pollster Kellyanne Conway, Senator Mark Pryor (D-AR) trails his Republican opponent, U.S. Representative Tom Cotton, 48 percent to 41 percent in his race for a third term.
Though Pryor remains the more well-known candidate in the contest, his popularity among Independents and women is slipping. Cotton leads the Democratic congressman by 21 points among Independents and 4 points among women – not a good sign for the incumbent.
An even grimmer finding is that though Cotton is relatively unknown, he is viewed favorably by 39 percent of Arkansas voters, not far behind the 44 percent who say the same of Pryor. The Republican is viewed unfavorably by 26 percent of likely voters, while Pryor is viewed unfavorably by a greater 39 percent.
Pryor's support for the Affordable Care Act may be the reason for his declining popularity.
According to David N. Bossie, president of the conservative non-profit Citizens United (for whom the poll was conducted), Pryor – who voted for the Affordable Care Act, but later voiced support for delaying the law and then co-sponsored the "Keeping the Affordable Care Act Promise Act" – is now "synonymous with Obamacare."
"And Obamacare is synonymous with making life worse for the American people," Bossie added. "That's why Pryor is losing to Cotton in the Arkansas Senate race."
The health care law is especially disliked by Arkansans, 62 percent of whom said they have an unfavorable view of the Affordable Care Act – "56 percent strongly so," according to Politico. The lack of support is hardly surprising, considering its botched launch and Arkansas' shift further right.
Pryor's support for the law has been the subject of various attacks from the Cotton campaign, which claimed that the Democratic senator "cut Medicare to pay for Obamacare."
Still, Pryor maintains that despite his support for the Affordable Care Act, he remains ahead of his Republican challenger.
"It's no surprise that Congressman Cotton's special-interest backers have commissioned a bogus poll that wildly misses where we know this race stands," says Erik Dorey, Pryor's deputy campaign manager.
"Mark is ahead, and Arkansans still have a lot to learn about Cotton's reckless votes to gut Medicare and Social Security, blow up the Farm Bill and end affordable student loans," Dorey affirmed.
Dorey may have a point; according to Real Clear Politics' polling average of the race, Cotton and Pryor remain in a statistical dead heat.
The poll, conducted from December 6 – 7, surveyed 400 likely voters in Arkansas and has a margin of error +/- 4.9 percent.
Photo: Uacescomm via Flickr