Poll: Markey Poised For Landslide Win In Massachusetts Special Election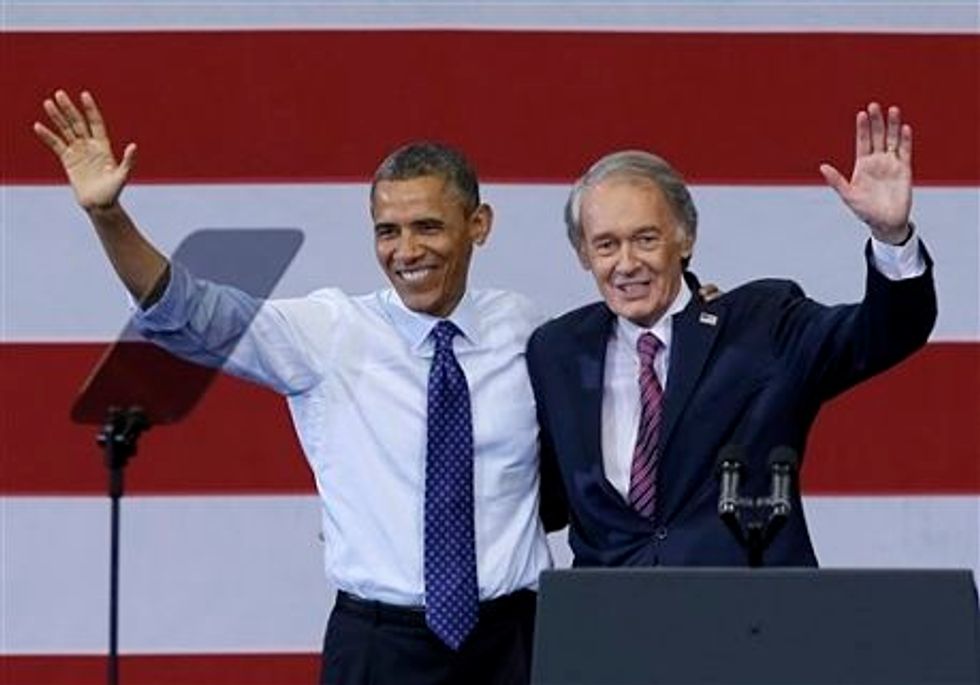 According to a new University of Massachusetts Lowell poll, Representative Ed Markey (D-MA) is on track to score a landslide victory over his Republican opponent Gabriel Gomez in Massachusetts' special election for U.S. Senate.
The poll finds that Markey now leads Gomez among likely voters by a 56 to 36 percent margin, with 7 percent undecided. With just five days until voters head to the polls, that 20 percent deficit seems insurmountable for Gomez — especially considering that 76 percent of voters who said they plan to vote for Markey described their decision as "firm."
Markey's overwhelming advantage in the UMass poll is buttressed by a big gender gap. Markey leads Gomez by 12 percent among men, and by 29 percent among women. Overall, Markey leads Gomez in all gender, age, education, income, and ethnic categories.
The UMass poll is an outlier among surveys of the race, none of which has found Markey with such an overwhelming lead. Still, the consensus is that the 18-term congressman is safely ahead; according to Real Clear Politics' poll average, Markey's advantage is 11.4 percent.
Other polls paint a rosier picture for Gomez; an internal poll shows the businessman and former Navy SEAL down 7 percent, and a poll from a conservative SuperPAC has Gomez trailing by just 3 percent.
Gomez still has one more card to play. On Monday, he will campaign alongside the Bay State's most well-known Republican: former U.S. senator Scott Brown. Brown — who created the template that Gomez hoped to follow with his stunning upset win over Democrat Martha Coakley in a 2010 special election — remains very well-liked in Massachusetts, with favorability ratings consistently above 50 percent.
Still, there is reason to doubt Brown's ability to impact the race. His personal popularity didn't help him overcome Democrats' massive registration advantage in 2012, when he lost his re-election campaign against Elizabeth Warren by 8 percent. Furthermore, it's not clear how helpful Brown actually wants to be; the planned appearance on the final day of the campaign is the first joint event featuring the two Massachusetts Republicans.
Additionally, Brown doesn't seem too impressed with Gomez and his campaign. Earlier in the week, he told a local TV station that "I could beat Ed Markey, absolutely" — hardly the message that Gomez wants to hear while he trails by double digits.
AP photo/Elise Amendola