Poll: Most Parents Are Happy With Their Kids' Schools, Despite GOP Culture War
@LauraClawson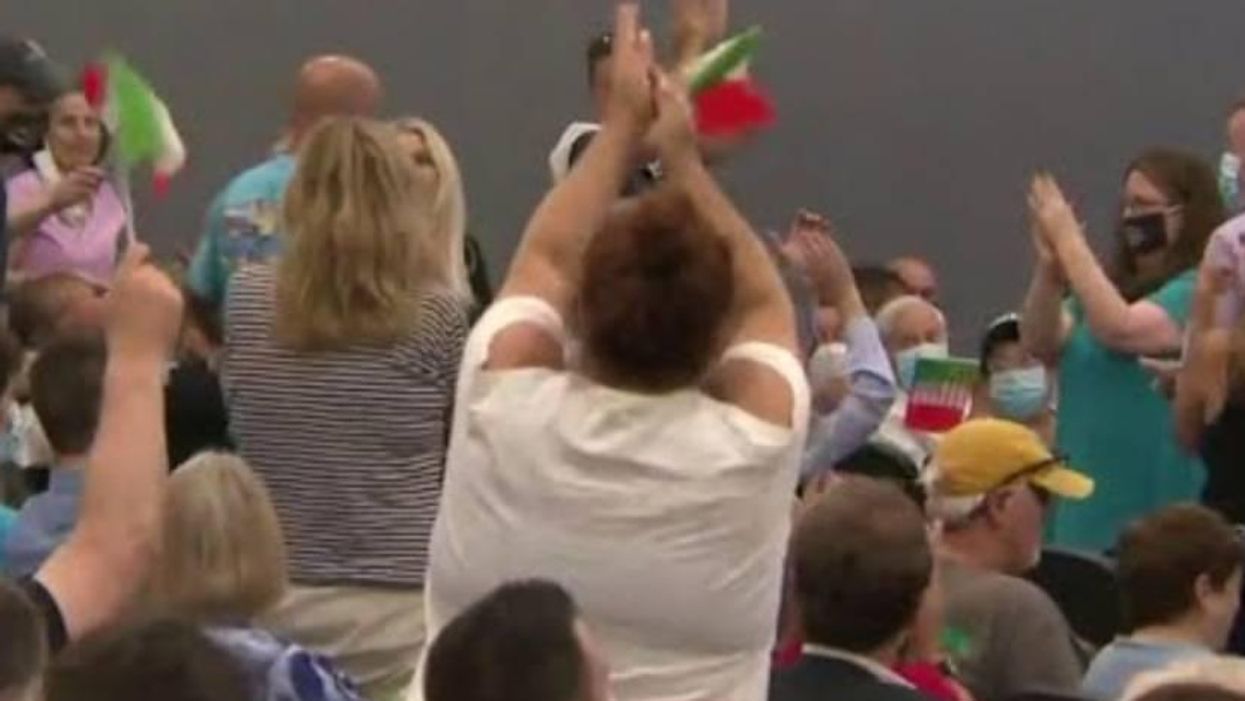 Youtube Screenshot
Republicans are flogging a culture war focused on public schools, but it doesn't seem to be landing with the parents of actual schoolchildren. A new NPR/Ipsos poll of parents of school-aged children finds people generally happy with their kids' schools and teachers, and not foaming at the mouth over race and LGBTQ issues.
Education rated as the third-highest concern of parents in the poll, but 88 percent of respondents agreed with the statement, "my child's teacher(s) have done the best they could, given the circumstances around the pandemic," and 82 percent agreed that "my child's school has handled the pandemic well." Republicans have largely moved on from trying to whip up rage about how schools have handled the pandemic, though, focusing more on demonizing marginalized groups and arguing that parents should be allowed to micromanage the curriculum. (Right-wing white parents, anyway.) But that's not getting a lot of traction, either.
Three out of four of the parents polled agreed that "my child's school does a good job keeping me informed about the curriculum, including potentially controversial topics." Small minorities said the ways their children's schools taught about the issues being pushed by Republicans actually conflicted with their own family's values: 18 percent for gender and sexuality, 19 percent for race and racism, and 14 percent for U.S. history.
And those numbers, small as they are, don't mean that 19 percent of people think their kid's school is too liberal on race and racism or 14 percent on U.S. history—the people who said the schools' teachings clashed with their family's values were as likely to be Democrats as Republicans. A Native American parent in Texas, for instance, told NPR, "It's more of a water-down effect ... [the teachers] kind of whitewash the way that history is taught to their kids." That parent wants his kid taught more about the French and Indian Wars, the Spanish-American War, and about slavery during the Revolutionary War, NPR reports. By contrast, a white parent in Wisconsin who thinks the schools are too liberal on these issues cited her son being asked to identify his pronouns and a teacher making "snarky comments about white privilege." Equally valid and serious concerns about the quality of education, amiright?
If you listen to Christopher Rufo , one of the right wing's major gurus on waging culture wars in the schools, critical race theory is a "two to one issue," a surefire winner for Republicans. Go figure, though: The main poll he cites was conducted by the right-wing Manhattan Institute. But what about Virginia Gov. Glenn Youngkin's victory in November after he campaigned against critical race theory? Well, recent data has suggested that Youngkin's advantage came from senior citizens , not from the parents of school-aged children, and it's not the first data undermining the narrative that enraged parents turned the election to Youngkin.
Demonizing LGBT people and foaming at the mouth that teaching about racism or the contributions of Black and brown people oppresses white kids by making them feel "humiliated" might energize the Republican base, but it's not a majority message. Banning books because they have LGBT characters or depict slavery as the brutal system of kidnapping, torture, and rape that it was is not a majority message.
Republicans are attacking teachers. They're attacking vulnerable kids. They're trying to micromanage what all kids can learn according to their very specific values, to the active exclusion of all others. These things matter—they are actively harming people—and they're also not the political winners Republicans are confidently portraying them to be. The media needs to internalize these things in shaping its coverage, rather than allowing the Republican operatives regularly billed as "concerned parents" in their Fox News appearances to define what the parents of schoolchildren look like or think. And equally, Democrats need to fight back, vigorously and boldly, because Republicans really are overstepping on this.
Printed with permission from DailyKos .