POLL: Only Tea Partiers Want To Shut The Government Down Over Obamacare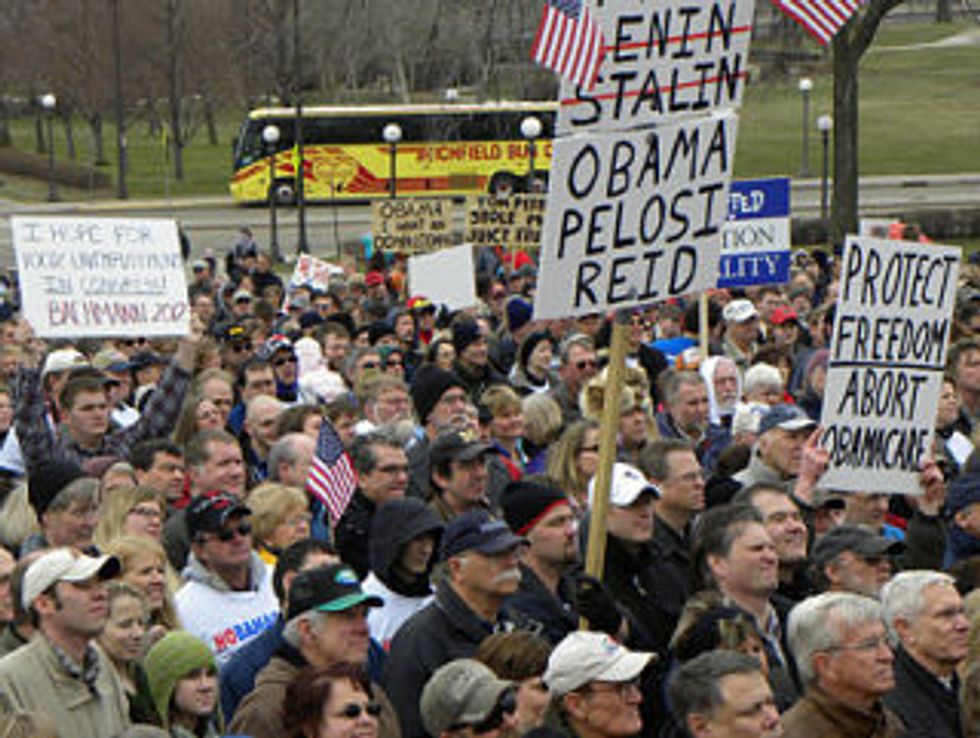 A plurality of Americans oppose defunding Obamacare, but if it means shutting down the government or defaulting on the debt, a solid majority opposes defunding the health care law, according to a new poll from CNBC.
The poll of 800 Americans — conducted last week, before House Republicans passed a measure that keeps the government open while defunding the Affordable Care Act — found that 44 percent oppose defunding, while 38 percent are in favor. The opposition to defunding rises to 59 percent with only 19 percent supporting it if defunding requires a shutdown or default, with 22 percent unsure.
The one demographic in which a majority support defunding is — unsurprisingly — the Tea Party.
Of Republicans who identify with the movement, 54 percent say they support defunding even if it comes with a shutdown. However, a majority of Republicans in general, 51 percent, opposes defunding once it begins to affect the government's ability to function.
Independents — who make up an increasingly large percentage of the voting population as the Republican Party shrinks — oppose defunding if it means a shutdown, by a 65-14 margin.
The complete CNBC All-America Economic Survey will be released later this week, but this poll frames the argument Republicans face as Congress considers its first government shutdown since the mid-1990s: America v. the Tea Party.
Despite these numbers, the far right feels as though they are — as Senator Rand Paul (R-KY) and Charlie Sheen might say — "winning."
Townhall.com's Kurt Schlichter published a post Monday morning called, "Could The GOP Actually Be About To Beat Obama?" He calls the House leadership's decision to go along with Senators Ted Cruz (R-TX) and Mike Lee (R-UT) in defunding Obamacare an "unexpected display of competence on the part of the GOP leadership."
He goes on to outline the long game of the plot to defund Obamacare:
Let's let Obama be the one making seniors eat Alpo, not paying our soldiers, and depriving the art world of cowboy poetry slams. Yeah, eventually we'll need to pass a bill that will keep Obamacare alive a little while longer. But we should do it reluctantly, sadly, loudly telling the American people how we tried to protect them but, darn it, Obama was going to make seniors eat Alpo, not pay our soldiers, and render America cowboy poetry slamless unless we relented – which we did, for the children.
Underlying this point of view is the belief that President Obama will be blamed for the missed paychecks and Social Security checks that come with a government shutdown. This doesn't seem to be a belief shared by the House Republican leadership, at least according to the fourth-ranking Republican in the House, Rep. Tom Cole (R-OK).
GOP Rep Cole: "Boehner won't allow us to shut down govt or default. Chance for big deal if Dems want. The real negotiation: Reid & Boehner."

— John Harwood (@JohnJHarwood) September 23, 2013
If the House GOP leadership does cave to overwhelming public opinion, it seems they'll only upset the Tea Party, who make up a large proportion of the GOP primary voting population.
Photo: Fibonacci Blue via Flickr.com