Poll: Pat Toomey Hits Record-High Approval Rating After Gun Reform Efforts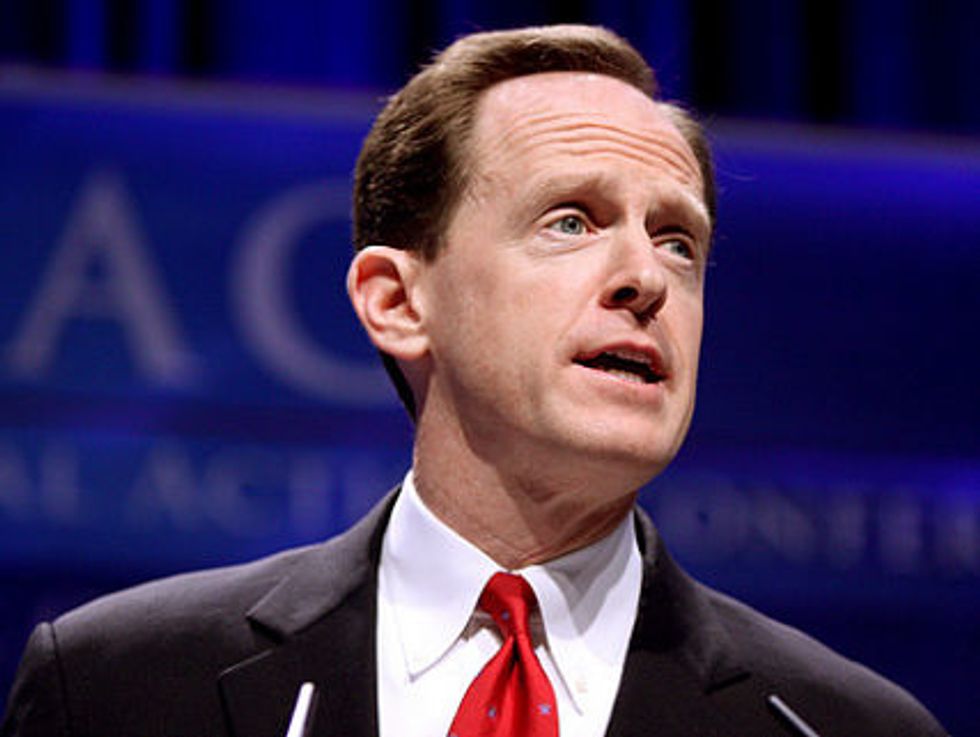 A new poll finds that Senator Pat Toomey (R-PA) is enjoying his highest-ever approval rating among Pennsylvania voters in the wake of his failed attempt to expand gun sale background checks.
According to the Quinnipac poll released Friday, Toomey's approval rating now sits 48 percent, with 30 percent disapproving. This represents a net 7 percent gain from Quinnipiac's previous poll on March 13, and the highest rating of Toomey's career.
Toomey's outspoken gun reform efforts appear to be behind his rising popularity — 34 percent approve of the way that Senator Toomey is handling gun control, while 29 percent disapprove. Those numbers are stronger among the groups from which Toomey needs support to win re-election in solidly blue Pennsylvania; Democrats approve of his actions on guns by a 38 to 25 percent margin, and Independents approve 35 to 26 percent.
On the specific question of background checks, the numbers are even more striking: 54 percent say they view Senator Toomey more favorably due to his attempt to expand background checks to all commercial gun sales, while just 12 percent view him less favorably. Overall, 85 percent of Pennsylvanians support such background checks — with 69 percent "strongly" supporting them — and just 13 percent are opposed.
Toomey's improved numbers stand in sharp contrast to those of Senator Kelly Ayotte (R-NH), whose approval rating has taken a nosedive in the wake of her decision to vote against Toomey's background check bill.
Although the American public clearly supports gun reform efforts, it's unclear whether or not reform advocates can turn their polling advantage into actual electoral results. The Quinnipiac poll, for example, finds that 59 percent of Pennsylvanians could vote for a candidate who disagrees with them on guns. Until gun reform becomes a top motivating factor at the polls, there will be no serious consequences for voting against it — and no political incentive for congresspeople to stand up against the gun lobby.
Photo: Gage Skidmore via Flickr.com