Poll: Pennsylvania's Tea Party Governor Trails Democratic Challenger By Double Digits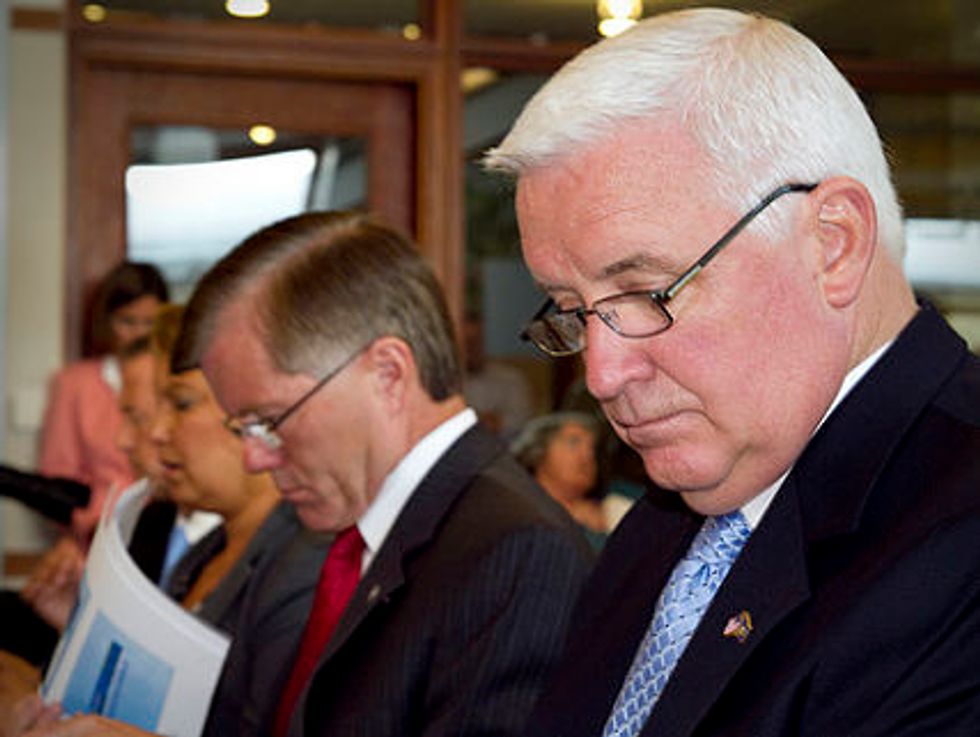 According to a new Quinnipiac poll, Pennsylvania Governor Tom Corbett is in deep trouble in his 2014 re-election campaign.
The poll finds that Corbett, a first-term Republican and Tea Party favorite, remains one of the least-popular governors in the country — 48 percent of Pennsylvania voters disapprove of Corbett's job performance, while just 35 percent approve; similarly, voters view Corbett unfavorably by a 42 to 30 percent margin. When asked if Corbett deserves to be re-elected, 52 percent said no, while just 32 percent said yes.
Both of the Democratic candidates Quinnipiac tested against Corbett would defeat him easily, were the election held today. U.S. Representative Allyson Schwartz, who currently leads the field for the Democratic nomination, bests Corbett by a 45 to 35 percent margin. State Treasurer Rob McCord also leads Corbett, 43 to 35 percent — this despite McCord's minuscule 14 percent name recognition.
Corbett's awful numbers among women — which have doubtlessly been exacerbated by politically clumsy incidents like dismissing opposition to a mandatory ultrasound bill by telling women "you just have to close your eyes" — are making the governor's re-election an uphill battle. Women favor Schwartz over Corbett by a 52 to 28 percent margin, and McCord leads the governor among women by 48 to 28 percent.
"Already unpopular with Pennsylvania women, Gov. Tom Corbett trails the leading female challenger, U.S. Rep. Allyson Schwartz, and State Treasurer Rob McCord," said Tim Malloy, assistant director of the Quinnipiac University Polling Institute. "Election Day is 17 months away, but Schwartz is in a strong position to become Pennsylvania's first female governor."
The poll surveyed 1,032 registered voters from May 30 through June 4, and has a +/- 3.2 percent margin of error. Full results can be seen here.
Photo: chesbayprogram via Flickr