Poll Roundup: Can Arkansas Stay Blue?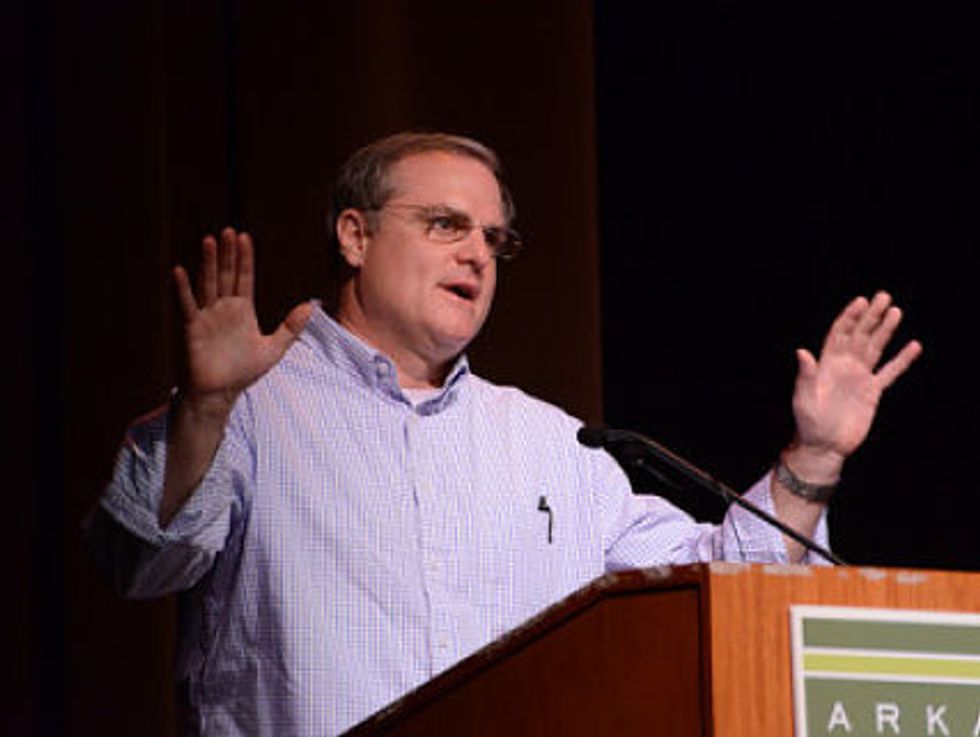 As the 2014 midterm elections draw closer, pollsters across the country will begin releasing masses of data and their predictions of who will control the House of Representatives, the Senate, and statehouses across the country. We'll put those predictions in focus and provide a brief summary of key polls. Here's our roundup from the week of May 11:
Arkansas:
According to an NBC News/Marist poll released on Monday, incumbent Senator Mark Pryor (D-AR), leads challenger Representative Tom Cotton (R-AR) by 11 points (51-40 with a +/- 3.3 percent margin of error) ahead of the November general election.
Republicans were hopeful they would be able to grab this seat to bring them closer to a majority in the upper chamber. However, Cotton's favorability statewide has dipped since entering the race, giving Pryor a bit of an edge. According to the same NBC News/Marist poll, Pryor has a 50 percent favorability rating among registered voters versus Cotton's 38 percent among the same group.
The general election is still six months away, but Lee Miringoff, director of the Marist College Institute for Public Opinion, told NBC News: "These are competitive states [Arkansas, Georgia, and Kentucky] as far as the general [election] is concerned. Arkansas, which was once thought to be Democrats' most vulnerable [contest for incumbent], may not be the most vulnerable."
Georgia:
The race to fill the seat of retiring Senator Saxby Chambliss (R-GA) has become a focus of this primary season. With a competitive collection of Republican candidates — and not one looking likely to receive more than 50 percent of the vote — chances are they are heading for a runoff election this summer.
According to Real Clear Politics the two top candidates, former Reebok CEO David Perdue, leading with 25 percent of the vote, and Representative Jack Kingston (R-GA), trailing him with 18 percent, represent the GOP's best shots at winning this seat. Looking ahead to the primary on Tuesday, it may be a tough push for Georgia's former Secretary of State Karen Handel (R) to grab the number two spot—she's trailing Kingston by three points with 15.5 percent.
Republicans should hope for a Perdue/Kingston runoff come July, the GOP's best-case scenario to rival Democratic challenger Michelle Nunn, businesswoman and daughter of former Senator Sam Nunn (D-GA). Polling against Nunn, Perdue currently holds an average 3-point lead. Against Kingston, Nunn has the edge with a 42 to 39 lead.
Nebraska:
Tea Party candidate Ben Sasse made headlines this week when he defeated his conservative opponents to secure the Republican nomination for retiring Senator Mike Johanns' (R-NE) vacant seat. Sasse won with 49 percent of the vote, 27 points ahead of his closest competitor Omaha banker Sid Dinsdale.
According to a Rasmussen Reports poll released on Friday, this seat appears to be a safe hold for the GOP. Sasse currently leads Democratic opponent David Domina 51-34 percent with a +/- 4 percent margin of error. This has narrowed from Rasumussen's first general election poll on this race in early April — Sasse at that time held a 25-point lead over Domina.
Iowa:
The Iowa primary is still a few weeks away, but new polling data out of Loras College on Thursday finds hog-castrating state senator Joni Ernst gaining steadily on her Republican rivals.
The director of the Loras College Poll, Christopher Budzisz,  said, "State Senator Ernst has captured momentum in this race and has opened up a substantial lead, according to our polling. Whether it was from her recent notable ad campaigns and endorsements, or not, she is the clear frontrunner now."
Ernst has 30 percent of the vote with her closest challenger, energy company CEO Mark Jacobs, trailing by double digits.
According to Real Clear Politics, as recently as early April Ernst held a mere 2- point lead over Jacobs. Thanks to a recent campaign ad that attracted national attention, Ernst has been able to increase her name recognition among voters in the Hawkeye State. With the GOP primary nearing on June 3, it's unlikely other GOP candidates will be able to catch up.
Photo: uacescomm via Flickr
For more midterm election results and analysis, sign up to receive our free email newsletter.