Poll Roundup: Kansas Governor Sam Brownback Is 'Fighting For His Life'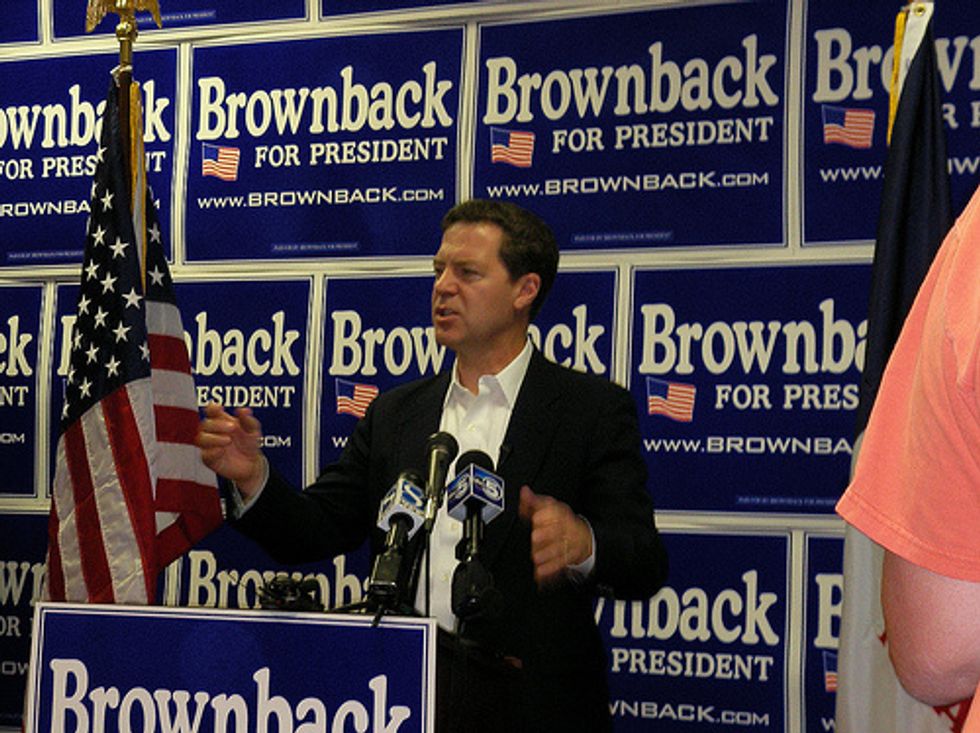 As the 2014 midterm elections draw closer, pollsters across the country will begin releasing masses of data and their predictions of who will control the House of Representatives, the Senate, and statehouses across the country. We'll put those predictions in focus and provide a brief summary of key polls. Here's our roundup from the week of June 22:
Kansas
Governor Sam Brownback (R) is "fighting for his life" against Democrat Paul Davis, according to SurveyUSA's latest poll, released on Thursday. Davis leads Brownback by 6 points (47 percent to 41 percent), with a margin of error of +/- 3.1 percent.
The poll shows that Davis has the support of 26 percent of Republicans, plus 89 percent of his Democratic base. Independents back Davis over Brownback by 19 points. Davis also leads among female voters by 14 points.
SurveyUSA notes that voters are primarily focused on education funding and taxes. Voters who prioritize education support Davis by 54 points, and those who prioritize tax rates favor Brownback by 16 percent. This reflects the divide over Brownback's massive tax cuts, which drastically decreased funding for Kansas public education.
The Real Clear Politicspoll average shows the two candidates essentially tied, with Brownback ahead by only 0.3 points.
Brownback still has five months to attempt to retain voters, but that's a lot of time for Davis, the lesser-known candidate, to make his case to voters and to make the race a referendum against Brownback's policies.
Mississippi
After Senator Thad Cochran (R) resisted Tea Party candidate Chris McDaniel's challenge on Tuesday, he finds himself solidly ahead of his Democratic challenger, former U.S. Rep. Travis Childers. A Rasmussen Reports poll has Cochran ahead of Childers by 12 points, with 46 percent supporting Cochran and 34 percent for Childers, and a margin of error of +/- 4 percent—10 percent of voters prefer another candidate, while 9 percent are still undecided.
Cochran owes his win on Tuesday to Mississippi Democrats. The Mississippi NAACP is now calling for Cochran to "reciprocate" by supporting reinstating the voting protections under the Voting Rights Act, which were struck down by the Supreme Court last year. Cochran supported the Supreme Court's decision last year, and does not seem to have had a change of heart.
Many of the Democrats who supported Cochran on Tuesday will likely vote for Childers. But Mississippi is a very red state that hasn't elected a Democratic senator since 1982.
Meanwhile, McDaniel is planning to challenge the results of the runoff — meaning that Cochran may not be in the clear quite yet.
Florida
The Florida gubernatorial race is at a dead tie. Incumbent Republican Rick Scott is ahead of former Republican governor Charlie Crist, who is now running as a Democrat, by only 1 point in the latest SurveyUSA poll. The poll, released on Wednesday, shows Scott with 42 percent of the vote and Crist with 41 percent, and has a +/- 4.3 percent margin of error.
There's a 25-point gender gap between the candidates — Scott leads with male voters by 13 points and Crist carries women by 12 points.
Though Scott's been trailing behind Crist in recent polls, he made up the ground in this poll due to a rise in senior support, which can make or break an election in Florida. Scott leads Crist among seniors by 13 points, while Crist is ahead in every other age group.
The two campaigns spent this week arguing over tax returns, and it's looking like the months leading up to November will be chock full of negative attacks.
The Real Clear Politicspoll average shows Crist with a 2.2 percent lead, which is well within the margin of error.
Maine
Governor Paul LePage is another Republican incumbent struggling to stay in office. The latest Portland Press Heraldpoll has LePage tied with Democrat Mike Michaud. Michaud has a 4-point lead over LePage (40 percent to 36 percent), which is within the poll's 4.3 percent margin of error.
Independent Mike Cutler has 15 percent of the vote, while 7 percent are undecided. The Press Herald says that many voters will wait to see whether Michaud or Cutler has a better chance of unseating the governor before deciding which candidate to vote for.
The Real Clear Politicspoll average shows that the candidates are tied, with Michaud ahead by only 0.7 percent.
Photo: IowaPolitics.com via Flickr
Interested in U.S. politics? Sign up for our daily email newsletter!