Poll Roundup: Ugly Mississippi Race Still Up For Grabs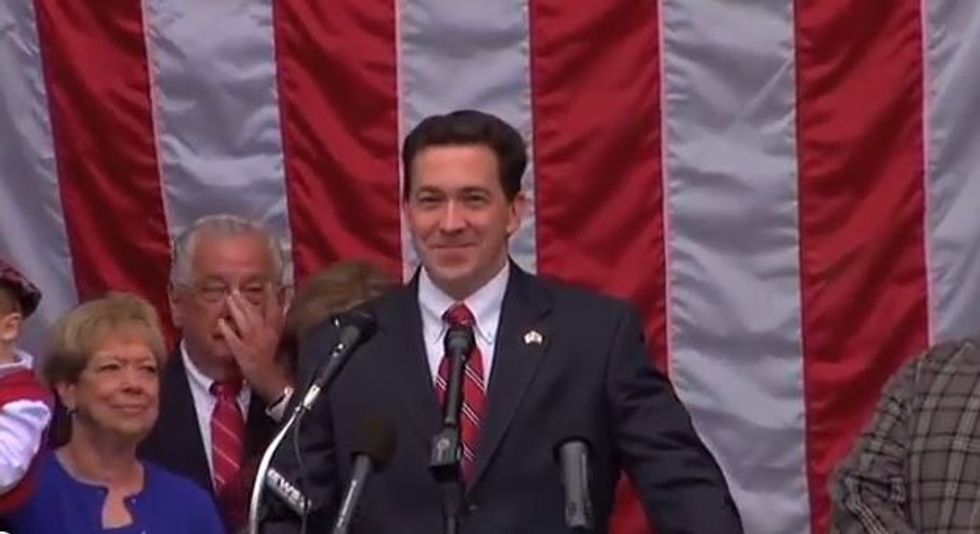 As the 2014 midterm elections draw closer, pollsters across the country will begin releasing masses of data and their predictions of who will control the House of Representatives, the Senate, and statehouses across the country. We'll put those predictions in focus and provide a brief summary of key polls. Here's our roundup from the week of June 15:
Mississippi
The week leading up to the runoff in Mississippi's Republican Senate primary has been full of mudslinging, as six-term incumbent Thad Cochran attempts to fight back state senator Chris McDaniel's claims that he's not a real conservative.
The Cochran campaign released a video last weekend featuring clips from McDaniel's days as a right-wing talk radio host. The video includes quotes such as, "Mamasita, hey hot Momma. You know you're a fine looking young thing."
The latest poll, conducted by Democratic pollster Chism Strategies on June 13, shows that the attacks aren't opening things up. The race remains a dead heat, with Cochran ahead by a 48 to 47 percent margin. Cochran's lead is well within the poll's +/-3.3 percent margin of error.
The Polling Company, a Republican group affiliated with Citizens United, also conducted a poll from June 12-13 that shows McDaniel ahead by a 52 to 40 percent margin, with a +/- 4.4 percent margin of error.
Real Clear Politics' poll average shows McDaniel ahead by 5.5 points.
Ultimately, the race will come down to which attacks voters pay more attention to, and whose supporters are more motivated to actually vote in the runoff.
North Carolina
Public Policy Polling's latest poll of the North Carolina Senate race shows incumbent Democratic senator Kay Hagan ahead of Republican State House Speaker Thom Tillis by a 39 to 34 percent margin, with 11 percent for Libertarian Sean Haugh. This is Hagan's largest lead in any survey since September.
Though the Real Clear Politics poll average shows that the race is a tie, Tillis has had a rough week.
On Tuesday, Talking Points Memo uncovered a video from 2012 where Tillis suggested that African-Americans and Hispanics were not the "traditional population of North Carolina."
He also said last week that a female state representative's comments "were born out of emotions."
Hagan may also soon receive a boost from EMILY's List and Planned Parenthood, which are both planning to spend $3 million in the state to support her re-election campaign.
Iowa
Though U.S. Rep. Bruce Braley (D-IA) is ahead of Republican state senator Joni Ernst by a 44 to 40 percent margin (+/- 2.7 percent) in Quinnipiac University's latest poll, released on Wednesday, the Real Clear Politics poll average shows them deadlocked, with Braley ahead by only 0.8 points. Ernst has risen dramatically since Quinnipiac's poll in March, when Braley was ahead by a 42 to 29 percent margin.
Wednesday's poll reveals a large gender gap, as women overwhelmingly support the male candidate and men support the female candidate. Braley leads 47 to 36 percent among women, while Ernst leads 44 to 40 percent among men.
The poll also shows that more voters (47 percent) have seen Ernst's ads "very often" or "somewhat often" as opposed to Braley's ads (35 percent), and 57 percent of voters say Ernst's ads are "very effective" or "somewhat effective"; 50 percent of voters think Braley's ads are effective.
When asked who they would vote for, 14 percent of voters selected the don't know/not applicable option.
New Hampshire
A Suffolk/Boston Heraldpoll taken from June 14 to 18 shows incumbent Democratic senator Jeanne Shaheen ahead of Scott Brown by a 49 percent to 39 percent margin — 3 percent support Libertarian Gardner Goldsmith and 9 percent of voters are undecided.
Brown, who moved to New Hampshire from Massachusetts after losing to Senator Elizabeth Warren (D) in 2012, will most likely win his Republican primary on Septetmber 9. He leads his closest rival, former senator Bob Smith, by 28 percentage points.
To have a chance against Shaheen, Brown is going to have to improve his image in the state. Only 35 percent of voters have a favorable opinion of him, while 46 percent view him unfavorably.
The Real Clear Politics poll average shows Shaheen with a 8.2 percent lead.
Screenshot via YouTube
Interested in U.S. politics? Sign up for our daily newsletter!