Poll Roundup: Will Obamacare Hurt Democratic Candidates In November?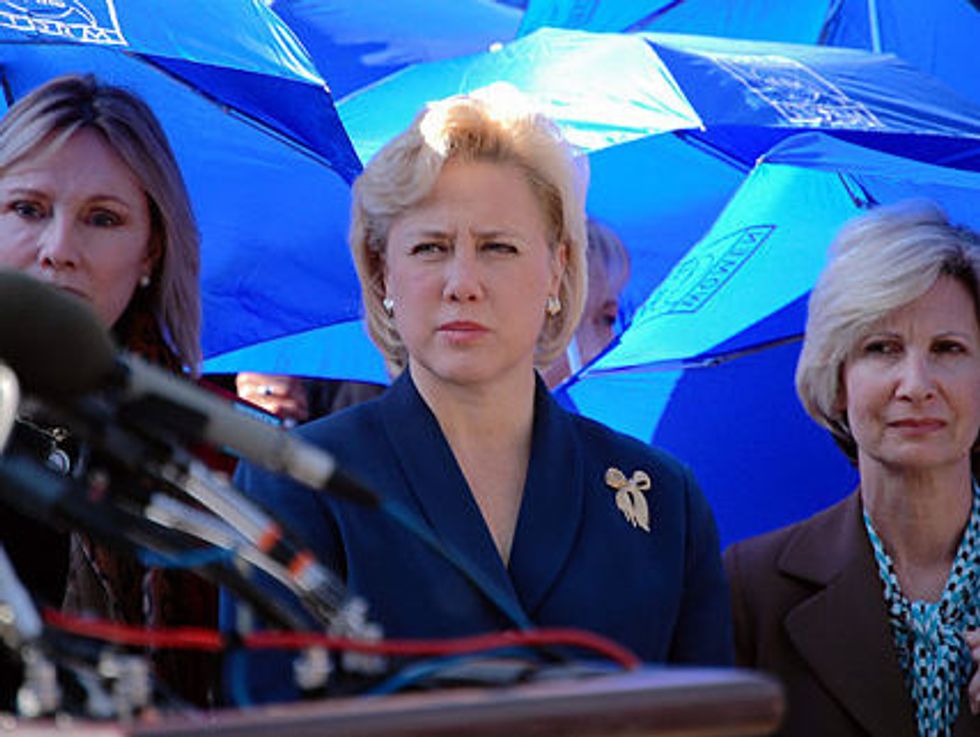 As the 2014 midterm elections draw closer, pollsters across the country will begin releasing masses of data and their predictions of who will control the House of Representatives, the Senate, and statehouses across the country. We'll put those predictions in focus and provide a brief summary of key polls. Here's our roundup from the week of July 6:
Louisiana
A Rasmussen Reports survey released on Thursday has incumbent senator Mary Landrieu (D) ahead of Republican congressman Bill Cassidy by 3 points, 46 to 43 percent. That's within the poll's +/- 4 percent margin of error. Five percent like another candidate in the race, and 6 percent are still undecided.
Landrieu has negative favorability ratings, as 47 percent of voters view her favorably and 49 percent unfavorably. Cassidy has a more positive image, as voters view him favorably by a 49 to 31 percent margin. The rest of the voters don't know who Cassidy is, or aren't sure how they feel about him.
The Affordable Care Act and the Keystone XL pipeline are both going to be key issues in this race. Only 36 percent of Louisianans like the Affordable Care Act, while 62 percent do not. Landrieu stands by her vote for the law, but has proposed altering it to help people keep their old health care plans, and to minimize the law's effects on small businesses. Cassidy, of course, wants to repeal the law.
Of Louisiana voters, 64 percent support building the Keystone XL pipeline, while only 14 percent are opposed. Both candidates support the pipeline. President Obama has not revealed his position on Keystone XL, which faces opposition from environmentalists and some Democrats.
The Real Clear Politicspoll average has Cassidy ahead by 1 percent.
Arkansas
Democratic senator Mark Pryor is behind Congressman Tom Cotton by 3 points, according to the latest poll from the Republican-leaning Impact Management Group. Cotton has 47 percent of the vote, while Pryor has 43 percent; 10 percent are still undecided. The poll has a +/- 2.72 percent margin of error.
Independents overwhelmingly sided with Cotton in the poll, with 56 percent supporting him and only 28 percent backing Pryor.
The Affordable Care Act is a major issue in this election. The poll asked if voters support the "private option" plan passed by the Arkansas legislature, which allows the state to use federal Medicaid funds to purchase private insurance for low-income Arkansans.. Only 35 percent said they favored the private option, while 44 percent opposed it. This negative sentiment regarding health care reform could hurt Pryor in the general election.
The two candidates are currently squabbling over Cotton's recent comments regarding Pryor's faith. In a KNWA interview about the Hobby Lobby ruling, Cotton said he thinks Pryor believes that "faith is something that only happens at 11 o'clock on Sunday mornings."
Pryor emphasized his faith in an ad this week and asked Cotton to apologize.
The Real Clear Politicspoll average shows that Cotton is ahead by 2.8 points. But every poll that has Cotton ahead of Pryor is from a Republican firm.
Georgia
An InsiderAdvantage poll released on Thursday finds that GOP Senate candidates Jack Kingston and David Perdue are essentially tied. Kingston has the support of 41.9 percent of likely voters, while Perdue has 41.2 percent, and 17 percent are still undecided. The poll has a +/- 2.7 percent margin of error.
The primary runoff is on July 22. In the original primary, Perdue won 30.6 percent of the vote, while Kingston won 25.8 percent.
The winner of the runoff will face Democrat Michelle Nunn in the general election, which is also likely to be a close race. The Real Clear Politics poll average for the general election shows Perdue ahead of Nunn by 2.3 percent, and Nunn ahead of Kingston by 1.7 percent.
Florida
The latest Survey USA poll has Republican governor Rick Scott ahead of Democrat Charlie Crist 45 to 43 percent, with a +/- 4.2 percent margin of error; 7 percent back another candidate, and 5 percent are undecided.
Though Crist used to be a Republican, he is no longer popular with his former party. Only 13 percent of Republicans support him, while 79 percent back Scott. Crist doesn't have much Independent support — 47 percent would vote for Scott, while only 35 percent want Crist to be governor again.
The Real Clear Politics poll average has Crist ahead by 2 points.
Photo via Wikimedia Commons
Interested in U.S. politics? Sign up for our daily email newsletter!