Poll Roundup: Is The Tea Party In Trouble?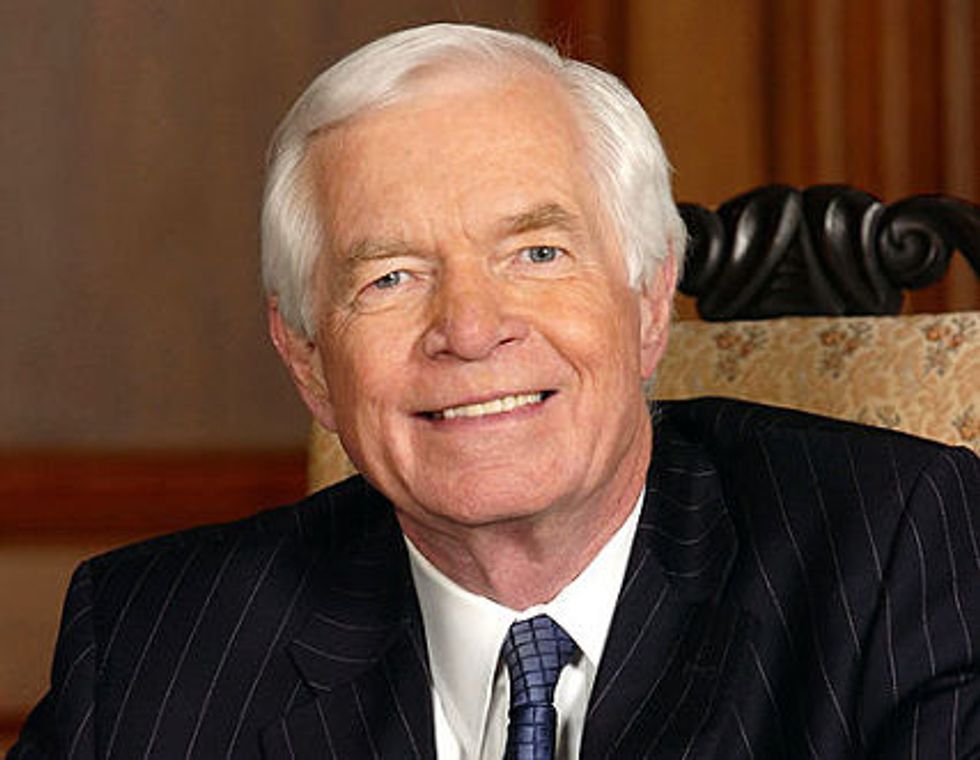 As the 2014 midterm elections draw closer, an avalanche of polling data will emerge on the key races that will decide who controls the House of Representatives, the Senate, and statehouses across the country. What follows is a brief summary of some key polls from the week of March 30:
Mississippi
Going into the 2014 elections, Mississippi was widely hyped as ground zero in the Republican civil war between "establishment" candidates and the Tea Party. Two months before the GOP primary, it looks like the establishment is winning.
According to a new NOSN poll conducted on behalf of Tea Party Express, six-term incumbent senator Thad Cochran holds a 45 to 37 percent lead over his right-wing challenger, state senator Chris McDaniel. After being told that McDaniel is endorsed by Tea Party Express and other Tea Party groups, however, that 8-point deficit is erased, leaving the two Republicans in a statistical tie.
The Tea Party poll numbers are currently the least of McDaniel's problems, however. McDaniel is facing heated criticism for his decision to keynote a gun rights event featuring a white nationalist (he later backed out of the event after his involvement was reported).
The incident, which Cochran supporters have gleefully exploited , is not McDaniel's first neo-Confederate-related controversy .
The winner of the Republican primary will likely face former U.S. Rep. Travis Childers in the general election. No Democrat has won a Senate election in Mississippi since 1982.
North Carolina
North Carolina's crucial Senate race remains among the closest in the nation, according to the latest poll from SurveyUSA .
The poll finds Democrat Kay Hagan trailing several of her potential Republican opponents — Thom Tillis, Greg Brannon, Mark Harris, Heather Grant, and Ted Alexander — by single digits. Each of the deficits is within the poll's +/- 4.8 percent margin of error.
According to SurveyUSA, just 38 percent of North Carolinians approve of Senator Hagan's job performance, while a whopping 50 percent disapprove. That dismal rating suggests that the torrent of negative advertising against Hagan — the Koch brothers-backed dark money group Americans for Prosperity has already spent $7 million attacking her — is having a serious impact.
SurveyUSA also found that Tillis, North Carolina's state House Speaker, holds a comfortable lead in the Republican primary—23 percent of Republican primary voters back Tillis, who is followed by Brannon at 15 percent, Harris at 11 percent, and the other candidates in the low single digits. That's bad news for Hagan, who would rather face the gaffe-prone Brannon in the general election.
Michigan
In addition to their strong pickup opportunities in states that Mitt Romney won in the last presidential election, Republicans are eager to expand the midterm map by running competitive races in some traditionally blue states. They're succeeding in at least one of them.
According to the latest poll from Marketing Resource Group, former Michigan secretary of state Terri Lynn Land (R) holds a 40 to 38 percent lead over U.S. Representative Gary Peters (D). That advantage falls well within the poll's +/- 4.1 percent margin of error.
It appears that President Obama is dragging Peters down in the race. Although the president defeated Romney (a Michigan native) by more than 9 percent in 2012 election, the MRG poll finds that Michiganders now disapprove of Obama by a 55 to 41 percent amrgin.
MRG generally polls for Republican candidates, although this poll was done independently. The results mirror The Huffington Post's polling average of the race, which finds Land and Peters deadlocked at 40 percent.
Minnesota
According to one GOP pollster, Republicans could have a shot in reliably Democratic Minnesota as well.
A new poll from Magellan Strategies for American Encore finds Senator Al Franken (D) holding slim leads over his potential Republican opponents. The poll shows Franken up 44 to 41 percent over state senator Julianne Ortman, and up 44 to 38 percent over businessman Mike McFadden. Furthermore, it finds Franken's approval rating at just 44 percent.
There is reason to doubt the numbers however. Previous polls have shown Senator Franken in a much stronger position. And as the Minneapolis Star-Tribune points out , Magellan Strategies for American Encore has ties to the Koch brothers, and is already running ads against Franken. If polls suggest that Franken is vulnerable, it may encourage a stronger Republican challenger to jump into the race — forcing Democrats to divert resources from other close races into Minnesota, and incentivizing Republicans to send more money into the Gopher State, and to groups like Magellan.