Poll: Scott Walker Trails Hillary By 12 Points — In Wisconsin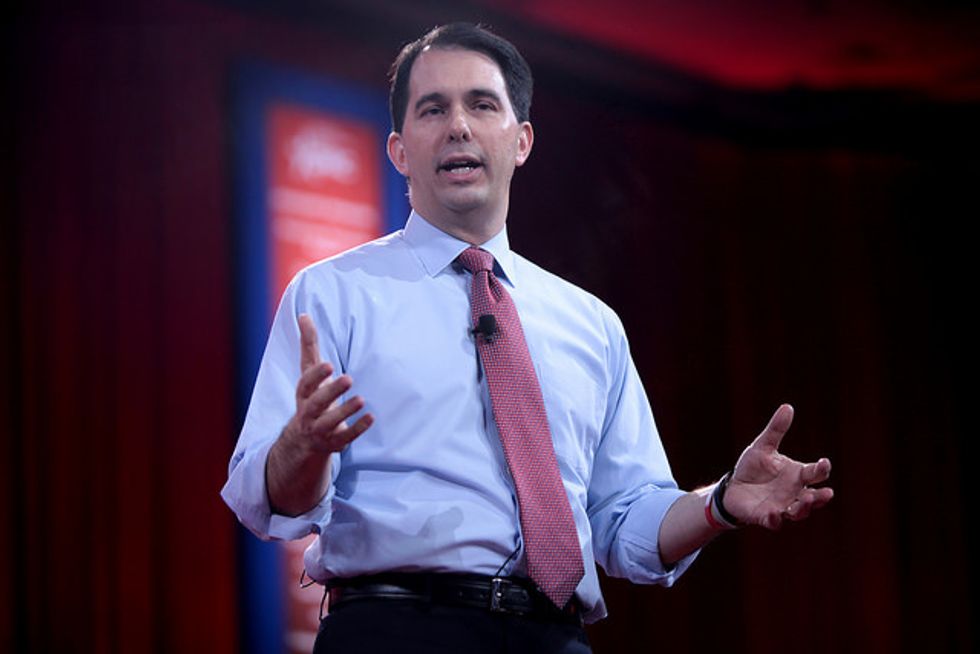 Governor Scott Walker (R-WI) has touted his ability to win in a blue state as a hardline conservative. But a new poll out Thursday from Marquette University Law School now finds Wisconsin voters seriously down on him — and giving Hillary Clinton a big lead in a possible presidential matchup.
Clinton has 52 percent support, against only 40 percent for Walker. The last time Wisconsin voted for a Republican presidential candidate was in 1984. These sorts of poll numbers, if corroborated by future surveys, could call into question Walker's electability if he indeed launches a campaign for president.
In addition, Walker's approval rating is now only 41 percent, compared to 56 percent who disapprove of him. Walker was re-elected this past November with 52 percent of the vote.
The poll also asked about Walker's recently passed "right to work" law, his latest major accomplishment for the right wing. Only 44 percent support this law, which forbids mandatory dues collection by labor unions at private-sector jobs, and 50 percent are opposed.
The survey of registered voters was conducted from April 7 to 10, and has a margin of error of +/- 3.5 percentage points.
Photo: Governor Scott Walker of Wisconsin speaking at the 2015 Conservative Political Action Conference (CPAC) in National Harbor, Maryland. (Gage Skidmore/Flickr)