Poll: Tea Party Governor's Re-Election Hopes Are On Life Support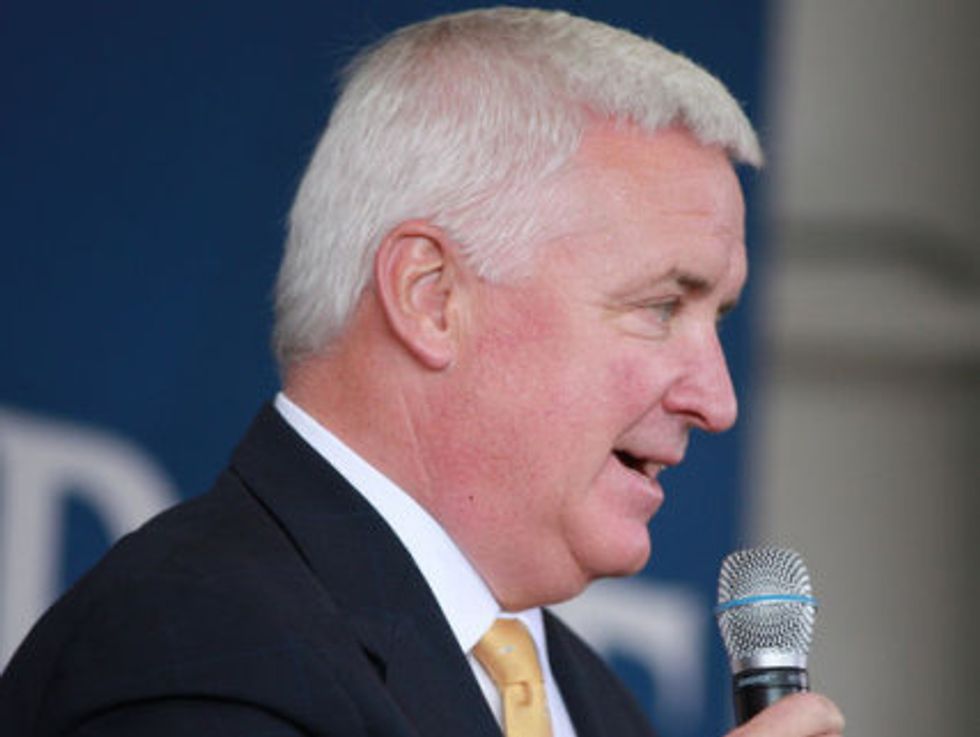 Things are going from bad to worse for one of the Republican Party's least popular leaders.
According to the latest Quinnipiac poll, released Wednesday, Pennsylvania governor Tom Corbett's approval rating has sunk near his all-time low. Just 36 percent of Pennsylvania voters now approve of his job performance, while 56 percent disapprove.
Corbett gets negative reviews on a multitude of key issues, including jobs and the economy (voters disapprove of his handling of the issue 31 to 58 percent), taxes (32 to 56 percent), health care (29 to 51 percent), and education (30 to 61 percent).
In other words, the Tea Party-backed platform that helped propel Corbett into office in 2010 was more popular in theory than it is in practice. It seems that Pennsylvania voters are tiring of the governor's failure to create jobs, insistence on pushing school voucher programs, refusal to accept the Affordable Care Act's Medicaid expansion, and unmatched ability to put his foot in his mouth.
Voters agree by a 55 to 34 percent margin that Corbett does not deserve re-election, and the incumbent Republican trails several of his Democratic rivals in hypothetical general election matchups:
Businessman and former Pennsylvania revenue secretary Tom Wolf leads Corbett 52 to 33 percent
U.S. Representative Allyson Schwartz leads Corbett 44 to 38 percent
State Treasurer Rob McCord leads Corbett 43 to 36 percent
Former Pennsylvania Environmental Protection Secretary John Hanger leads Corbett 40 to 37 percent
Former Pennsylvania Auditor General Jack Wagner leads Corbett 44 to 37 percent
Wolf now appears to be the tentative frontrunner for the Democratic nomination. In addition to his strong numbers in the Quinnipiac poll, a Philadelphia Daily News/Franklin & Marshall College poll released Tuesday found that 36 percent of registered Democrats support Wolf for the nomination; Schwartz is a distant second at 9 percent, followed by McCord at 3 percent — 48 percent were unsure which candidate they would support.
Wolf appears to owe his strong numbers to his aggressive TV ad campaign, which launched in January (with an assist from Wolf's $10 million contribution to his own campaign) — 65 percent of those polled said they had seen a campaign ad on TV, boosting his name recognition. While 44 percent of respondents to the poll have a favorable opinion of Wolf, 47 don't know enough about him to form an opinion. By contrast, 60 percent said they don't know enough about Schwartz, and 81 percent don't know enough about McCord.
The Democratic primary will be held on May 20.
The Quinnipiac poll surveyed 1,405 registered voters from February 19-24, and has a +/- 2.6 percent margin of error.
The Philadelphia Daily News/Franklin & Marshall College poll surveyed 548 registered Democratic voters from February 18-23, and has a +/- 4.2 percent margin of error.
Photo via Wikimedia Commons