Poll: Trump Way Up, But Fiorina Gains Ground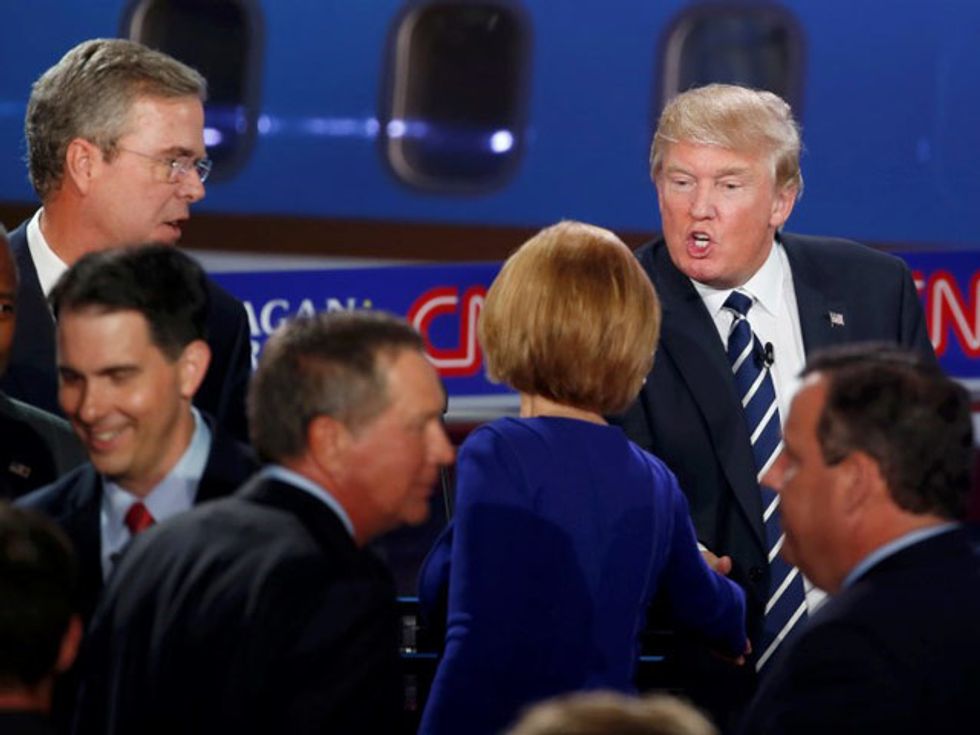 Carly Fiorina might just might be emerging as the GOP's alternative to Donald Trump, according to the new Morning Consult poll — but The Donald is still way ahead.
The big news for Fiorina in the poll, which was conducted among Republican voters who watched Wednesday night's debate, is that 29 percent said she was the winner. Another 24 percent of respondents said that Trump was the winner. All the other candidates were in single digits on this question — meaning that Fiorina was the only one to truly steal some attention away from The Donald, though Trump is still maintaining his overall position.
In the electoral horse race itself, though, Trump is in first place with 36 percent — actually a small increase from his 33 percent support in last week's poll. Ben Carson is at 12 percent, down from 17 percent. And Fiorina is at 10 percent, up from 3 percent last time.
As the graph shows, the most obvious shift in voters appears to be away from Carson and over to Fiorina, in the race to be the alternative to Trump.
In addition, Marco Rubio is at 9 percent, Ted Cruz 7 percent, and Chris Christie and Jeb Bush have 6 percent each. The graph also clearly illustrates the steady decline of the frontrunner Bush.
Photo: Donald Trump talks with Carly Fiorina after the conclusion of the debate. REUTERS/Lucy Nicholson. Graph via Morning Consult.