Poll: 'Uncle Sugar' Lifts Huckabee To Top Of GOP 2016 Field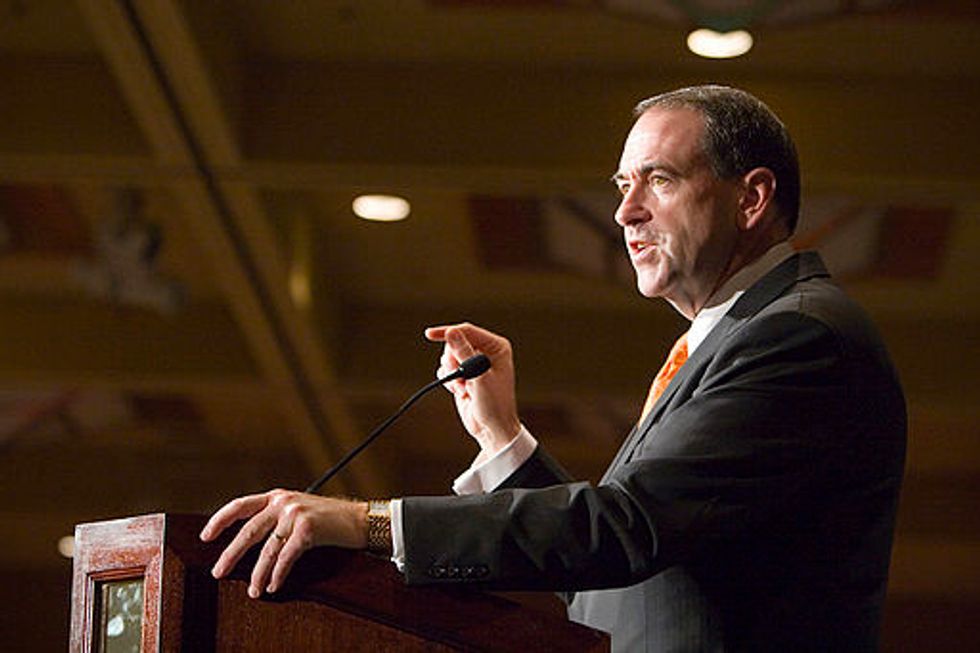 Mike Huckabee's instantly infamous remark that Democrats try to make women "believe that they are helpless without Uncle Sugar coming in and providing for them a prescription each month for birth control, because they cannot control their libido or their reproductive system without the help of the government" drew instant condemnation and ridicule from Democrats and most members of the political media. But according to a new poll, "Uncle Sugar" was a smashing success among Huckabee's target audience: right-wing Republicans.
A Public Policy Polling survey released Wednesday finds that Huckabee has rocketed up in the polls in the wake of the controversy, and now finds himself leading the polls for the Republican presidential nomination in 2016.
According to the poll, 16 percent of Republican primary voters now favor Huckabee as their party's 2016 nominee. Former Florida governor Jeb Bush is in second at 14 percent, followed by New Jersey governor Chris Christie at 13 percent, Kentucky senator Rand Paul at 11 percent, and Texas senator Ted Cruz, Florida senator Marco Rubio, and Wisconsin representative Paul Ryan at 8 percent. Wisconsin governor Scott Walker and Louisiana governor Bobby Jindal bring up the rear at 6 percent and 5 percent, respectively.
Huckabee's numbers are surging in the wake of the controversy that reinserted his name into the headlines; the failed 2008 presidential candidate has gained more than 3 points since last month. In addition to taking the overall lead, he is also now the leading candidate among self-described "very conservative" Republicans, with 20 percent support (Paul is in second among the group at 15 percent, followed by Cruz at 11 percent and Bush at 10 percent.)
Huckabee has a very positive image among Republican primary voters — 64 percent have a favorable opinion of the former Arkansas governor, while just 18 percent view him unfavorably, good for second place among those polled by PPP. Former Alaska governor and perennial non-candidate Sarah Palin ranks first in the category, with a favorability rating of 70 percent to 20 percent.
PPP's poll should not be taken as evidence that Mike Huckabee could actually win the Republican nomination (after all, Barack Obama didn't even register in the polls 33 months before the 2008 presidential election). But it does provide a snapshot of how the Republican base feels at this moment in time — and that snapshot suggests that Huckabee's "Uncle Sugar" theory represents the GOP far better than party leadership would like voters to believe.
The full results of the PPP poll can be seen here.
Photo: Gage Skidmore via Flickr