Poll: Greg Abbott Expands Lead Over Wendy Davis In Texas Race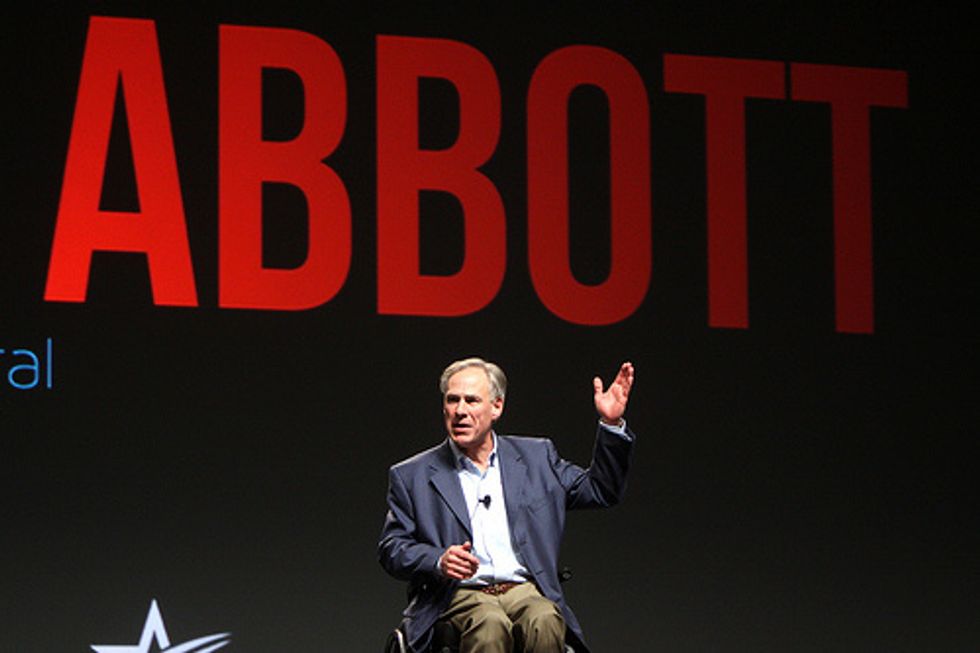 The underdogs are falling behind in two closely watched elections in Texas, according to a new University of Texas/Texas Tribune poll.
The poll, released Monday, finds Texas attorney general Greg Abbott (R) leading state senator Wendy Davis (D) 47 to 36 percent in a hypothetical general election matchup, with 17 percent undecided.
Both Abbott and Davis are expected to easily win their respective primaries on March 4, setting up a blockbuster general election matchup. Davis has become an instant superstar on the left — and a pariah on the right — in the wake of her memorable 14-hour filibuster of an anti-abortion bill. Abbott has long been considered the heir apparent to Texas governor Rick Perry, and his $29.4 million war chest leaves him among the most cash-flush candidates in the nation.
Abbott's 11 percent lead is up from 6 percent in October's UT/Texas Tribune poll, perhaps reflecting the rocky launch of Davis' gubernatorial campaign. In January, the Dallas Morning News published an article raising questions about Davis' inspiring life story, leading to a torrent of criticism from Republicans.
"The story of the last four months is, Davis loses a couple points, Abbott gains a couple of points," said Daron Shaw, the co-director of the poll, told the Tribune. "He had a pretty good couple of months. She had a pretty bad couple of months, all without many people paying attention."
Indeed, there is still plenty of room for the race to shift. In addition to the 17 percent of voters who are still undecided, voters still know little about the two candidates — 29 percent have a favorable opinion of Abbott, while 20 percent view him unfavorably, 20 percent view him neither favorably nor unfavorably, and 31 percent don't know. Davis is even less well known; just 11 percent view her favorably, 12 percent view her unfavorably, 19 percent view her neither favorably nor unfavorably, and a whopping 58 percent don't know.
The poll also questioned voters on Texas' Senate race, in which Minority Whip John Cornyn (R-TX) is seeking a third term in office. Cornyn is facing an insurgent challenge from U.S. Rep. Steve Stockman (R-TX), but the Tea Party-backed challenger is gaining very little traction. According to the poll, Cornyn leads Stockman 60 to 16 percent, with six other candidates trailing in the single digits. Among likely Republican primary voters, Cornyn's lead is 62 to 16 percent. Either result would be enough for Cornyn to win the primary outright on March 4, and avoid a May 27 runoff.
Photo: Gage Skidmore via Flickr