Pompeo Defends Shady Ouster Of Inspector General Probing Him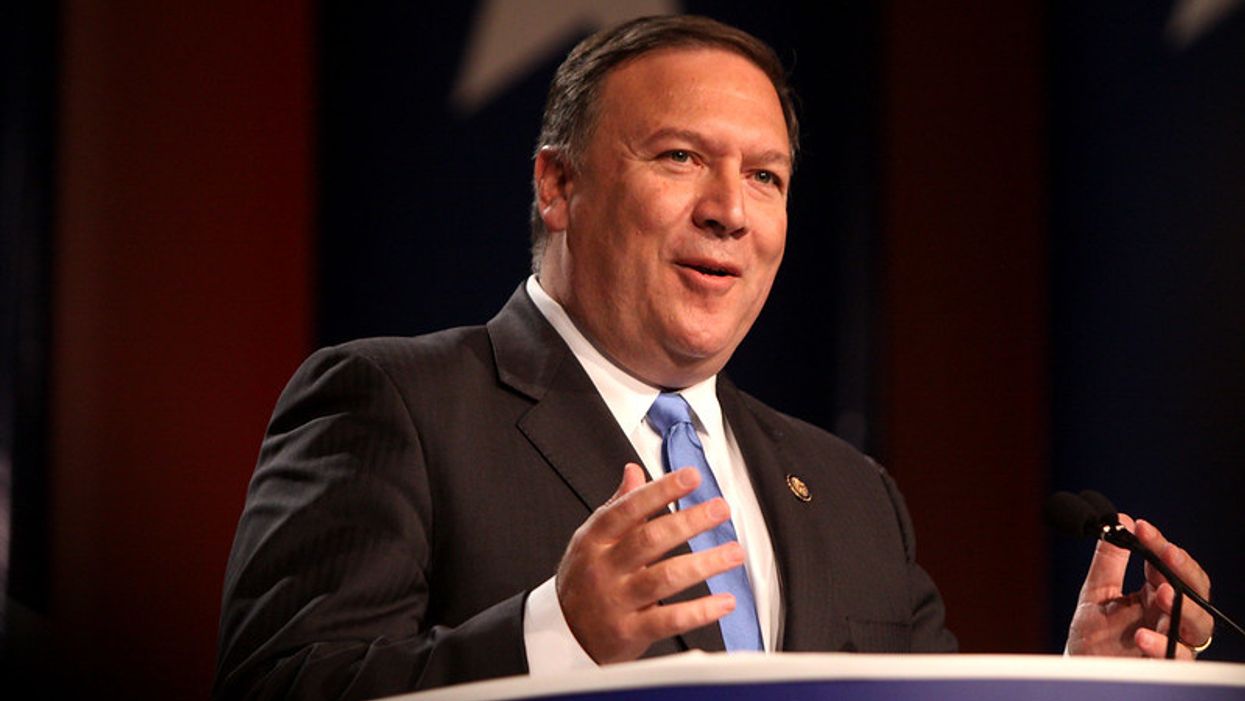 Reprinted with permission from Alternet
"I've seen the various stories that someone was walking my dog to sell arms to my dry cleaner. I mean, it's all jus… https://t.co/WwYevQgHbH

— Aaron Rupar (@Aaron Rupar) 1589986446.0
---
Secretary of State Mike Pompeo found himself under fire Wednesday morning as the outrage and questions surrounding the ouster of his department's inspector general continues to grow. And when Pompeo took questions at a press conference about the firing of Steve Linick, he failed to give even a plausible explanation for the termination and even contradicted himself.
Pompeo flat-out admitted that he was behind the firing, saying he recommended the move to President Donald Trump. Trump himself said that he knew nothing of Linick and made the move on Pompeo's recommendation.
"I recommended to the president that Steve Linick be terminated," Pompeo said. "Frankly, should have done it some time ago."
That's important because inspectors general are supposed to be independent watchdogs within their agencies. That's why Pompeo couldn't fire Linick on his own. But if the president will just fire an inspector general whenever a Cabinet secretary asks, it defeats the purpose of having an internal watchdog.
This is especially true in Pompeo's case, because there are multiple reports indicating that Linick was conducting serious investigations of Pompeo's personal conduct and departmental actions. These include allegations that Pompeo inappropriately made department staff perform his personal errands and questions around a dubious emergency declaration that was issued to permit the selling of U.S. arms to Saudi Arabia for its ongoing war with Yemen.
Because of these concerns, Pompeo really had better have a good explanation of why he got Linick fired. But he couldn't come up with one besides the vague claim that Linick was "undermining the department's mission."
Pompeo snidely told a reporter who asked for a better explanation: "Unlike others, I don't talk about personnel matters. I don't leak to y'all. I'll just say this; I can't talk, I can't give you specificity. We'll share with the appropriate people the rationale."
Yet firing the inspector general isn't a mere "personnel matter" — as I stated, it's something Pompeo can't even do himself. It's the removal of a Senate-confirmed official who is supposed to be independent. That is the kind of topic Pompeo should be able to discuss publicly, and his failure to do so only heaps more suspicion on him.
This failure was exacerbated when Pompeo tried to rebut allegations that he was interfering in investigations that related to him.
"There are claims that this was for retaliation, for some investigation that the inspector general's office was engaged in," he said. "It's patently false. I have no sense of what investigations were taking place inside the inspector general's office. Couldn't possibly have retaliated for all the things — I've seen the various stories that someone was walking my dog to sell arms to my dry cleaner. I mean, it's all just crazy! It's all crazy stuff! So I didn't have access to that information, so I couldn't possibly have retaliated. It would have been impossible."
Then he completely contradicted himself and undercut that denial.
"There's one exception," he said. "I was asked a series of questions in writing. I responded to those questions with respect to a particular investigation that was some time earlier this year, best I can recall. I responded to those questions, I don't know the scope, I don't know the nature of that investigation, other than what I would have seen from the nature of the questions that I was presented."
It's hard to know what sense we should make of Pompeo's denials when he contradicts himself within two paragraphs. Retaliation on his part was entirely possible, despite his claims to the contrary. He suggested he answered the questions awhile ago, but then, he also said Linick should have been fired "some time ago." And even if he didn't directly have access to Linick's additional investigations, it's hard to believe he wouldn't get inklings about what other investigations were being conducted as members of his own department are being interviewed.
Throughout the answers he gave, his voice and attitude were dripping with contempt and seemed to be holding back barely contained rage. The arrogance in his demeanor and words was only matched but the fundamental premise of his performance, that we shouldn't assume he fired the IG to quash investigations, even if he refuses to give a plausible alternative explanation.
It's all the more mystifying because Pompeo claimed to have no knowledge about the entire scope of Linick's job — the investigations he was conducting. If the secretary had no clue what the inspector general was working on, how could he have reason to recommend that he be fired at all?