Pompeo Skirting Legality With 'Official' Trips To Kansas
@Snipy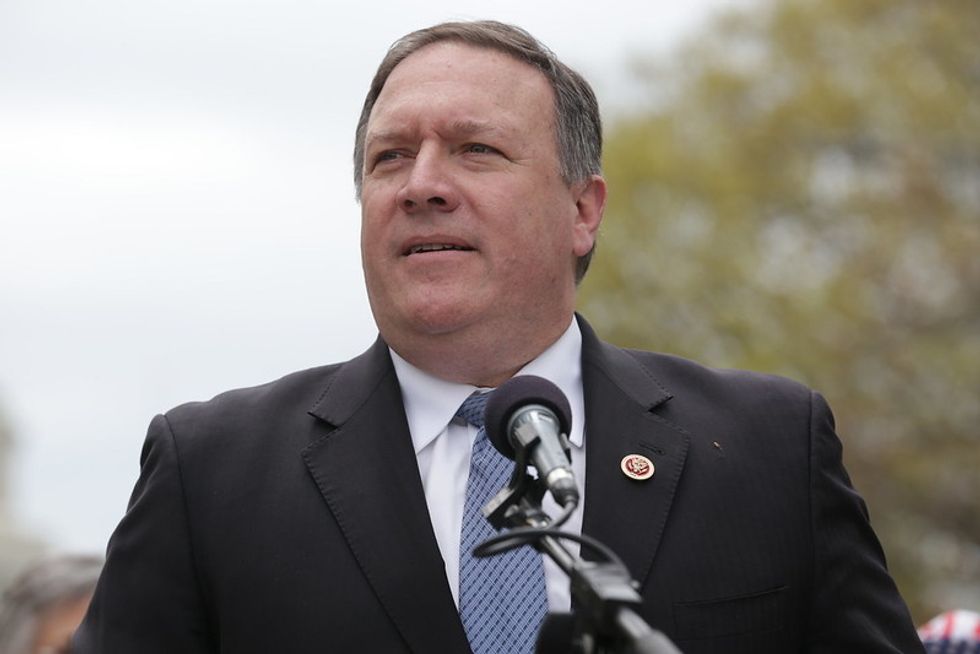 It looks like Secretary of State Mike Pompeo may be violating the Hatch Act.
Sen. Bob Menendez (D-NJ), the top-ranking Democrat on the Senate Foreign Relations Committee, asked the Office of Special Counsel to look into whether Pompeo's repeated trips to Kansas violate the act.
The Hatch Act bars executive branch employees from using government resources for partisan purposes, such as campaigning while on the clock. But it appears Pompeo may be doing just that.
Since March of this year, Pompeo has made three trips to his home state of Kansas. That might not be unusual, but these were framed as official trips, not Pompeo just visiting. Combine this with the fact that Pompeo may very well be considering a Senate run back home — he's already got the backing of prominent Republicans like Senate Leader Mitch McConnell — and it looks a lot like those trips home are to promote Mike Pompeo, not the interests of the United States.
Menendez's letter to the OSC shows Pompeo's most recent trip looked an awful lot like a campaign stop, or at least like someone exploring a run for office. He participated in a workforce development roundtable, met with students at Wichita State, and visited a private aerospace company.
Menendez's letter also reminded the OSC of its own opinion that specifically found that "any action that can reasonably be construed as evidence that an individual is seeking support for or undertaking an initial 'campaign' to secure a nomination or election to office" counts as a candidacy under the Hatch Act. In other words, even if this is just Pompeo exploring his options, doing it on taxpayers' dime, and time, likely runs afoul of the law.
As secretary of state, Pompeo's duties are focused outside the United States, not within it. He should be racking up international miles. Hillary Clinton flew nearly a million miles and visited 112 countries during her tenure as secretary of atate, as did John Kerry during his. Instead, he seems to be exploring a Senate run at the behest of Republicans who don't want former Kansas Secretary of State Kris Kobach to run, as it looks like Kobach would almost certainly lose.
Though this time Pompeo's travel is for his own political benefit, it's not the first time that his domestic travel has been scrutinized. In March of this year, Citizens for Responsibility and Ethics in Washington (CREW) called for an investigation into Pompeo's frequent trips to 2020 battleground states such as Iowa, Kansas, and Texas. CREW said Pompeo's insistence he wasn't traveling to those states to bolster Trump's reelection prospects rang hollow.
If Pompeo did indeed violate the Hatch Act, he's got a lot of company in this administration. Just look at counselor to the president Kellyanne Conway, who has violated the Hatch Act at least 50 times on Twitter alone. Or HUD official Lynne Patton, who used her official government Twitter account for political tweets. Given that neither Conway or Patton have suffered any real consequences for their behavior, don't expect Pompeo to be scared by the idea he might be guilty of violating the law.
Published with permission of The American Independent.