Pompeo Stops Licking Trump's Boot To Kick Him While He's Down
@next2godwin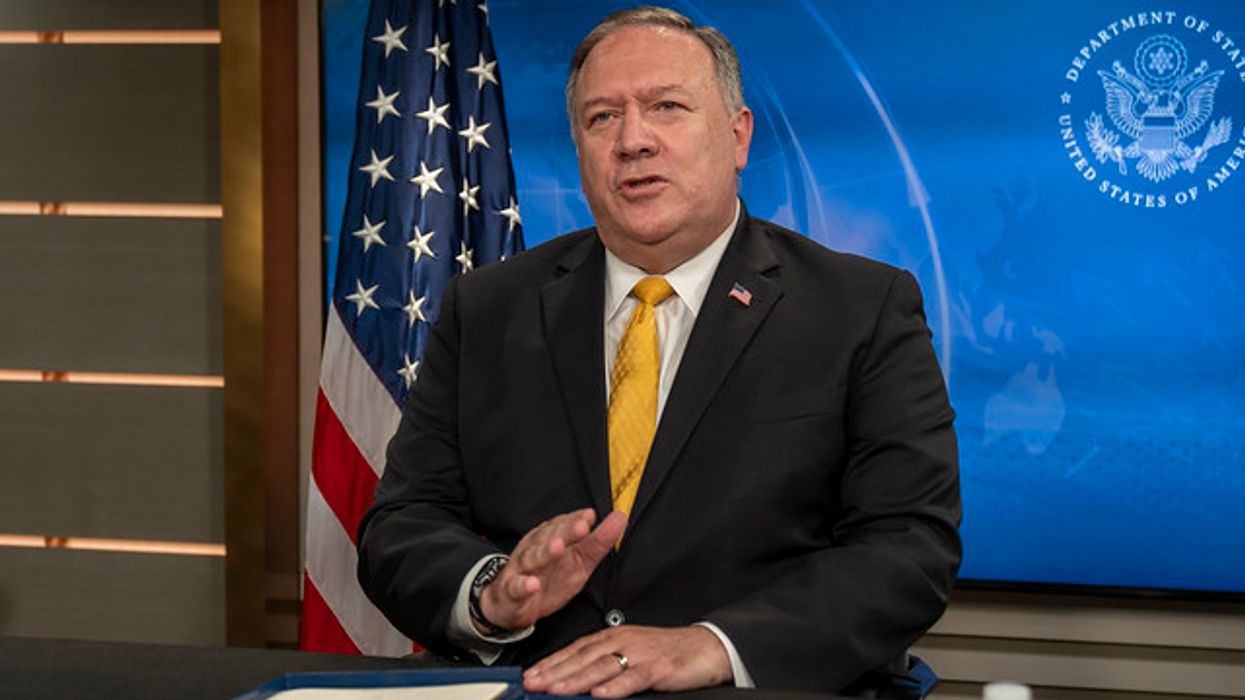 Former secretary of state Mike Pompeo, an election denier, said Friday that "most Republicans" — once promised they'd get "tired of winning" — are now "tired of losing," in a dig at his old boss Donald Trump.
"We were told we'd get tired of winning. But I'm tired of losing. And so are most Republicans," Pompeo tweeted, mocking a famous line the former president used to stoke crowds of supporters on the campaign trail in 2016 and 2020.
Pompeo — who predicted a second Trump administration just days after the 2020 election was called for Joe Biden — seemingly touted his own ambition, laying the groundwork for a potential 2024 run amid reports that the ex-president, who announced his own 2024 presidential bid Tuesday night, has been demanding endorsements from prominent members of the Republican Party.

It was the second time Pompeo had laid into Trump since the ex-president made his much-vaunted, misinformation-laden 2024 announcement: "We need more seriousness, less noise, and leaders who are looking forward, not staring in the rearview mirror claiming victimhood," Pompeo replied in a tweet on Wednesday.
Formerly one of Trump's most outspoken allies, Pompeo had insisted early Tuesday on a conservative radio show that a potential Trump 2024 run wouldn't "have any impact" on his own decision about "the election that's ahead of us."
The former secretary of state added in the Friday tweet that he'd speak on "how we can regain Americans' trust and win again" at the Republican Jewish Coalition's annual leadership conference which other potential Trump 2024 rivals, seeking to court GOP mega-donors, are set to attend, according to the Associated Press.
Despite making trips to early-voting states like Iowa and New Hampshire, endorsing conservative candidates for political office throughout 2022, and canvassing for Republican support with his political action committee, Champion American Values, Pompeo's rumored 2024 aspirations appear to be a long shot, given his meager 1.3 percent average in early polling, per RealClearPolitics, a polling data aggregator.
Pompeo isn't the only former Trump surrogate courting defections in the aftermath of the GOP's disastrous midterm performance, which saw Trump's already-weakening standing in the party plummet even further.
Former Rep. Jack Kingston, who represented Georgia's 1st congressional district from 2013 through 2015 and later worked as a Trump adviser and surrogate, dodged questions on whether he'd endorse Trump's 2024 aspiration, despite reportedly vowing in the past to "stick with" Trump "until the curtain comes down."
"I am a free agent right now. Focusing on the Georgia runoff, among other things," Kingston replied when asked if he planned to be Trump's surrogate again, according to Rolling Stone.
Stephen Moore, a former senior economic adviser of the Trump administration, appeared on the fence when questioned about an endorsement. "I think if Trump will stay on message about his America First agenda and not obsess about the 2020 elections, then he can be a real force," Moore said, reports Rolling Stone.
The roster of potential Republican primary contenders is on track to go despite Trump's ongoing "endorse-me-or-else" crusade within the GOP as several GOP donors, reluctant to back Trump, mull potential endorsement, the AP noted in its report.
"[Trump's] allies hoped his early announcement might ward off serious primary challenges, but several potential candidates said that's not likely after Trump loyalists lost midterm contests last week in battleground states from Arizona to Pennsylvania," according to the AP's Steve Peoples.